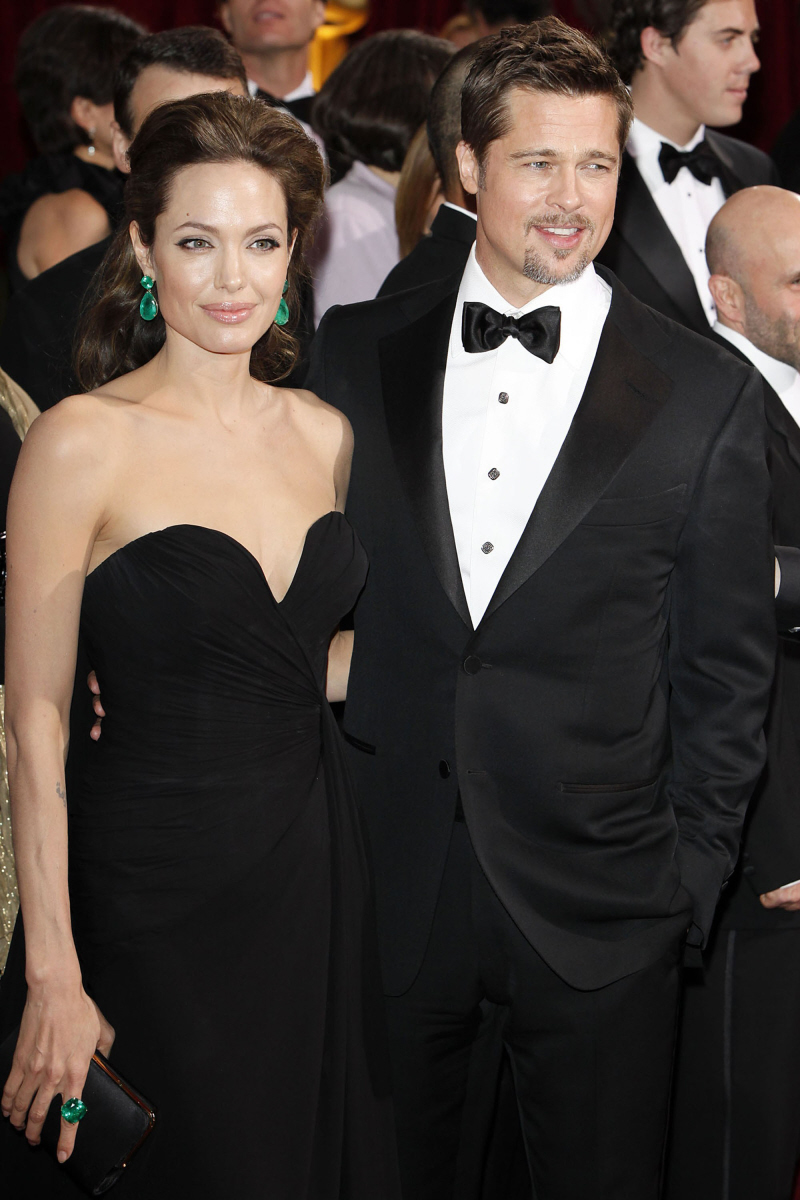 This whole thing seems to have been started by Britain's The News of the World, which has gotten some things right, but not so much on others. So, you know, it could be total bullsh-t, or it could be a big scoop. The News of the World is claiming that Brad and Angelina have split for good, that they've been in contact with a divorce lawyer to work out the child custody and financial arrangements, and that they will be announcing their split any day now. Here's part of the report (full report is here):
HOLLYWOOD golden pair Brad Pitt and Angelina Jolie have seen DIVORCE lawyers and signed a £205 million split deal, we can reveal.

The world's most famous couple legally agreed how to divide their fortune and who gets custody of their six kids. The megastars have agreed to equally divide their vast fortune – and to SHARE their six children.

Dynamite legal papers secretly signed by the couple this month detail how all their homes and assets will be carved up. The agreement gives them joint custody of the kids – but all six will actually live full-time with their mum.

Preparations for a split began in early December when "Brangelina" visited a top Los Angeles divorce firm to begin thrashing out the deal. An announcement of their separation is expected to be made soon – ending months of speculation that the five-year relationship is on the rocks.

A source told the News of the World: "The document was signed in early January. Both Brad and Angelina had signed it. The contract was like a tailor-made version of a pre-nuptial agreement except for an unmarried couple's split. It seemed clear they want the world to know they'll both play a part in the upbringing of the children. But Angelina will actually be the one who lives with them full-time."

The divorce lawyer they consulted is based in Beverly Hills and has worked on a string of celeb divorces and splits. He is widely regarded as "the best in the business".

Our source added: "There's no date for when the contract would come into effect. But the paperwork is already organised for a break- up – and for it to be as unmessy for them as possible. It is clear it's a case of when they break up rather than if."

The troubled couple have not been photographed together in public in recent days. On Friday night, Brad, 46, was snapped backstage at the Hope For Haiti concert in Los Angeles without Angelina, 34. His ex-wife Jennifer Aniston was there – although not with him.

Her joint fortune with Brad of $322 million (£205 million) includes mansions in France, California and New Orleans. But rumours have been circulating for months that the couple's relationship is doomed.

Last week they failed to show at the Golden Globe Awards even though Brad's film Inglourious Basterds was up for a several gongs. Instead he went to watch the American football team New Orleans Saints, while Changeling star Angelina stayed in California. Also last week, Pitt bought the mansion next door to the family's LA home for £800,000.

His pals Guy Ritchie and wife Madonna famously bought their next-door pad in London before their split so they could share living space with their kids but keep away from each another.

Earlier this month, Angelina was snapped looking tense with an unsmiling Brad in New York. And last month she said fidelity was over-rated – and if she or Brad had an affair it would not be a problem.

She told German magazine Das Neue: "Neither Brad nor I have ever claimed that living together means to be chained together. We make sure that we never restrict each other. I doubt that fidelity is absolutely essential for a relationship. It's worse to leave your partner and talk badly about him afterwards."

We asked Brad, Angelina and the legal firm for their comments but they did not respond.
[From News of the World]
Reasons this could be bullsh-t: they quote that dumb fake interview Angelina did not do with Das Neue, which does not do much for anyone's credibility; even the American weeklies haven't picked the report up, as of Sunday morning – People Magazine and Us Weekly don't have anything, and they would report it if they could confirm it independently. Other reasons: the tabloids have had them splitting every week for five years, and isn't everyone tired of this crap? Oh, and apparently Brangelina's reps have denied it, according to Perez. (I know, I know.)
Reasons this might be true: many media outlets are picking this story up, even the more legitimate newspapers like The Telegraph; News of the World does get some stuff right; if Brad and Angelina do split, I would imagine they would come up with some custodial and financial arrangement just like this; Brad's horrible goaty beard (which is a legitimate reason).
Brad and Angelina on August 10, 2009 in LA, in Cannes on May 20, 2009, at the Oscars on February 22, 2009, at the 2009 BAFTAs, and out in New York on January 6, 2010. Credit: Fame Pictures & WENN.