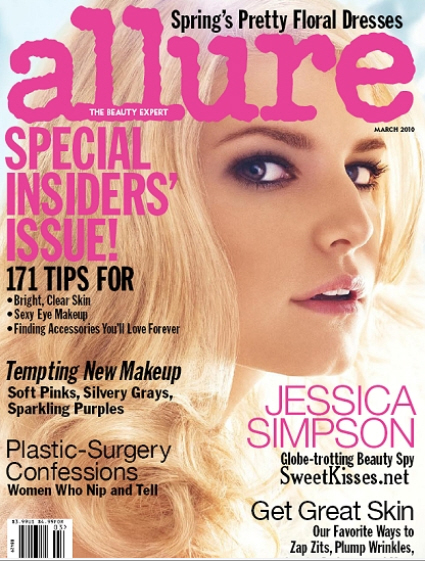 Here is the cover shot for Jessica Simpson's cover of Allure Magazine, the March issue. What do you think? I wish they had chosen a photo of Jessica with her mouth closed. When Jessica's mouth is open, she looks… not bright. Like she's about to fart on someone. The hair looks good, though, and the makeup is alright.
Jessica is on the cover because she's gearing up to promote her VH1 show, The Price of Beauty. The show premieres on March 14, and throughout the series, we will see Jessica in Japan, Thailand, France, Brazil, Uganda, Morocco and India with best friend/stylist Ken Paves.
That's about all. Allure hasn't released any additional images from the photo shoot or any interview excerpts, unfortunately. But I am looking forward to Jessica's press tour! You know she's going to screw up somehow, she's like Calamity Jane in high-waisted jeans. But in one other piece of Jessica-related news, her dad crashed Nick Lachey's Super Bowl party in Miami on Friday. Apparently, Joe crashed the party and told people Nick "didn't know" he was there. Apparently, they barely spoke, but they did acknowledge each other. And Joe is an ass.
Allure cover courtesy of CoverAwards.