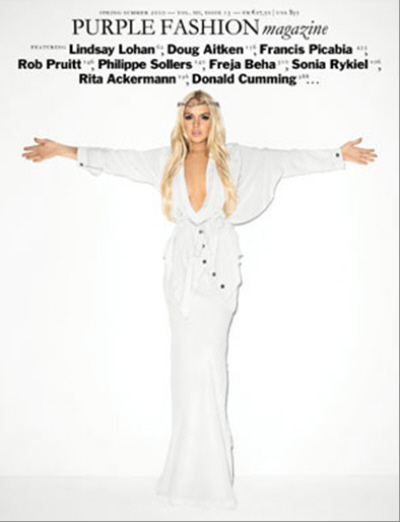 I don't even know what to say with this. Here is Lindsay Lohan's cover for the Spring/Summer issue of the French magazine Purple. Is Lindsay trying to be controversial? Like, I call this piece of art "The Crackhead on the Cross". Maybe she has no idea what she's doing. Maybe the photographer (Terry Richardson) was just like "put your arms out straight, like you just got pulled over for driving under the influence." And Lindsay replied, "I drunk not, oss-ifer. Ima Jesus!"
Lindsay Lohan is on the cover of another magazine, this time it's French fashion magazine Purple.

Since it's supposed to be more of an edgy magazine or something, Terry Richardson shot Lindsay as Jesus with her outstretched arms and a crown of thorns. So shocking!

And we mean that, too. It's pretty shocking that this is the first time in a while Linds didn't even have to show her boobs for a fashion spread.

And Lindsay's Jesus dress-up fun isn't all that's going on in her cluttered life today. There's also talk that Sam Ronson allegedly abused her, Jessica Alba says Lindsay never hooked up with her husband, Cash Warren, and Linds took to her Twitter to try to convince us she doesn't use lip injections. In other words, it's just a normal day for Lindsay.
[From E! News]
Yes, I guess it's a good thing that Lindsay isn't doing another softcore pr0n photo shoot. She's fully clothed on this cover, so maybe she'll be wearing clothes inside as well? Probably not. When she was doing the shoot back in November, the rumor was that it included a threesome. So… yeah. So Christ-like.
Purple Magazine cover courtesy of E! News.