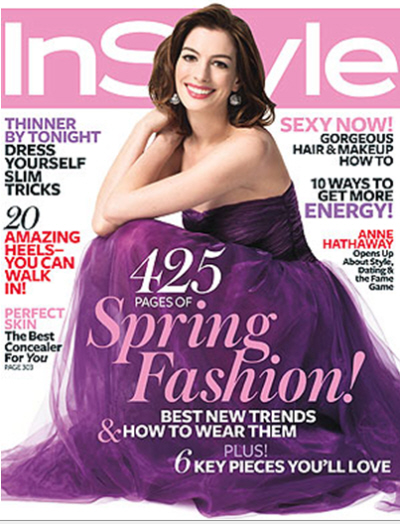 Here is Anne Hathaway on the cover of In Style's March issue. Pretty, isn't it? That shade of amethyst is lovely on her, unlike the weird blue feathered crap that Rachel Zoe put her in for the Valentine's Day premiere. I like Anne so much better when she keeps her makeup simple and her hair loose. I swear, whoever does her hair and makeup for most of the red carpets makes Anne look about 40 years old. Anyway, good cover, and a pretty good interview too… Anne is self-effacing about her "weird features."
Anne Hathaway looks as unequivocally gorgeous and radiant as ever on the March cover of InStyle—though she's probably the only person out there who doesn't see it: "I think I've got really weird features. I have very large features on a very small head," she tells the magazine.

"But, you know, I'm not going to beat myself up. It's my face. I'm not very pretty. But that's OK because I do know that I look like myself, and I think at the end of the day, as nice as pretty is, authenticity is more important."

The self-effacing actress continues: "If I don't work out at all, I have too much curve and no tone—which is not OK. It's about finding balance."

Hathaway strives for equilibrium in the way she dresses too, with her tomboy-by-day, glamazon-by-night approach: "In the evening it would never occur to me to go out in motorcycle boots like this," she says, referring to the black Burberry pair she wore to her interview. "I love going out in high heels and dressing up and glamming it up, and having there be a distinction between what happened throughout the day and the evening."

As to where she finds style inspiration, the 27 year-old, who calls out Marc Jacobs as one of her "all-time favorite designers," has a long list of Hollywood peers who demonstrate "innovation and originality," including Tilda Swinton, Gwen Stefani, Lady Gaga, Selma Blair, and Natalie Portman, and says: "I like people who are true to themselves."
[From People Magazine]
I do think Anne has unusual features, but it works for her and that's what makes her beautiful rather than "average" or "pretty, I guess". Sure, her styling is hit-or-miss, but when it's a hit, she's an absolutely stunning woman.
Meanwhile, a new interview excerpt just came out from Anne's GQ UK cover profile - this is the one where it seemed the whole piece about comparing Anne to Angelina Jolie. Anyway, Anne tells the magazine that she left the Catholic Church because her brother is gay:
Anne Hathaway's family left the Catholic Church because of its intolerance of homosexuality. Anne grew up wanting to become a nun but shunned Catholicism when she learned her older brother, Michael, was gay.

"The whole family converted to Episcopalianism after my elder brother came out," she told British GQ. "Why should I support an organization that has a limited view of my beloved brother?"

But Episcopalianism didn't really take either.

"So I'm … nothing," she said. "F-ck it, I'm forming. I'm a work in progress."
[From Huffington Post]
I don't really have anything to say about what religions are cool with gay people and all of that stuff. But I will say this – I think it's great that Anne (and her whole family, it seems) chose to put love ahead of Church dogma. I really do.
One last note about Hathaway's GQ cover… HuffPo claims that someone got a little over-zealous with the Photoshop and edited out Anne's armpit. To me, it just looks like they made the skin look nice, but it's not too much. Meh. Tempest in a teapot.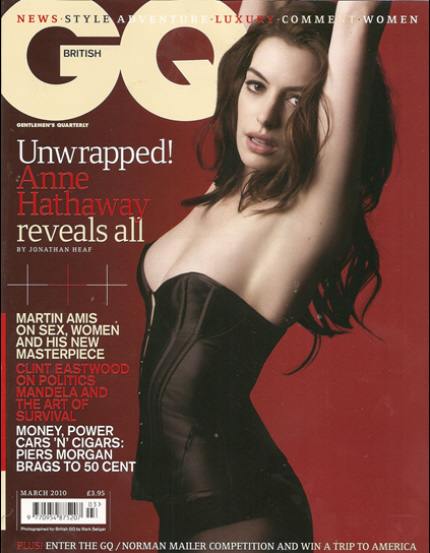 InStyle cover courtesy of People Magazine. GQ UK cover courtesy of previous Celebitchy post.