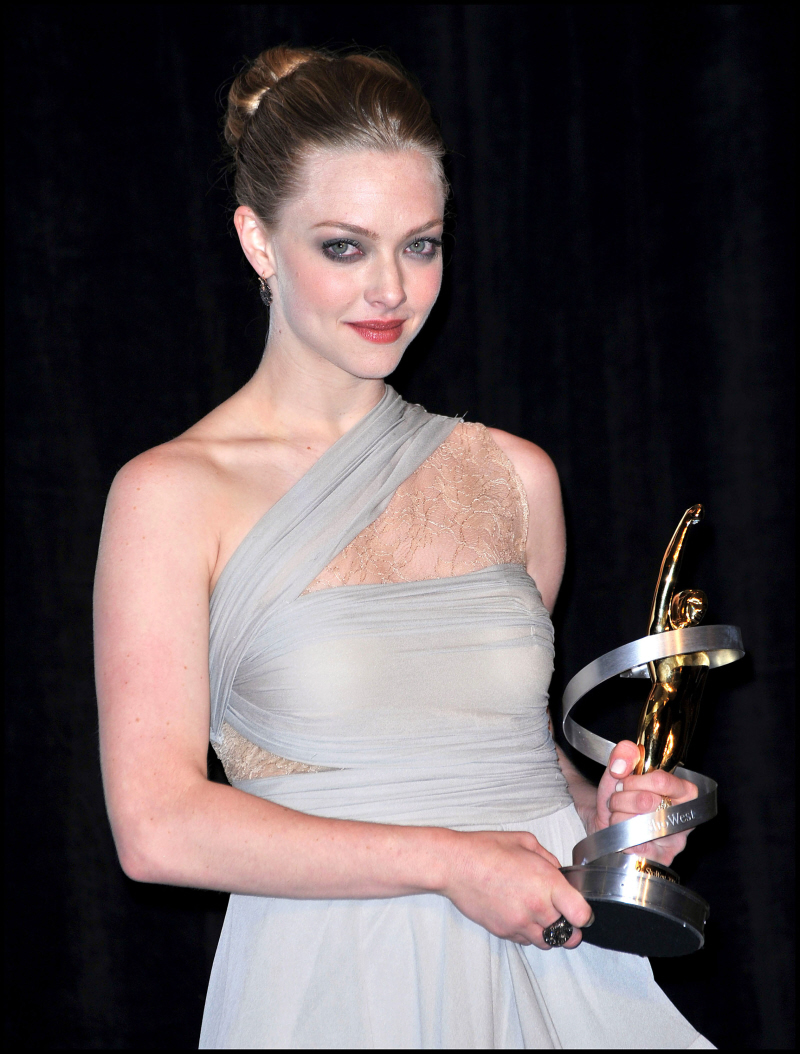 A couple of weeks ago, I covered Amanda Seyfriend's interview in April's Esquire Magazine. I claimed that she came across as "kind of an ungrateful snot". I stand by that, although I would like to add an extra dimension to my take: I think Amanda seems like a girl who is really full of herself, and who hasn't done enough solid work to back up her attitude. Granted, she's had a few number-one box office hits (Mamma Mia, Dear John), and she's been in some critically acclaimed stuff (like Chloe, which is what she's promoting, and Big Love, which she's leaving behind because her part wasn't big enough). So Amanda has way more to proud of then, say, Megan Fox or Lindsay Lohan or someone like that. But still – Amanda is not a household name, yet she's already giving interviews talking about "I sacrificed six years in L. A. I did my job out here. I made the contacts and did the work I had to do." Or anything from this most recent interview, in Vanity Fair.
Amanda compares her career to Angelina Jolie's (except Amanda wants us to know "I don't want to be in magazines everyday, because I don't want people to get used to one thing") and she also has some pretty inappropriate things to say about doing romantic comedies for the money:
You've played a pretty wide array of roles. What types of roles do you find yourself rejecting the most?
Horror films. Like very generic horror scripts. And romantic comedies, cause those tend to follow the same pattern, the same structure, and that can be really boring. Also, usually I'm playing a version of myself—I mean, I'm always playing a version of myself, except in Chloe—so the challenge isn't really there, in terms of playing a lead in a romantic comedy. Those have to appeal to a wider audience and I sometimes have a problem with needing to appeal to a wider audience, because with that comes studio backing, and with that comes pressure to make it mainstream. When you start using test audiences, it becomes more scientific than it is about the work itself, and that's boring.

You do seem to vary your choices of a lot.
Well it's the trick of making sure the audience will believe you in any form that they see you in. When I vary my roles, it allows them to lose themselves more, hopefully. I don't want to become a brand and I certainly don't want to have a persona. I don't want to be in magazines everyday, because I don't want people to get used to one thing. They may know my face, but I feel like Angelina Jolie can still play a character and you can still get lost in it… Even though she's all over the place, and that's unfortunate for her. But luckily she still maintains enough anonymity for us to believe her.

Can a young actress really get away with swearing off romantic comedies?
Well, it's hard because they pay a lot of money. Sometimes, when you want to buy an apartment in Manhattan, you gotta do one or two. But in most cases you don't need to be doing them—there are enough action flicks to keep you busy… no I'm kidding. Romantic comedies are great, though, if they're done well. I love watching them; I just don't necessarily love the process of making one. I like a small production company, a small set. That's sometimes really wonderful. But if you're working with a director who's trusted by the studio, then you get to be freer. And I'm not bashing studios; it's just a different way of making movies. It's making movies for a different reason: for money. And that's all great. We all want money. I mean, I love my apartment in New York.

Did Dear John pay for that?
No, it was Letters to Juliet. But also, I—my God—I got to work with Gael García Bernal and Vanessa Redgrave and it's like, although it's a romantic comedy made by a studio [Summit Entertainment, the people behind Twilight and The Hurt Locker] and everything, and there's all these things attached to it, it was amazing. It was great and we shot in Italy. But I'm not going to say it didn't get me an apartment.

All those benefits and you don't want to do it again?
I do! I will! I absolutely will, but just not right now, cause I just did it. It's coming out in May. Dear John for me was more of a stepping-stone. With that came more opportunities, and also it was my first romantic lead. But now I've done two of those, and now I'm ready to not for a while.

You made a big impression with your first film, Mean Girls. Are trying to avoid similarly ditzy roles?
Not anymore.

Was that a concern at first?
Yeah, absolutely. It was really well written. Really well written. And I had a great comedic coach, to help me get the role, cause I was unknown. And it was just for the big-boobed idiot, and for a lot of those roles, were just vacant, and they were just silly, they wouldn't have been for anything really. But now I've various things over the years, and it's been really good. That's the trick—and it is a trick: you really do have to like hold off on things, even if they're throwing you million dollar pay checks. You just have to say, its not right right now. I just did it. I'd be bored. When you're scared to go to work, at the end of that day, you just feel so great and so tired because you were fulfilled in your job. And if you go home feeling like, another day, like it's all the same, sometimes it gets so boring you wonder why you're even doing it.

Unless you want to upgrade that apartment
Unless you have a kid, and then, you need a bigger apartment. Or like, I don't know, if your dog is sick, and you need to pay for surgery. I mean there are definitely reasons to do certain things, but for the most part I like to stick to good director, good actor, good script.

So you have a dog?
I do!

What kind?
I have an Australian Sheppard. Finn. He's five and a half months. Ohmigod, ohmigod, ohmigod! My dog sitter just sent me pictures!
[From Vanity Fair]
Ugh, bitch please. You're pretty and you've got an okay talent and you've got big boobs. You don't really stand out that much, so just be grateful that people are hiring you for anything. Too harsh? I know she said "oh, just jokes" or whatever, but the whole conversation about doing films for the money is just annoying. Gwyneth Paltrow used to talk that way too – she claimed she did that run of sh-tty movies in the 1990s because she wanted a big apartment in New York. Here's a tip to all young actresses: You are not Gwyneth Paltrow. Stop saying you do films for the money. Just be grateful to have a job, because all of you are utterly replaceable. And if you're just going to do a film only to bitch and moan and whine about doing it for the money, don't sign on. Let that part go to another actress who will appreciate it.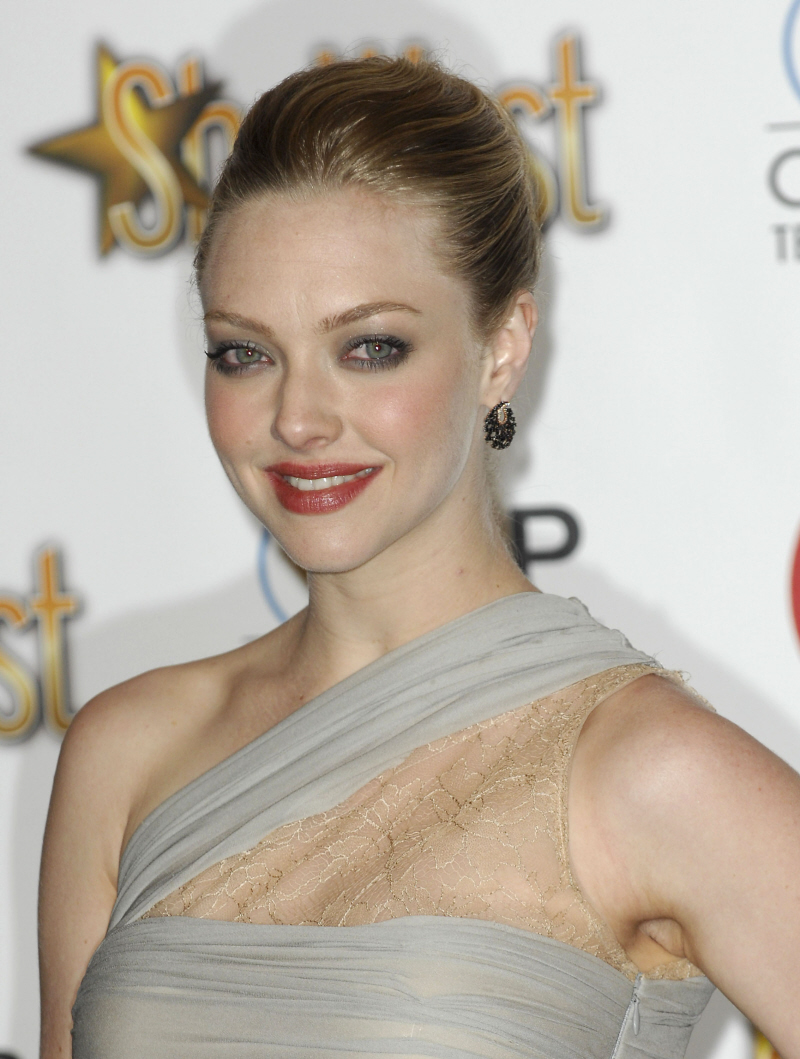 Amanda at Showest on March 18, 2010. Credit: WENN.