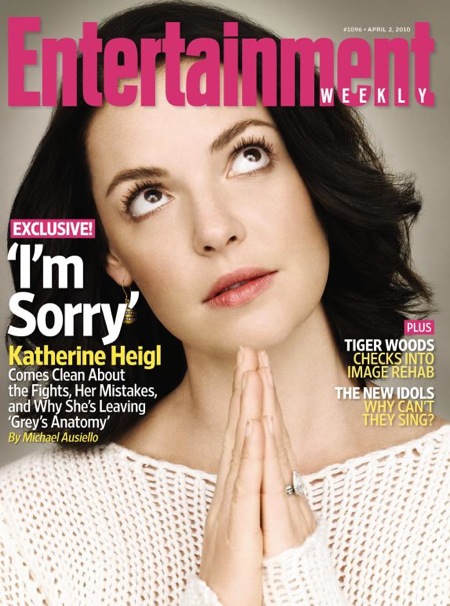 In next week's Entertainment Weekly, Katherine Heigl gets pretty real about her ongoing image problems, her disagreements with her now former employers at "Grey's Anatomy," and the reasons she is walking away. The EW reporter didn't pull any punches with Heigl, who just this week announced that she's leaving the ABC drama for good.
EW: Let's talk about some of the statements you've made publicly. In 2008, after the show's fourth season, you announced that you decided not to enter yourself in the Emmy race because "I did not feel I was given the material this season to warrant a nomination." Any regrets about making that statement?
KH: [Laughs] Yes.
EW: Why?
KH: You know…[Exhales] At the time I thought I was doing the right thing. And I wanted to be clear that I wasn't snubbing the Emmys. The night I won [in 2007] was the highlight of my career. I was just afraid that if I said, "No comment," it was going to come off like I couldn't be bothered to [enter the race]. But really, I could have more gracefully said that without going into a private work matter. It was between me and the writers, and I ambushed them, and it wasn't very nice or fair.

EW: Why didn't you talk to them privately?
KH: Everybody has bad days. [Laughs] I was a little defensive about my season because I thought I hadn't had a great one. And a lot of that had to do with me and my performances.

EW: Did you apologize to Shonda [Rimes, creator, head writer, and executive producer of Grey's Anatomy]?
KH: Yeah. [Laughs] I went into her office and I was just like, "Look, that was obnoxious. I apologize." And she was actually really supportive. She was like, "I get it. I totally get it. I know you didn't mean it like that."

EW: You stoked controversy again last July when you went on Letterman and complained about having just worked a 17-hour day at Grey's. Another regret?
KH: Yes. That was not the time or place to gripe about work. And when I watched it back, I was really embarrassed about how whiny I sounded. And I said it not once, but, like, three times. I was really annoyed with myself after that one. That's when I realized, "Okay, look, Katie–" talking to myself like I sometimes do –"It's okay to be passionate. It's okay to have an opinion. But filter."

EW: It was my understanding that the reason the 17-hour day was necessary was because you were about to take three days off to do press in New York – Letterman included – for The Ugly Truth.
KH: If that is true, I really wish [the producers] had warned me. It wasn't like, "Hey, if we let you do this, this is what's going to happen." Had I known that, I would not have asked for those three days off. I would have forgone the talk shows. I asked the entire crew- without really understanding that I was asking this – to work a 17-hour day. And for them it's much worse than just 17 hours. They get there an hour before us and they leave an hour after us. And they all have families they want to get home to.

EW: All of these public statements, combined with the fact that you're leaving the show before your contract is up, have fostered a perception of you as an ungrateful diva. Are you aware that this is how some people view you?
KH: Yes. [Gets quiet] The ungrateful thing bothers me the most. And that is my fault. I allowed myself to be perceived that way because I was being whiny and I was griping and because I made these snarky comments. So much about living life, to me, is about humility and gratitude. And I've tried very hard to have those qualities and be that person and I'm just so disappointed in myself that I allowed it to slip. Of course, of course I'm grateful. How could I not be grateful? I have been afforded such a wonderful life. And to have come this far and to have this kind of success and the freedom and the choices it allows me…The fact that I could even have Naleigh in my life- adoption isn't cheap – is something to be so unbelievably grateful for. I am disappointed in myself for allowing that perception to exist. There's nothing more gross than the idea of somebody in my position being ungrateful. And I hope that in the coming years I can change people's minds about that.
[From Entertainment Weekly print version, April 2, 2010]
Heigl also said in the interview that she has had some trouble bonding with her new daughter Naleigh, and her work schedule was getting in the way of making that situation better. "It was really hard because she loved Josh [her husband] and she just kind of tolerated me," she said. It will be interesting to see if Heigl's work schedule slows down any now that she's off the show. It doesn't appear that way, though: she's currently in production on two movies and is rumored to be considering the role of Stephanie Plum, the snarky bounty hunter from Janet Evanovich's best selling series of mystery novels. I think it's about time that Heigl apologizes for some of the things she has said over the years, but I wonder if we really will see a different, more humble person in the future. I guess we'll have to see.
Thanks to Cover Awards for the header image