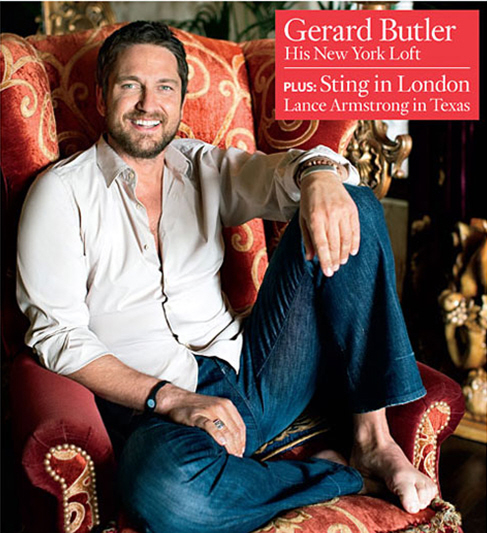 Gerard Butler is showing off his fancy New York loft in the May issue of Architectural Digest. The girls at Jezebel (jokingly) think that Gerard's appearance on AD is a subliminal message that he secretly got his finger up Jennifer Aniston's ass in private, just because Aniston made a big AD splash two issues ago. Which… okay, sure. Whatever. All I know is that when I saw my beloved on this pretty pink chair (so unexpected!), with the outline of balls visible in tight jeans, I let out a little gasp. AD gave us a little taste of what we could expect from Gerard's New York loft, if and when we get that 2 a.m. Scottish booty call (please Jesus):
Thirteen-foot-tall mahogany doors with a knocker that could summon the dead. A ceiling fresco depicting the rape of Ganymede. Plaster walls chipped and mottled with age, massive columns supporting limestone lions, crystal chandeliers casting spidery shadows…. Medieval castle? Ancestral manor house? Try a two-story loft in the heart of New York's ultratrendy Chelsea district. The doors alone are remarkable enough to stop the most jaded Manhattanite in his tracks: Who in the world lives here?

Why, King Leonidas of Sparta, who else? The place starts to make a little more sense when one considers that its owner is the actor Gerard Butler, and Gerard Butler is known for channeling such larger-than-life figures as the Spartan king, Attila the Hun, Dracula, the Phantom of the Opera and Beowulf.

"I wanted something elegant and gorgeous and at the same time rather masculine and raw," the actor declares, his Glasgow burr somehow enhancing the description. "I guess I would describe the apartment as bohemian old-world rustic château with a taste of baroque."
[From Architectural Digest]
I would love to hear Gerard growl the words "baroque" and "chateau". Quite honestly, though, I'm going to make some changes when I move in with him. Nothing major, but the decorating style does seem very… womblike. Like Gerard wants to live inside a vadge. Which isn't the worst thing, but I'm a Virgo and I love my blues. And there are no blue vadges (Note: if your vadge is blue, see a doctor). Anyway, let me introduce you to my future New York home. I'll conduct the tour as if I already live there with Gerard.
Here's the wood-tastic home theatre. Gerard's decorator notes, ""This is the most intimate area of the loft." The chairs are uncomfortable to sit in, but this is where Gerard likes to hump me on the ottoman.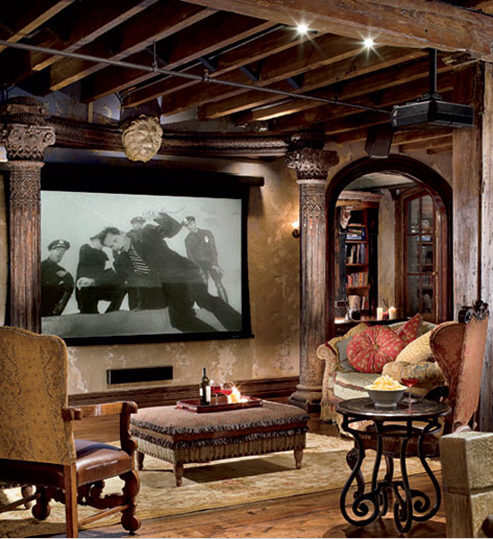 Ah, the kitchen. The heart of every home. Gerard likes to nail me on the island. Architectural Digest notes: "The kitchen's cabinetry and backsplash were fashioned from leftover flooring materials." Mm… extra wood.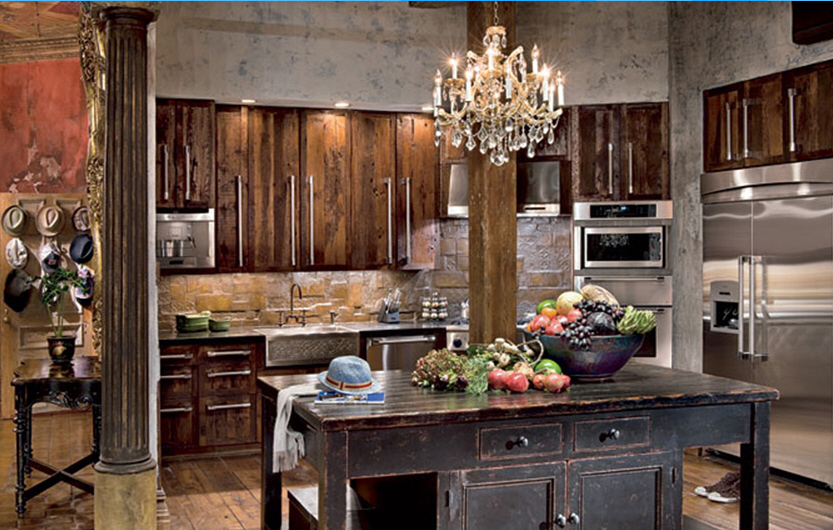 And that's all there is! Gerard didn't let them come in our bedroom. Just as well, honestly. It's not really done in a traditional baroque style, what with all of the video equipment, handcuffs, whips, nipple clamps and fried chicken (gross? Whatever). Here are a few nice photos of the newer thinned (and moobless) Gerard, out trolling for strange in Madrid. Are those button-fly skinny jeans? God, I love him. If I came across in the street, I would disrobe and beg him to take me roughly against an ottoman.
AD cover courtesy of AD online slideshow.