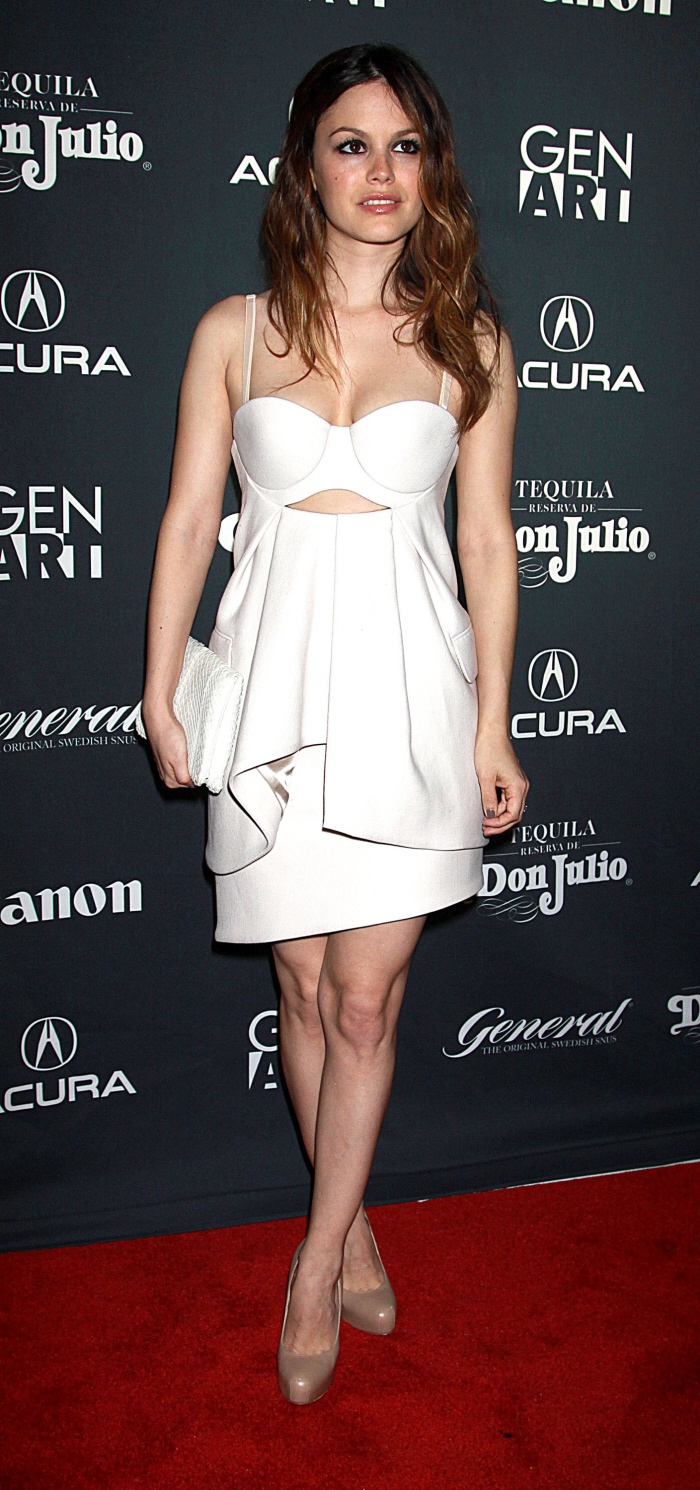 I'll admit, I rarely think about Rachel Bilson one way or the other. Her style and talent seem hit-or-miss, but on the plus side, she seems like a nice girl with a decent head on her shoulders. Thus, most people aren't paying attention to her, I think. She's not a hot mess and she's not some bombshell. She's just cute and there. Anyway, Rachel has a new movie called Waiting for Forever, and the premiere was last night in New York. This white Preen dress was what she wore – what do you think? It's weird, right? Like it could have been really special and cute and amazing, but the designer f-cked it up with those strange boob cups and the rib cage cut-out. If the stuff from the waist up was changed only slightly, she would have looked amazing. Eh.
Love it or hate it?

Rachel Bilson showed off her petite figure in a bizarre bra cut-out Preen frock at the premiere of her new flick, Waiting for Forever, in NYC Thursday. (The actress, 28, also donned nude Brian Atwood pumps.)

The back of the cream colored gown featured a bright yellow neon stripe of fabric.

Bilson — who has been engaged to her Jumper costar Hayden Christensen, 28, since February 2009 — recently admitted to Cleo magazine that she's obsessed with shopping.

"I'm not a shopaholic in the sense that I spend lots of money; I definitely love vintage and I love finding deals just like anyone else. But I do like to shop!" she said.
[From Us Weekly]
She didn't pose at all with her back to the cameras, so I can't see this mysterious yellow stripe, but there is this photo:
A hint of yellow. Eh, the problem is that she doesn't have the boobs for this dress. ScarJo would have filled this out until the cups runeth over. Rachel just stuffed her A cups into the dress and the underwire section just looks stiff and too big.
By the way, about the actual film… the synopsis for Waiting for Forever is: "Life has gotten complicated for actress Emma Twist. Her mediocre TV show has been canceled, she's on the rocks with her boyfriend Aaron, and her fathers illness has been deemed terminal. To make matters worse, her childhood friend Will Donner, whom she hasn't laid eyes on since they were children, has decided now is the time to profess his true feelings for her. When everyone unexpectedly converges in Emma's hometown, questions of family, love, and how we live our lives are explored." Rachel plays Emma. Blythe Danner is in it too. Sounds totally boring.