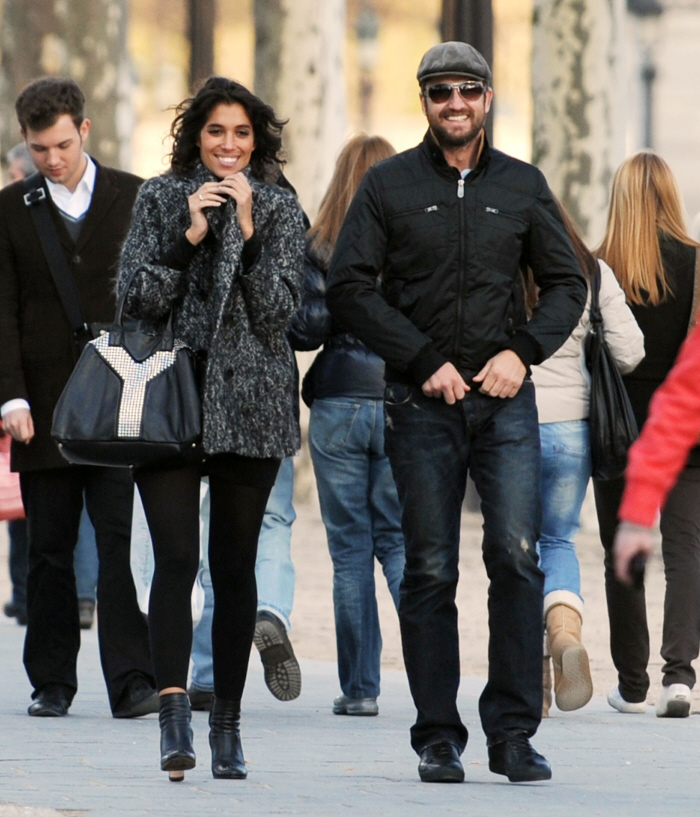 Well, it looks like Gerard Butler really is dating that (SLUT) French journalist Lisa Cholewa, the girl he met during the European press tour for Bounty Hunter. Although Gerard is allegedly being groomed by Jennifer Aniston for her baby-daddy duties – literally being groomed, like she made him diet and fake tan – Gerard apparently wants none of it. The first report came in about Gerard and this Lisa chick a few weeks ago, and it looks like Gerard is still in Paris, boning his new love in the city of lights. These are photos of Gerry and Lisa wandering around Paris over the weekend. I can't say they really look like they're in love, but Gerard does look like he's tapped that.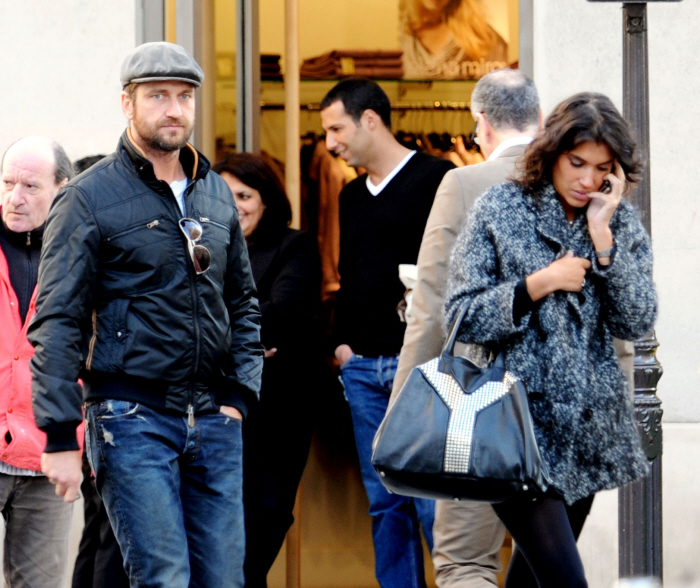 Au revoir, Jen, bonjour Laurie?

Gerard Butler has a new lady friend: French TV journalist Laurie Cholewa, who interviewed the actor earlier this month as he was promoting The Bounty Hunter in Paris.

Although Butler was snapped grabbing costar Jennifer Aniston's rear end during a photo call in Paris, he returned to the City of Lights a few days later to spend time with the single Paris native, 29. The couple was spotted admiring the art at the Louvre museum and dining together at two upscale eateries.

"They had some light salads and a bit of wine," a waiter who served them at Cafe Marly tells UsMagazine.com. "There was a warmth and intimacy between them which suggested that they were getting on very well. They're a very cute couple!"

A source at Cholewa's TV station Direct 8 tells Us that the pair "had a great time together and are keeping in touch via telephone and email. There's a real connection there…she thinks the relationship might be going somewhere, but we'll have to wait and see."

When contacted directly by Us, Cholewa laughed about her famous new beau. "He's a great guy, but you'll have to ask him about this," she told Us. Does she want a serious relationship with Butler, 40? "He's a bit far away!" Cholewa said.

The Cholewa source tells Us that the rising TV star is "smart and not at all star struck." Still, she thinks Butler is "absolutely fantastic and looks as though she wants to talk about him all the time."

Adds another Direct 8 colleague: "She's ambitious…she never stops working, so hasn't had a great deal of time for romance recently. She's extremely sexy though — Gerard is a very lucky boy."
[From Us Weekly]
So will Gerard move to Paris and he and Lisa can get a little love nest with a view of Seine? Probably not. My dude loves the ladies, and although it's nice to see him stick with one lady for longer than a night, I know his heart. I can also see it on his face in this photo: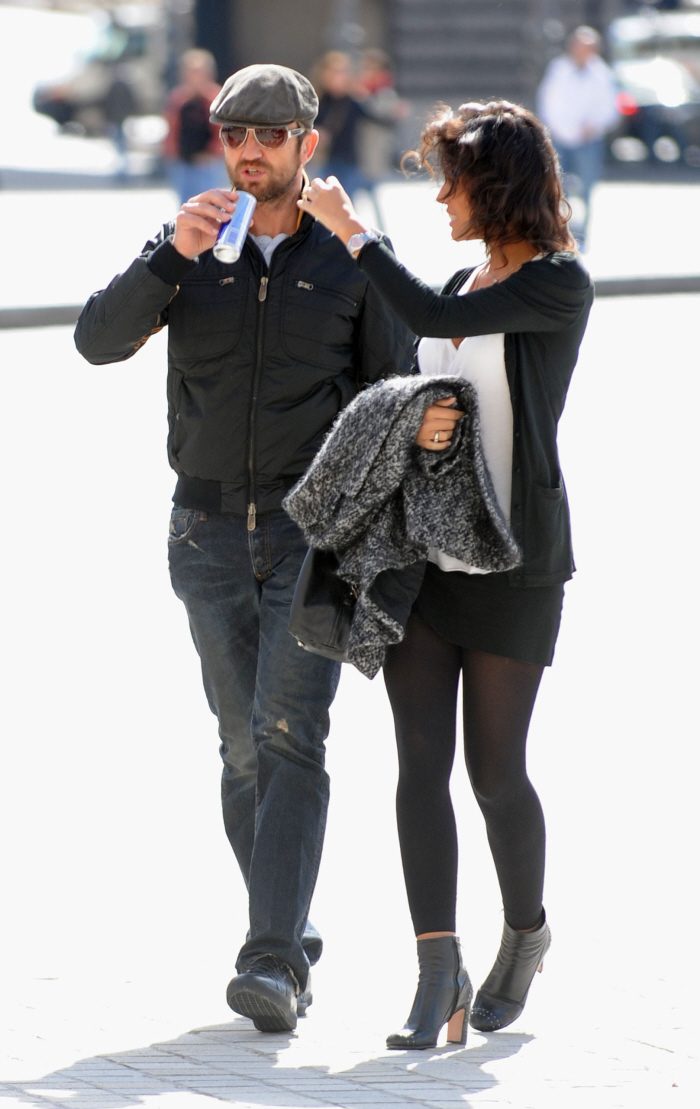 See? His face says "Chill out, we're just bonin', be cool." In his heart, he's ready to move on. He's ready to head to Spain, to Brazil, to India, to Dubai, wherever he can find dark(er) ladies who become so enchanted with Scottish accents, their panties roll off. Note to Gerard: try Virginia. My panties have been practicing.
Here's a stock image of Lisa in a bikini… she's got a nice figure, but I like how it's not totally perfect. She looks good and healthy, but not like she spends her like in a gym: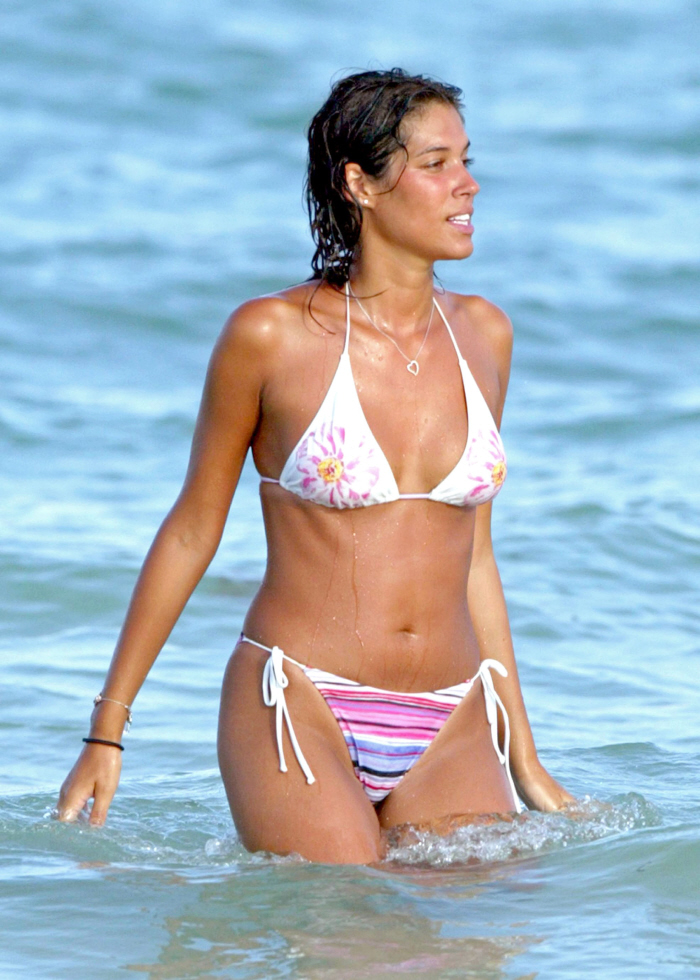 UPDATE: Okay, maybe he's not still in Paris, I got the dates wrong on these photos – Bauer-Griffin just released them, but they are from the end of March. My bad!
Gerard Butler & this Lisa chick in Paris on March 31, 2010. The bikini pic is a stock image. Credit: Bauer-Griffin.