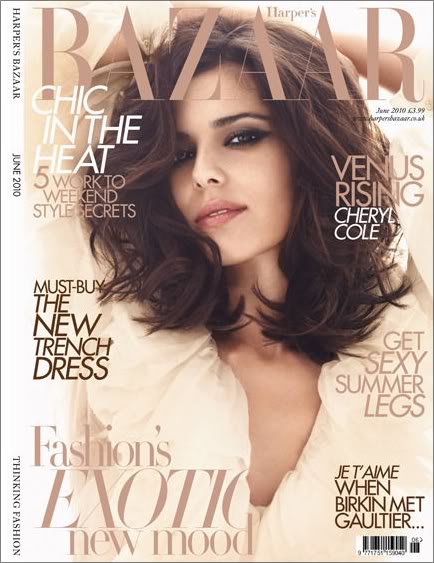 I've mentioned before that I don't really care about British singer/personality Cheryl Cole. I tend to view her as Britain's Paula Abdul, but apparently she is quite popular and beloved, and she's riding a wave of sympathy ever since she left her husband Ashley Cole. Even though I don't care, I did have two Cheryl stories I wanted to share – first of all, these are photos from Cheryl's appearance on the June issue of Harper's Bazaar UK. Pretty! I really do like them. Also, Cheryl just sat down for an interview in Hello Magazine where she claims that she keeps in shape because she adheres to the "Eat Right 4 Your Type" diet. Meaning you should diet according to your blood type. Here's more:
Since her split from husband Ashley, Cheryl Cole's slender figure has led to much debate. But it seems her tiny frame isn't simply down to a broken heart. The 26-year-old has revealed she sticks to Eat Right 4 Your Type diet, in which she eats and avoids specific foods based entirely on her blood type.

In an interview with Hello! today she admitted to watching what she eats.

'I watch what I eat, not to stay slim but to feel good,' she said. 'Recently my mother told me about Eat Right 4 Your Type, in which you're told what to eat and what to avoid depending on your blood type. It has made such a difference – not so much to my shape, but to how I feel and my energy levels. Before I was like 'energy schmenergy' and didn't believe it. But now I believe it 100 per cent.'

Stars including Australian supermodel Miranda Kerr, Martine McCutcheon and Sir Cliff Richard have previously admitted to following the plan. And while her fans may be hitting the gym to try and emulate Cheryl's figure, it seems she doesn't have to.

'I have a really hectic schedule but it does have some health benefits – I get to work out without working out,' she said. 'It's literally full-on performances back to back, and all the choreography, training and rehearsals that go into them, that's a real workout.'

And Cheryl, currently taking a break from her band Girls Aloud, says she doesn't deny herself her favourite treats – especially cupcakes.

'My only trouble is that I can't do without sugar,' she said. 'I think I might have some sort of sugar imbalance. Sometimes I feel like I just need a chocolate bar. To be honest you can't put yourself under that much pressure, so I don't deny myself anything.'
[From The Daily Mail]
Can I make fun of her for this? I really don't know what to think. My first reaction was "how stupid" but I'm sure there are people out there who swear by the blood type diet, and maybe there's even some anecdotal evidence to back it up? But of all the crazy diets that we hear about, I still think the blood type diet seems ridiculous. Also, wasn't this something that was popular back in the 1970s? Weird.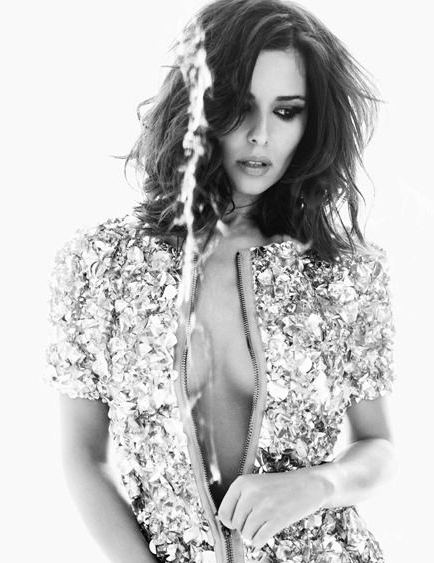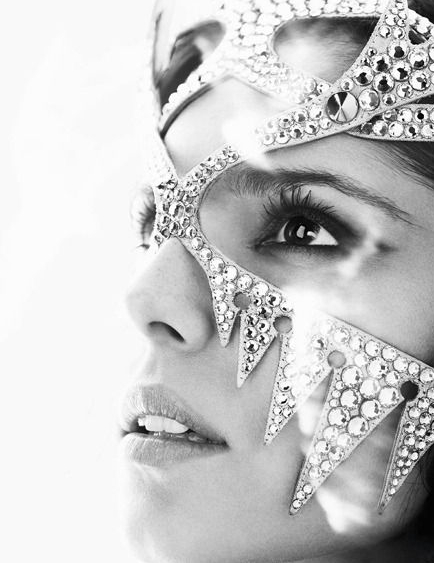 Harper's Bazaar UK cover and photos courtesy of The Fashion Spot.