Celebitchy
Archives: Beckham
Posh's new hairdo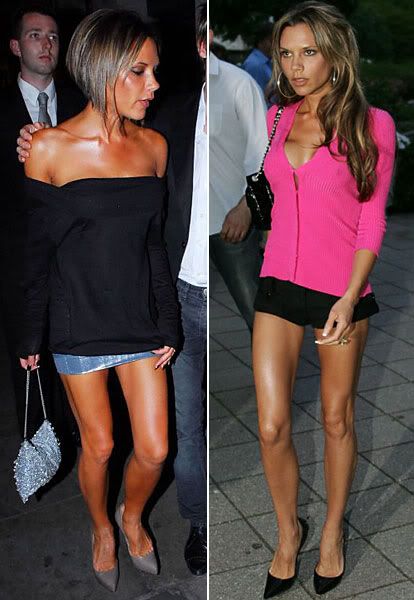 Posh Beckham got a sleek new haircut recently. She was said to be tired of the extensions, which were damaging her natural hair and causing some baldness. I bet her lack of eating was contributing too, but this is great new look for her. It also might spell the end of the extension trend:
The 32-year-old stepped out for dinner to show off her new crop in London's Notting Hill wearing a slinky off-the-shoulder top.
Keen to draw attention to her new look, she strode purposely down the street of one of London's most fashionable areas in a daring mini-skirt, more reminiscent of a belt.
Posh was also said to be tired of women imitating her, but this just means that everyone is going to get their extensions taken out and sport pixie cuts for now.
It's too bad for us long-haired women, but I for one am not going to cut my hair yet. Long hair is still pretty, and natural looks will always be in style.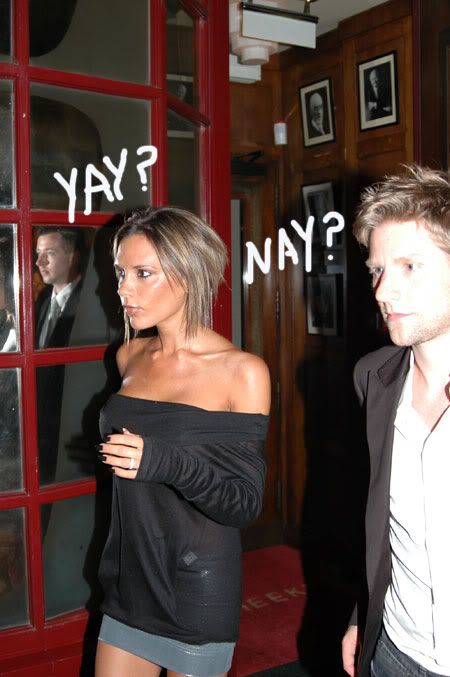 Posted to
Beckham
|
Hair
David Beckham quits as England's World Cup Captain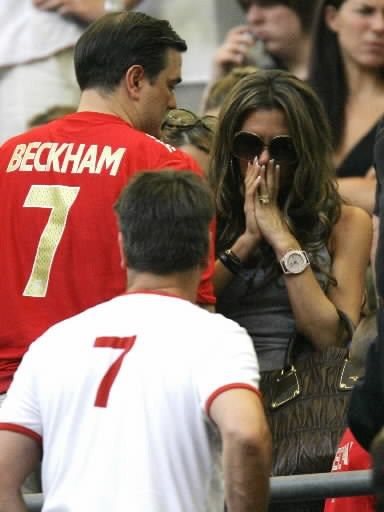 David Beckham announced his resignation as England's captain after England lost their chances at the cup by losing to Portugal in penalty kick overtime 3-1 on Saturday.
"Our performance during this World Cup has not been enough to progress further, and both myself and all the players regret that, and I hurt... I hurt by that more than people realize"
Here is Beckham crying after his World Cup dreams were shattered:

And here he is announcing his resignation as World Cup captain:

Beckham is said to have made the decision after a heart-to-heart phone call with his wife, Victoria, who has supported him on the sidelines by losing even more weight and wearing skimpy outfits:
DAVID Beckham decided to step down as England captain yesterday after an emotional heart-to-heart phone call from wife Victoria.
Posh, 32, and seven-year-old son Brooklyn both wept after seeing Becks limp off the pitch at Gelsenkirchen in tears.
She tried to console him in mobile phone calls as she was ferried from the stadium to the wives and girlfriends' hotel in Baden-Baden.
Becks finally sat down in his hotel room to compose his resignation statement in the early hours of yesterday after he and Victoria agreed that he should resign.
An England insider said last night: "A lot of raw emotion poured out during their talks on the phone. It's a decision Becks could never have made without Victoria — they made it together.
"He wanted to bow out as a World Cup winner but it just didn't turn out that way and they agreed it was time to take a new direction together.
"It was a mature decision which will take the pressure off the whole family." Beckham, 31, fought back tears and his voice cracked with emotion as he read out his handwritten speech.
In it, he said he had lived the dream and was "extremely proud" to have worn the captain's armband.
Real Madrid star Becks was helped away by FA minders after reading out his 110-second statement.
Chelsea skipper John Terry is now set to become England's new captain.
His first game in charge will be the friendly against Greece at Old Trafford on August 16.
Here are pictures of Victoria Beckham crying after England lost on Saturday. [via] she is also seen arriving at the soccer stadium on 6/20 and outside of a restaurant in Stahlbad. Germany on 6/14. There are also some pics of her at a game with Cheryl Tweedy on 6/15. [via]
Beckham
|
Photos
|
Sports
|
Victoria Beckham
Real picture of Shiloh Nouvel Jolie-Pitt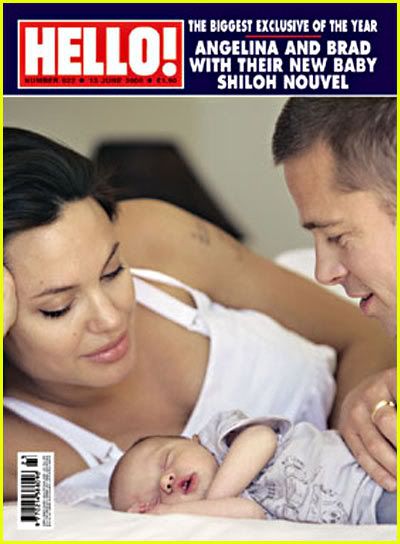 Thanks to MollyGood for landing this picture of Shiloh Nouvel before anyone else that I've bothered to check.
These first pictures of the world's most famous baby launched a bidding war at Getty Images, with representatives from celebrity magazines staying up all night to get a chance to buy the images:
All the weekly magazine editors were summoned to the offices of the Getty photo agency at Canal and Varick late Saturday night. "We were sequestered into separate and un-air-conditioned offices," said one. "The photos were shown to us around 10 p.m. to midnight, and then we had to submit bids by 6 a.m. Sunday morning. No one got any sleep at all, as it was a manic game of phone-tag to top each other's bids. I'm convinced it was Brangie's revenge on the weekly magazines." The pictures went to People for $4.1 million.
For now we just have a low res cover of "Hello." The rest of the pictures are sure to come out in ten minutes or so.
Update: slightly bigger version from Just Jared.
Posted to
Angelina Jolie
|
Beckham
|
Brad Pitt
|
Brangelina
|
Photos
Costume Institute Gala over 100 photos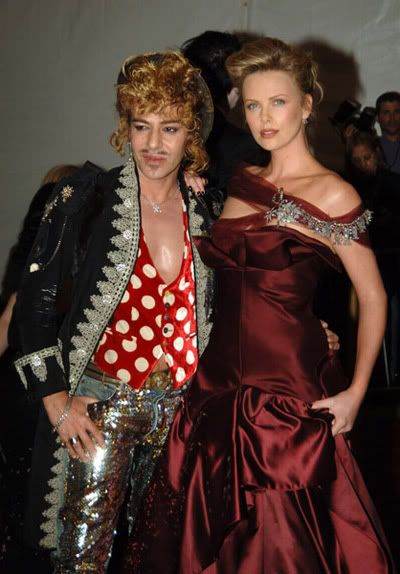 The Costume Institute Gala at the Metropolitan Museum of Art held a ball last night to celebrate the opening of an exhibit on British design. Sienna Miller, wearing an awful gold sequined minidress and black tights, served as co-chair for the event.
The star-studded Costume Institute Gala was the opening event for a new exhibition celebrating British design at New York's prestigious Metropolitan Museum of Art.
The flamboyant show, made up of themed rooms including a Hunt Ball and a Gentleman's Club, is the latest example of the city's growing obsession with all things from across the pond.
Celebrities from the UK including Liz Hurley, Kate Moss and Naomi Campbell put on their glad rags for the lavish event.
The Americans were represented by A-listers including Jennifer Lopez, Sarah Jessica Parker and Richard Gere.
The British-born editor of American Vogue, Anna Wintour, swept in first.
Miller, who teamed her glittering frock with opaque black tights and wore her hair tied back in a simple ponytail, shared the limelight with Christopher Bailey, the creative director of Burberry.
He and Wintour were the starlet's fellow co-chairs. The fashion house and Vogue publisher Condé Nast have sponsored the exhibition.
The guy dressed like a cabaret pirate posing with Charlize Theron is Dior designer John Galiano. He's responsible for her monstrosity of an Oscar gown with the giant shoulder bow. Sienna Miller is shown with Christopher Bailey, Burberry's creative director.
We have over 100 pictures from the event. Stars and designers attending include Alexander McQueen, Sarah Jessica Parker, Jennifer Lopez, Marc Anthony, John Galliano, Charlize Theron, Lindsay Lohan, Victoria Beckham, Emmy Rossum, Eva Mendes, Gisele Bundchen, Gretchen Mol, Jessica Alba, Josh Hartnett, Lenny Kravitz, Donatella Versace, Rupert Everett, Linda Evangelista and Amber Valetta, Jessica Alba, Marcia Gay Harden, Mary-Kate Olsen, Ashley Olsen, Melania Trump, Donald Trump, Molly Sims, Rosario Dawson, Scarlett Johansson, Stella McCartney, Amanda Peet, Andre Leon Talley, Naomi Campbell, Angela Lindvall, Angie Harmon, Billie Joe Armstrong of Green Day, Bridget Moynahan, Tom Brady, Chloe Sevigny, Ciara, Dita Von Teese and Marliyn Manson, Drew Barrymore, Elizabeth Hurley, Erin O'Connor, Matthew Williamson, Eve, Gina Gershon, Ginnifer Goodwin, Ivana Trump, Jacquetta Wheeler, Jason Lewis, Jessica Stam, John Legend, Johnny Rotten, Josh Lucas, Joy Bryant, Julia Stegner, Iselin Steiro, Karolina Kurkova, Lily Cole, Lauren Bush, Lily Donaldson, Gemma Ward, Liv Tyler, Francisco Costa, Lydia Hearst, Mandy Moore, Minnie Driver, Nick Cannon, Petra Nemcova, Rachel Roy, Damon Dash, Ralph Fiennes, Richard Gere, Cary Lowell, Thandie Newton, Selma Blair, Shalom Harlow, Sienna Miller, Christopher Bailey, designer for Burberry, Zooey Deschanel, Sophie Dahl, Ivanka Trump, Mark Ruffalo, Taye Diggs, Idima Menzel, and Sarah Wynter.






Beckham
|
Charlize Theron
|
Chloe Sevigny
|
Drew Barrymore
|
Elizabeth Hurley
|
Eva Mendes
|
Fashion
|
Gisele Bundchen
|
J.Lo
|
Jennifer Lopez
|
Jessica Alba
|
Josh Hartnett
|
Linda Evangelista
|
Liv Tyler
|
Mandy Moore
|
Marc Anthony
|
Mary-Kate Olsen
|
Naomi Campbell
|
Parties
|
Petra Nemcova
|
Photos
|
Rosario Dawson
|
Sarah Jessica Parker
|
Scarlett Johansson
|
Sienna Miller
|
Victoria Beckham
David Beckham gets a free car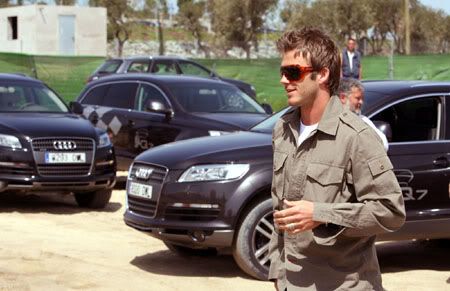 David Beckham's BMW X5, worth roughly around $125,000 USD, was stolen from a shopping center parking lot in Madrid on Good Friday. It is the second car he's had stolen in five months.
Beckham's car had all the latest anti-theft devices, including a low-jack, but thieves used a computer to somehow start the car and bypass security. A crime syndicate that fences luxury automobiles for resale in Eastern Europe is suspected of the crime.
As a consolation prize, Beckham received a free top of the line Audi Q7. All of his teammates got one too, as part of Audi's sponsorship of Real Madrid. The car is worth about the same as the one Beckham just got stolen, and he requested most of the trimmings, adding about $35,000 USD to the car's worth.
Here's Beckham getting his free car, and out with his wife Victoria at The Ivy restaurant on 4/24.
Beckham
|
Photos
Victoria Beckham skis in the nude... almost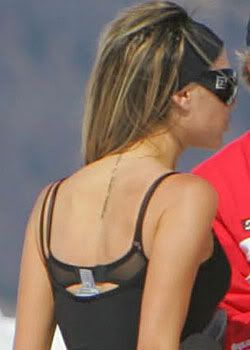 Victoria Beckham wore a tank top in 5 degree weather while in the French Alps this week. She paraded around on the snow for photographers, and wisely put on a jacket before hitting the slopes.
Obviously, no one has told the formerly Posh one it's just not ladylike to show off your bra, even when it's accessorised by a designer ski suit.
The mum-of-three didn't seem to feel the cold - or maybe she was just basking in the attention of all the photographers.
Still, unlike her most recent ski trip, Victoria, 31, at least made it out on the piste in the French resort of Courchevel.
Beckham wore a marginally more practical leather ski outfit for her last outing on the slopes.
Beckham has been rumored to be pregnant with her fourth child with soccer star David Beckham. We would say it's probably not true since she's been spotted drinking, but Gwyneth Paltrow has shown that you only have to be British at heart to justify fetal alcohol syndrome.
Pictures [via]
Four more pictures after the jump.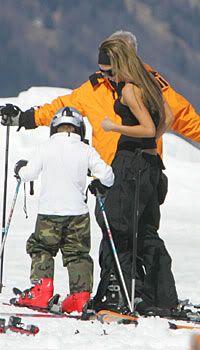 Continue reading "Victoria Beckham skis in the nude... almost" »
Posted to
Beckham
|
Photos
|
SmartSmartSmart
|
Victoria Beckham
David Beckham has Obsessive Compulsive Disorder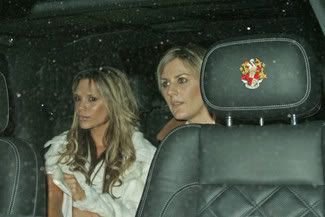 David Beckham has revealed his battle with Obsessive Compulsive Disorder, from which he has suffered in silence for years:
He claims former teammates at Manchester United mocked him and his wife, former SPICE GIRL VICTORIA BECKHAM, is bemused by his bizarre behaviour. Beckham explains, "I've got this obsessive compulsive disorder where I have to have everything in a straight line or everything in a straight line or everything has to be in pairs. "I'll go into a hotel room. Before I can relax I have to move all the leaflets and books and put them in a drawer. Everything has to be perfect. "I'll put Pepsi cans in the fridge and if there's one too many then I'll put it in another cupboard somewhere. "I would like to (stop). I've tried and I can't stop."
We hope Beckham gets treatment and can overcome his OCD. It's brave of him to reveal a mental disorder and we won't make fun of him for it. His wife is fair game, though.
Here's his skinny, greasy-faced wife outside of a restaurant in London on April 1st. She looks like she's on something and she's wearing fur!
Pictures [via]
Three more after the jump.
Continue reading "David Beckham has Obsessive Compulsive Disorder" »
Posted to
Beckham
|
Illness
|
Photos
The Beckhams and Lohan pick trendier cult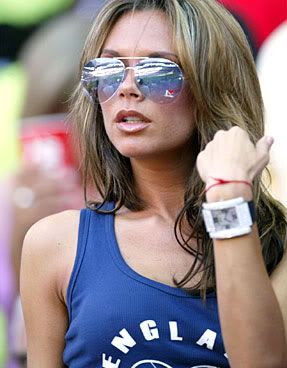 So Kabbalah is ahead in the battle of the celebrity-favorite cults this week. Cult News reports that illiterate Victoria Beckham has been
wearing a red string on her left hand
, the Kaballah talisman that supposed to ward off the evil eye. (A red string on the right hand is a symbol of anorexic pride, and given Posh's stick-thin figure and low level of intelligence, it is possible that she simply confused the two.) This means that she may have picked Madonna's cult Kaballah over Tom Cruise's cult Scientology, which she was supposed to be considering based on her friendship with Katie Holmes.
It appears that there has been an almost frantic competition between the two most popular purported "cults" in Hollywood, to get the Beckhams onboard, they are Britain's most popular celebrity couple, outside the royal family.
Each group's top recruiter has come knocking on the door, Tom Cruise from Scientology and Madonna for her beloved Kabbalah Centre.
Certainly, whoever gets "Beck" and his wife Victoria will draw the attention of soccer fans worldwide, not to mention celebrity watchers, waiting for the next trend.
[
via
]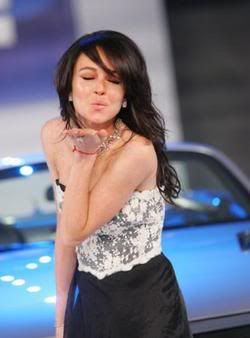 Cindy Adams reports in The NY Post that Lindsay Lohan is also wearing a red string. We pointed out that she had a Kaballah string on at the GM fashion show at the beginning of March. It is indeed not a one-time thing and she mentions to Adams that's she's clinging to anything in order to get some sanity:

"Yes, I am looking into kabbalah," she told me. "I guess why is because all of us need something. You just have to grab onto whatever can get you through. Maybe it's this business, but it seems everything around can be so tough, so hard. I think you have to have somewhere to turn for a little softness and understanding. I know I'm really trying."
There are much healthier, safer things to get you through the day Lindsay. Exercise, music, even an occasional drink for one. You're better off with a hangover and some embarassing pictures than getting involved with the Kabbalah cult.
In terms of Posh's choice, she may have picked the lesser of two very real evils.
Posted to
Beckham
|
Cults
|
Katie Holmes
|
Lindsay Lohan
|
Madonna
|
Tom Cruise
|
TomKat
|
Victoria Beckham
No Spice Girls reuinion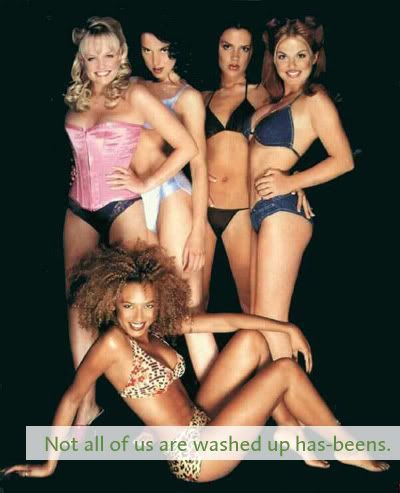 Melanie C, aka Sporty Spice, actually has a career and has put the kibosh on a Spice Girls' reunion. Victoria Beckham, the infamous insect wife of dumb ass soccer star David Beckham, is easily influenced and tried to make it seem as if she had the same idea as Melanie:
Sporty Spice Mel, visited Posh in Madrid last week to talk about a tour in honour of the tenth anniversary of their debut single, Wannabe, getting to No1. Promoters had pencilled in dates for November and December.
But Posh and Sporty, who has a fairly successful solo career in Europe, decided it could be a bit, well, embarrassing.
A source close to the girls said: "Melanie has never really been into the idea of performing with the girls again. She is proud of everything they did together but she has moved on.
We were really looking forward to making fun of this, and are sorry it's not going to happen.
Posted to
Beckham
|
Music
|
Victoria Beckham
Beckham's prostitute look alike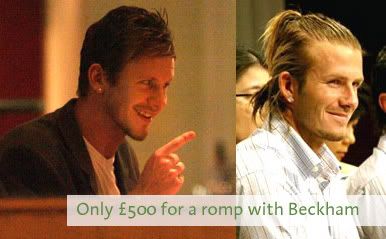 The Sun has a remarkable piece of investigative journalism about a homely female reporter's date with a male prostitute. This isn't just any gigolo - he's one that captilizes on a resemblance to Becks:
He said: "I'm a single guy. For £500 we would spend the night together and can do whatever you want to do. I usually start with a massage and cuddling and then see where it goes from there.
"You can do whatever you would do with a boyfriend."
The seedy soccer sham even offered to pull on a replica England strip during the romp.
He said: "I have got a kit and I would be happy to put it on for you. Some women I have been with even call me David during the act. I don't mind."
The male hooker, Paul, also said he's gay for pay but not uh, every day. He also models as Beckham for gay websites.
The Sun reporter only had dinner with the famous prostitute, and could not vouch for his services. He looks to be charming in the photos.
Beckham
|
Sex
Tom and Katie try to recruit Beckhams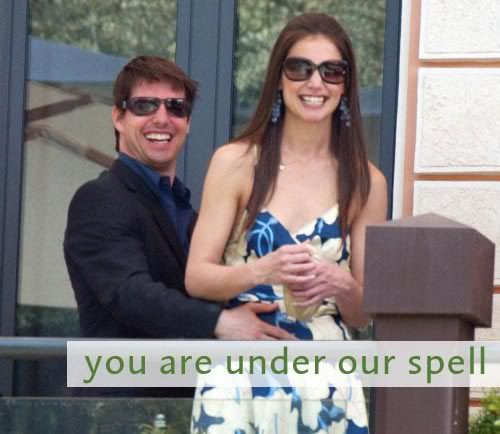 Cult expert Rick Ross reports that Katie Holmes' friendship with Victoria Beckham is not all that it seems, and that Tom and Katie have been working together to recruit the Beckhams into Scientology:
Is "TomKat" working like a tag team to get Great Britain's top celebrity couple into the controversial organization, often called a "cult"?
"Victoria has become a mother hen to Katie and was thrilled when she asked her to be her birthing partner. Victoria remembers how scary it was when she had her first child. She can't imagine how difficult it will be for Katie to give birth [Scientology style] quietly and without any pain killers" a source told the press.
Well, maybe all that pain will be worth it if Scientology's top star can recruit the most popular British celebs outside the royal family.
The Beckhams certainly are dumb enough to get recruited into Scientology, and it would not be surprising if they converted.
It's amazing how many celebrities get recruited into dangerous and expensive cults. Other celebrities involved in Scientology include Kelly Preston, John Travolta, Juliette Lewis, Kirstie Alley, Jason Lee, and musician Beck.
Katie is due to give birth in a month or two depending on who you believe. Life and Style, not known for accuracy, reported twice in mid-February that the two had split. Cruise threatened to sue over the story, but did not follow through.
Posted to
Beckham
|
Cults
|
Katie Holmes
|
SmartSmartSmart
|
Tom Cruise
|
TomKat
|
Victoria Beckham
David Beckham can't do first grade math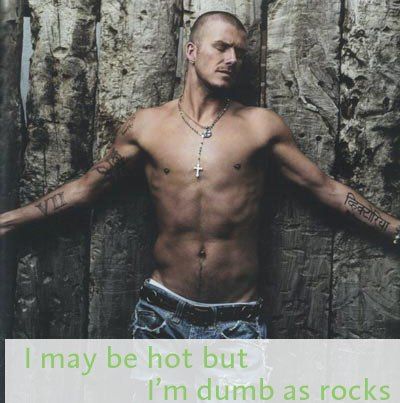 Seriously. What would this guy do if he wasn't an athlete? Most manual labor jobs require more sense. From Reuters via Oh no they didn't:
Superstar David Beckham, whose mental agility has been questioned before in the media, has said his six-year-old son's maths homework leaves him baffled.
The England captain and Real Madrid midfielder was forced to call on his wife Victoria, a former member of the Spice Girls pop group, to help their son Brooklyn with a school assignment because the footballer found the sums too difficult.
"Their homework is so hard these days," Beckham, 30, said in an interview with the Mail on Sunday. "It's totally done differently to what I was teached when I was at school, and you know I was like 'Oh my God, I can't do this'."
Posted to
Beckham
|
SmartSmartSmart
|
Victoria Beckham