Lindsay Lohan's singing career is screwed too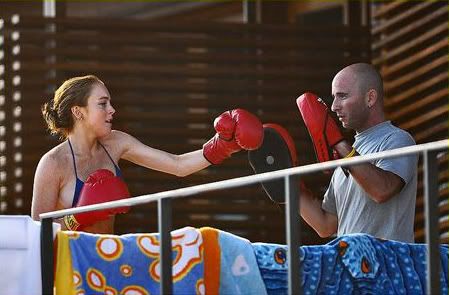 When I reported on the scathing letter Lohan received from the production studio head of her latest film, I said, "Lohan has become a parody of herself and will have a steady career of increasingly more embarassing endorsements if she doesn't slow down and focus on her acting. Oh wait - she can sing too, right?"
She can sing, but her music career has fallen prey to her partying ways, too. The British arm of her record label has given her the boot because her single tanked in the UK. Lindsay's blamed for the failure since she couldn't be bothered to go to England for promotion:
An industry source told me: "A single was a huge flop over here because Lindsay couldn't be bothered to get off her bum and promote it. In the end they didn't even bother releasing the album, called Speak, in Britain.
"She didn't bother to come over to the UK to do interviews or make TV appearances to help sell the album.Island have now decided not to do another one with her."

The single she did release was appropriately named Over, which is what will happen to Lindsay's career if she doesn't clean up her act soon.
Oops Lindsay, better concentrate on your career instead of how good you look to the paparrazi.
Here is Lindsay kick-boxing on the beach this weekend. Her trainer looks perplexed and a bit scared. That little firecracker might just hurt him if he's not careful.
Pictures [via]
Fitness
|
Lindsay Lohan
|
Music
|
Photos
Matthew McConaughey parties it up for 4th of July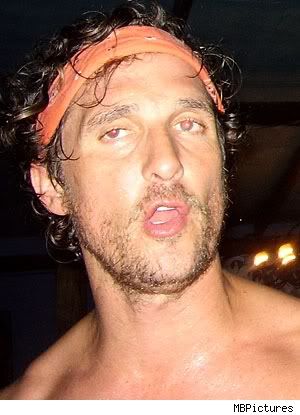 Matthew McConaughey was photographed drunk, high, or a bit of both on the fourth of July weekend in Costa Rica. This sort of contradicts a British report that showed Matt with a fat stomach and said he held an Independence Day party at his Malibu mansion. Both might be true and Matt may have been in Costa Rica on the weekend and back in time to throw the party on Tuesday. He doesn't look fat, though:
Matthew McConaughey celebrated his independence from former girlfriend Penelope Cruz with a three-day bender in Costa Rica over the Fourth of July weekend...
A barefoot, shirtless, and sweaty Matthew got his groove on by drinking, dancing, writhing on the floor and even shushing one of his fellow vacationers.
We all know he loves to party and as long as he's not pulling down Christmas trees or assaulting anyone it seems quite harmless.
Matt's hangover must not have lasted long. He was biking in the Malibu hills with Lance Armstrong and Jake Gyllenhaal on Wednesday, July 5th.
Here is Matt on the weekend in question and riding his bike a few days later with Lance and Jake. [via]
Drunk
|
Fitness
|
Jake Gyllenhaal
|
Matthew McConaughey
|
Photos
Jake Gyllenhaal and Ryan Phillippe work out - ow!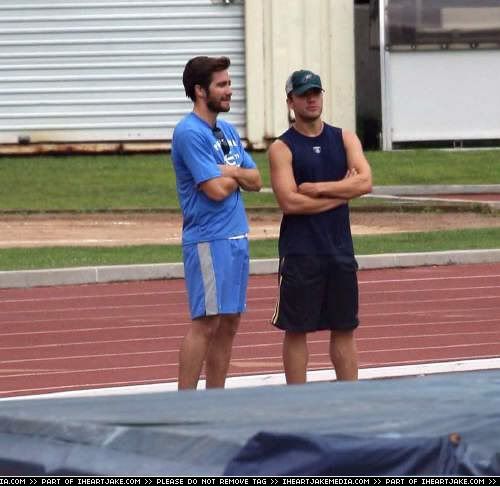 Jake Gyllenhaal and his costar weak Heath Ledger won the MTV Movie award for "Best Kiss" for their on-screen guy on guy snog in "Brokeback Mountain." Gyllenhaal joked during his acceptance speech that he told Ledger at the time that if they didn't win the award it wouldn't have been worth it. Gyllenhaal was a good sport and attended the ceremony, while Ledger stayed at home cowering from the paparrazi.
Gyllenhaal was recently linked with Natalie Portman after he was said to be dating an Olympic snowboarder. We just don't see it happening - either one.
Ryan Phillippe and his powerful sperm are going to star in the Iraq War drama "Stop-Loss" headed by "Boys Don't Cry" director Kimberly Pierce. Phillippe will play a soldier who refuses to return to Iraq after being called back to battle unfairly. This is a big opportunity for Phillippe and should help his faltering Hollywood career.
We needed a filmsy excuse to publish these pictures of Jake Gyllenhaal and Ryan Phillippe working out with the same trainer. If only they were high resolution and we could zoom in the pics of Phillippe wiping his sweaty face with the bottom of his shirt.
(We are totally ripping off The Bastardly's favorite expression in that headline.)
Pictures [via]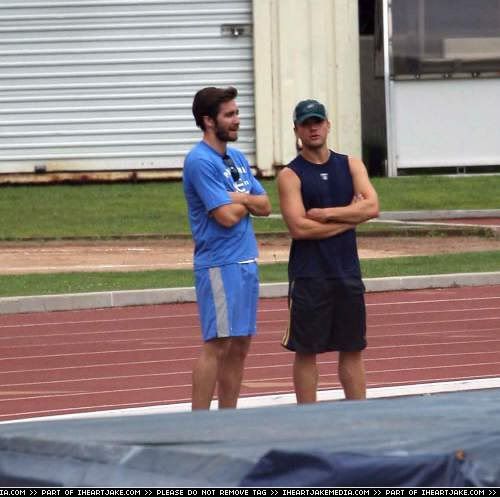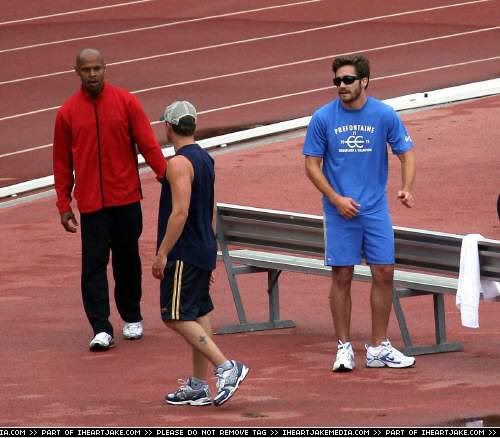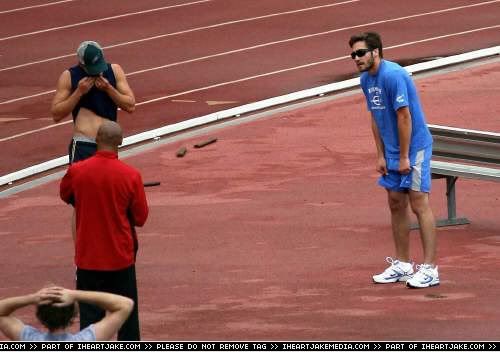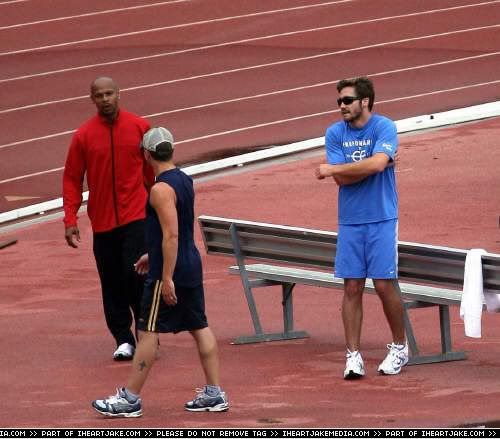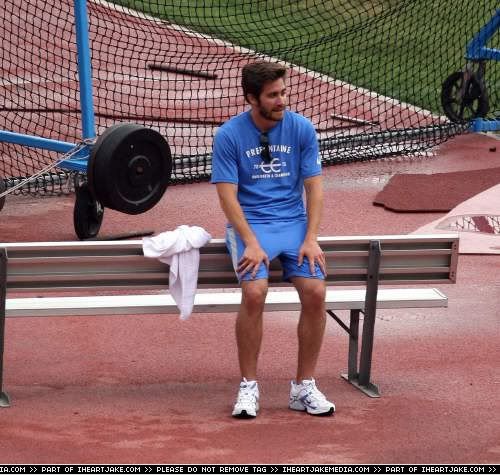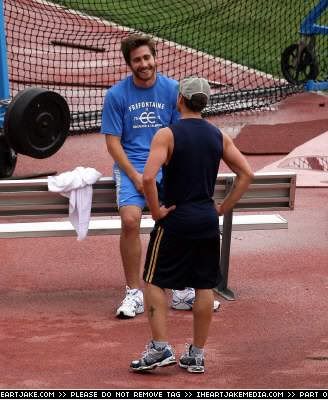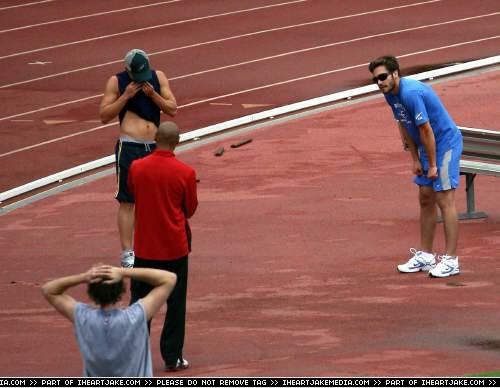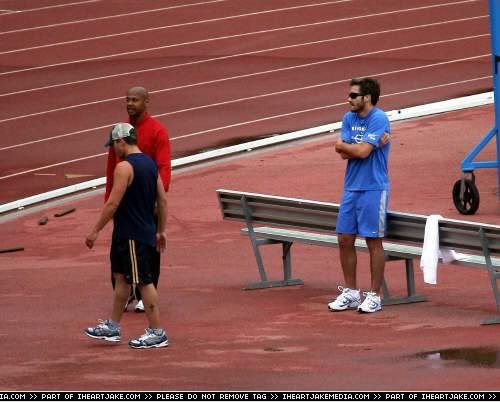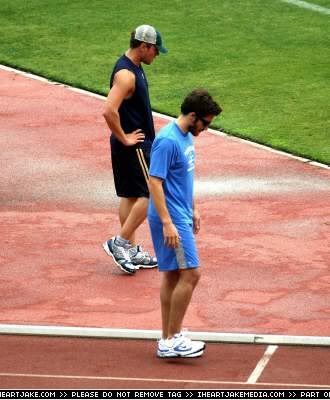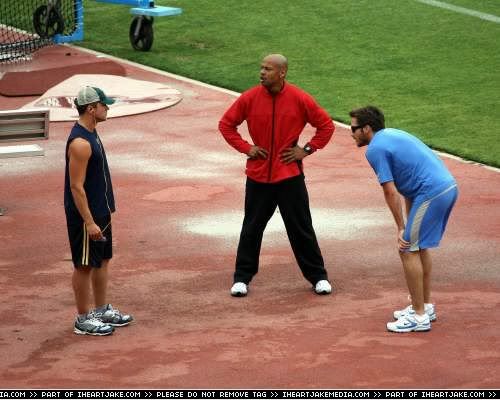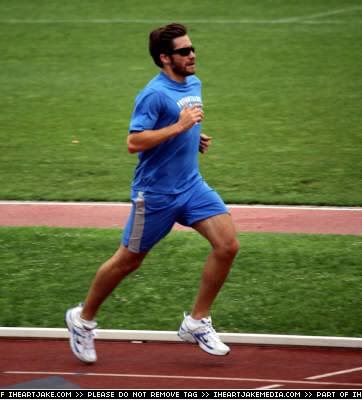 Posted to
Fitness
|
Jake Gyllenhaal
|
Ryan Phillippe
Britney hits the gym; wants to design baby clothes

Britney Spears was photographed working out on Monday! She was even wearing makeup. This is good news for Britney. She's learning to drive stick, has a new car and a new male nanny and may be divorcing Kevin finally. Now that she's working out you can be sure that she's getting out of the rut she's been in since hurting her ankle in 2004 and shacking up with K-Fed.
Britney is said to be planning to design her own line of baby clothes a la Gwen Stefani. She's reportedly bored and doodling sketches for an infant fashion line aimed at high-end boutiques:

According to The Sun, he pregnant singer said: "I've spent so much shopping for Sean I thought, 'I could do that and have people paying me a fortune.'"
A friend of Britter's added: "She's had a lot of time on her hands where it's just her and Sean and she would doodle designs. She's really creative and loves doing it.
"She's designed a little punk rock outfit, a hip hop outfit and a sharp suit. They're so cute! I think she'll try and get boutiques to sell them. She doesn't want to fund it herself."
Britney has terrible fashion taste, but people are going to market and buy that crap if this story is true. My son has several outfits that people have bought him with ears and tails on them. It's not like you can humiliate a baby by dressing him in dumb clothing. Babies are just about the only demographic that Britney can safely design for.
Here she is at the gym. Thanks to breatheheavy.com for these photos, which were supposedly taken two days ago on June 5th.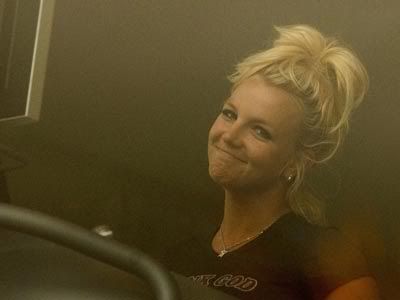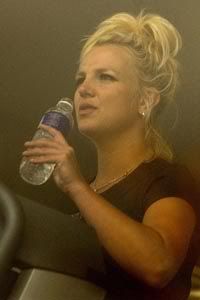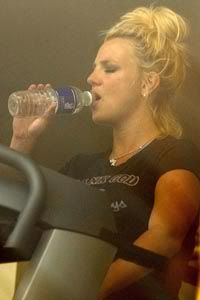 Posted to
Babies
|
Britney Spears
|
Fashion
|
Fitness
Idiot pays $56,000 for single yoga lesson with Gwyneth Paltrow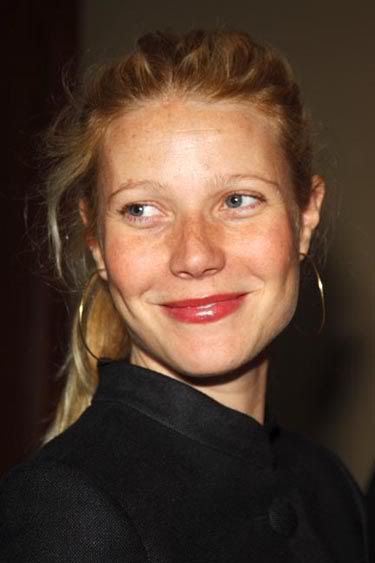 In a charity auction for The Prince's Trust, a single yoga lesson with Gwyneth Paltrow went for £30,000, nearly $56,000 USD:
A FAN has paid £30,000 for a yoga lesson with Gwyneth Paltrow.
The Hollywood actress, 33, was stunned when told the amount.
The mum of Apple, two, and Moses, born last month, donated her time for a charity auction in aid of The Prince's Trust 30th anniversary.
Gwyneth... said: "Someone's spent a great deal of money on it so I'm going to have to really come up with an excellent plan." But she added: "Unfortunately I can't do it in the nude or anything to make it really exceptional but I will try and come up with a good plan for a yoga lesson."
[
via
]
We don't like Gwyneth much because she seems quite snotty, but reader Millie points out that she is super-nice to a friend of hers. Angelika also bashed us for bitching about Gwyneth's night out so soon after her second child was born.
Regardless it's nice that she's donating her time to a worthy cause. Gwyneth's one hour of time is worth much more than $56,000. She made $3.6 million for a three-minute cameo in the film Infamous, or $1.2 million per minute.
Posted to
Fitness
|
Good Causes
|
Gwyneth Paltrow
Exclusive: Buff Brides quotes about Tom dictating Katie's fitness are false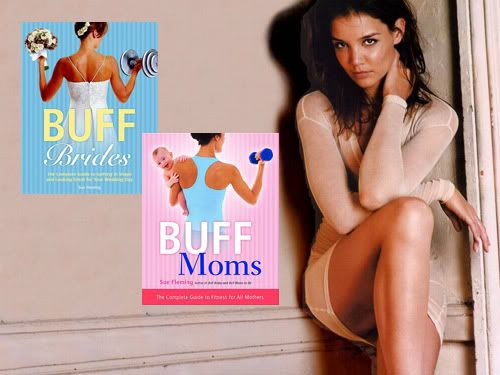 It came out about two weeks ago that Katie Holmes was following the Buff Brides program to get back in shape. It was said that she met personally with Sue Fleming, the owner of Buff Brides. Sue is a close friend of the family, and we reported that it was not true that Katie had met with her.
Now everyone is up in arms because Tom Cruise is supposedly overseeing Katie's shape-up plan, but they're basing that on quotes from Sue Fleming which are false.
Several newspapers are running the same story in which Buff Brides fitness guru Sue Fleming says that Tom managed Katie's fitness program and that he brought her to tears by saying that he wanted her to be a beautiful bride. We e-mailed with Sue today, and she assured us that she did not say the following:
But Fleming hits back: "Katie can and will do it. She has great motivation. She loves her fiance and was proud that Tom oversaw this programme.
"He told her he wanted her to be the most beautiful bride ever. She was in tears when he said that."
Maybe another trainer said this, but Sue Fleming did not. Sue's never even met with Katie Holmes, and these quotes are definitely not from her.
Meanwhile Katie's dad is said to be quite pissed that Katie is exercising so much, but given the fact that the quotes from Sue Fleming are totally fabricated, it sounds like this is made up too:
He tells British magazine Reveal: "My daughter needs rest, relaxation and recuperation.
"Katie is already doing exercises to build up her back and shoulders and I simply can't go along with what is happening."
Those quotes from Katie's dad sound fake too, don't they? Who says things like "I simply can't go along with what is happening?" In fact this whole story stinks of b.s., but it's getting carried by plenty of newspapers. People want to believe that Tom is so controlling that he's telling Katie exactly how to work out.
Posted to
Fitness
|
Katie Holmes
|
Tom Cruise
|
TomKat
Exclusive: Katie Holmes has not met with the owner of "Buff Brides"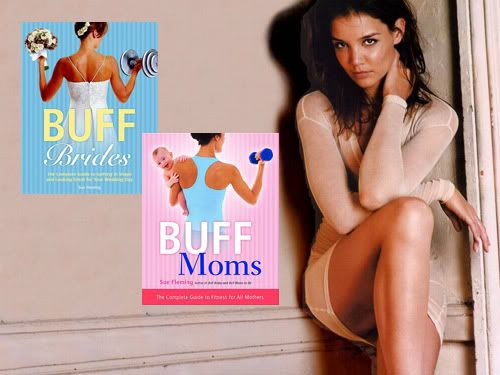 My aunt is best friends with Sue Fleming, the personal trainer and founder of Buff Brides. Sue has written three books to help brides-to-be and moms shape up: "Buff Brides," "Buff Moms to Be," and "Buff Moms."
That's why I got all excited when I read in yesterday's The Sun that Katie Holmes had hired "a personal trainer from BuffBrides.com" to help her get in quick shape for her wedding ceremony. Here's what The Sun wrote:
And the new mum isn't dragging her feet over getting back into shape for the ceremony.
She has already hired a personal trainer from BuffBrides.com.
There are no lists of personal trainers on Buff Brides.com, so it sounds like Katie has hired Sue Fleming, the owner, herself.
TMZ then runs with this story, stating flat out that Katie has met with Sue:
A Cruise/Holmes wedding is on the fast track.
Katie Holmes has met with the owner of Buff Brides, a company that sculpts bodies for the big day. And, we're told, Buff Brides has specific instructions -- get Katie ready to look amazing in her wedding dress.
Now we have the specifics. A source tells TMZ that it's a sleek, strapless A-line dress that is form fitted across the waist and falls to the floor. As for cleavage -- not so much. The bust is cut straight across.
We're told Katie has very specific goals to look great in the dress, working especially hard on her shoulders and back.
Sue Fleming, the owner of Buff Brides told TMZ that Katie has decided to use her program, with the help of a personal trainer who has licensed the Buff Brides fitness regimen.
Fleming has written fitness books for brides, moms and moms-to-be. Musicians, actresses, newscasters, and TV stars have all used her methods.
While Katie may be using the BuffBrides method with her own trainer, she has not met personally with Sue Fleming, and TMZ is mistaken. It seems like they could have simply asked Sue about it if they were able to get her on the phone.
BuffBrides and its companion books are excellent, easy-to-follow programs that you can do at home to get in shape quickly. Katie is sure to be looking great for her summer wedding with Tom Cruise if she faithfully follows the program. You can get the books from Amazon.
Posted to
Fitness
|
Katie Holmes
|
Tom Cruise
|
TomKat
|
Weddings