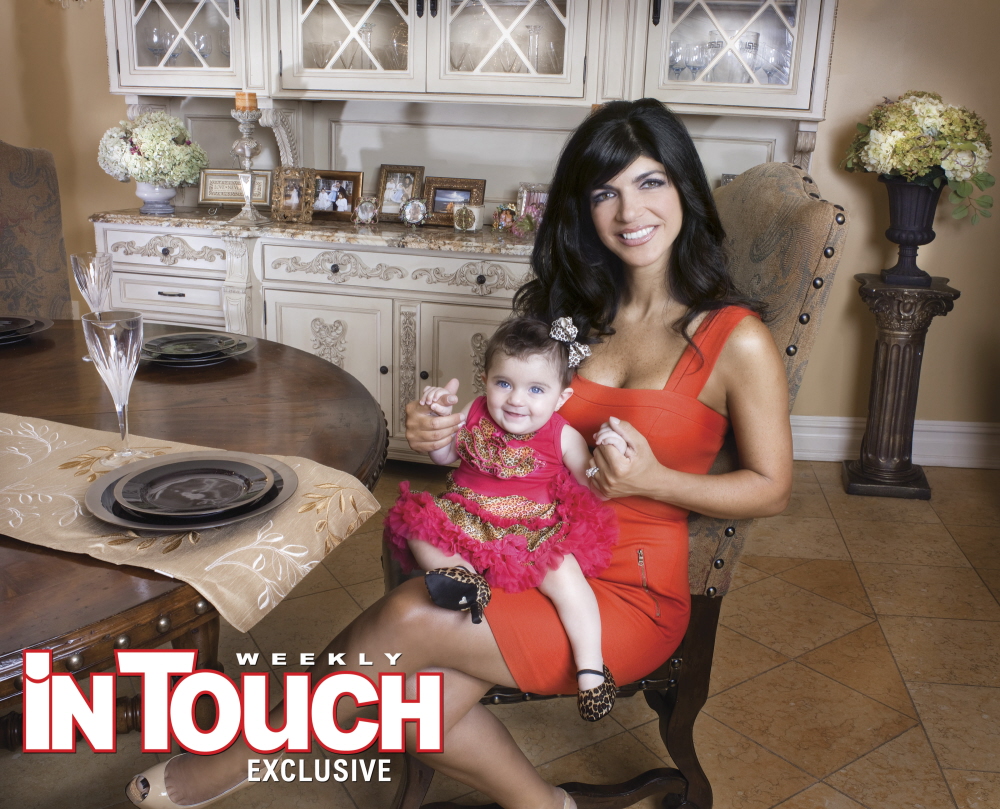 Oh. My. Baby Shoes. This is New Jersey princess/ Real Housewife of New Jersey Teresa Giudice, and her new baby Audriana. Audriana is almost 8 months old, and she's rocking those little leopard-print high heels. I know what some of you are thinking – leopard-print high heels on an 8-month old baby? Isn't that crazy? The answer: of course not. Not if you're a Real Housewife of New Jersey.
Anyway, this glorious photo comes courtesy of an In Touch Weekly exclusive. In Touch is helping Teresa promote her new cookbook, Skinny Italian. Here's more:
When not filming Bravo's hit reality show The Real Housewives of New Jersey, life's still pretty busy for Teresa Giudice: She cooks, she cleans, and she takes care of her husband and her kids.

"I'm really a housewife!" she laughs. But the mom of four is now letting America in on a little secret in her brand-new cookbook, Skinny Italian, where she reveals that you can eat the foods you love and stay in shape.

"I'm hoping that people will see that Italian food is not fattening and that it actually can be healthy and nutritious," Teresa tells In Touch while dishing out the pasta she made herself. "I want to keep the old traditions and incorporate them into modern-day dishes."

Teresa says that she first learned to cook from watching her mom, and that the first recipe she perfected was a classic homemade Italian tomato sauce.

"My favorite recipe, though, is tagliatelle with peas and ham!" And that dish — along with other favorites like bruschetta — are easy to make, she insists.

"I used to buy cookbooks because I wanted to try all gourmet foods, but there were so many weird ingredients, like cumin. Spices I've never heard of," she explains. "And then it tasted gross. It really did. My recipes are easy and simple and good for you!"
[From In Touch Weekly]
She'd never heard of cumin? Seriously? I can see how someone who never cooks would never know what cumin is, but someone who cooks regularly? Strange. Anyway, my mother loves this show, and she loves Teresa. I'm going to have to tell her about little Audriana's baby-heels.
Here's a close-up: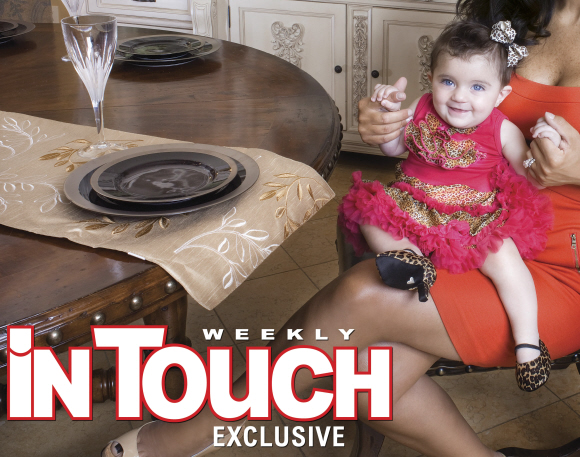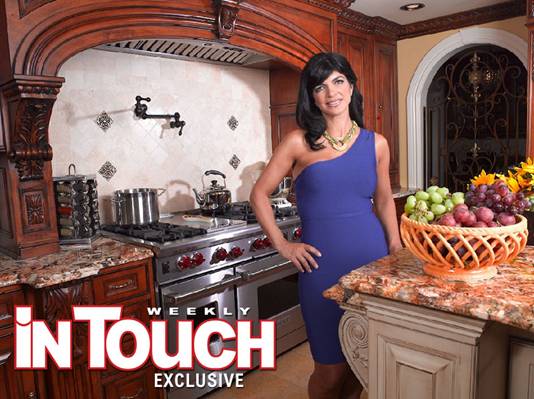 Photos are exclusive to In Touch Weekly, photo credit: Andrew Coppa, Vis Vitae/In Touch Weekly.