Charlize Theron is boring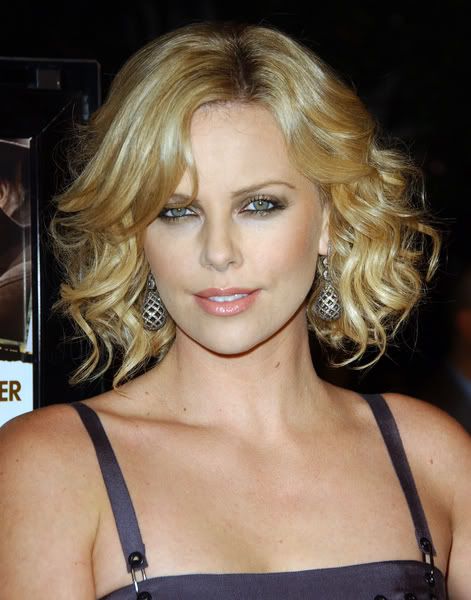 Charlize Theron bores the shit out of me. I know she's gorgeous and scandal-free except for her childhood in South Africa, but she just seems like an uninteresting person. I watched her entire David Letterman interview from last night hoping there would be some tidbit that I could report on, because it's all Elliot Spitzer today, but no, she just droned on in a flat voice about how she worked hard to earn her US Citizenship and how she got wasted with the Hasty Pudding guys dressed in drag. She managed to make even that incident sound completely matter of fact. Maybe she's depressed or just having an off day, but the title for her latest movie, Sleepwalking, sounds like it describes her to a T.
OK! Magazine has some quotes Charlize gave while doing the press for her film. She talks about people who lose weight and gain it back because they still have underlying issues they haven't addressed or whatever, but it doesn't come off as a nice statement the way I'm reading it. They say she's making a parallel between her character wanting a boyfriend to make her whole and heavy people thinking their life will be complete once they lose weight.
But while her ups and downs have been purely career-driven, the Oscar winner, 32, empathizes with friends whose battles have been more personal. "I've been fascinated by people who lose a lot of weight," she told OK! at a junket promoting her movie, drawing a link between her character's belief that having a boyfriend will remove her woes and long-term dieters' similar expectations about their bodies.

"There's this excitement and joy when they have gastric bypass surgery, and they actually truly believe that once they lose the weight all their problems will be solved," said the actress. She continued, "That's just not how life works. Once they lose the weight, they realize that, and that's why they go and gain the weight back."
[From OK! Magazine]
I don't understand why she would even bring that up. Why not talk about women who are told by society that they're sad sacks unless they have a man? It just sounds kind of catty and judgmental to me, but maybe I'm in a bad mood and Charlize Theron is easy to target, since she's so bland and perfect and all. Maybe she's saying that no one's life is perfect, including hers, and that somehow she can relate to those gastric surgery people from up on her high horse looking down.
It strikes me that the reason Theron is such a good actress is because she's a blank slate. She doesn't have a lot of her own personality to get in the way of whatever character she needs to be, and can just sort of absorb any role like a sponge.
Here's Theron's David Letterman interview. It's only worth watching to look at her. She's shown at the premiere of Sleepwalking on 3/6/08, thanks to PRPhotos.
Charlize Theron on Letterman part 1

Charlize Theron on Letterman part 2

Written by Celebitchy

Posted in Arrogant, Charlize Theron

- Zach Galifianakis is awesome [Buzzfeed]
- Prince at the Billboard Music Awards [D-Listed]
- Bieber's Billboard look [Go Fug Yourself]
- Married to Medicine recap [Reality Tea]
- Celebrity first marriages [Pajiba]
- The last Mad Men baffled a lot of people [Lainey]
- Karolina Kurkova's crazy hot dress [Moe Jackson]
- Jennifer Garner on set [Popsugar]
- Kitten vs. Lizard [CDAN]
- Doetzen Kroes' great butt [Celebslam]
- Shameless star Jeremy Allen White [OMG Blog]
- RIP Ray Manzarek [Bossip]
20 Responses to "Charlize Theron is boring"