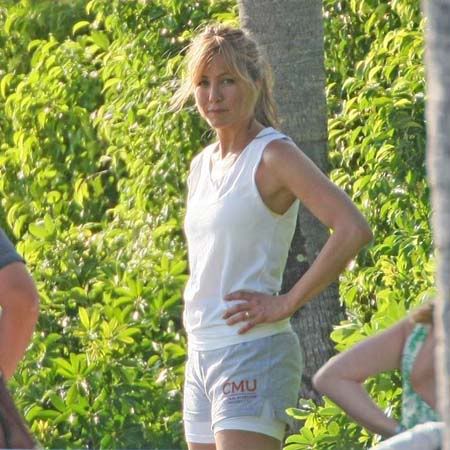 Jennifer Aniston is rumored to be dating a key grip from her film, Traveling, Brian Bouma, who was also linked with Smallville actress Kristin Kreuk. Aniston was photographed with the tall handsome crew member going to her car outside Courtney Cox's Oscar party on February 24. The two were then spotted out at dinner on February 28. Bouma lives in Vancouver, and was said to have been in LA with Aniston for 10 days. [Details from In Touch, print edition, March 24, 2008]
Despite this promising new relationship, people are still linking Aniston to her co-stars, including Traveling's Aaron Eckhart, who plays her romantic interest in the film. The tabloids' attention quickly turned from Eckhart to Owen Wilson once photos came out of Wilson and Aniston on set. The two play husband and wife in the film and were acting, but of course everyone had to point out how cute they looked together and what a great couple they would make.
One story about Aniston and Wilson that sounds true is OK! Magazine's report that they do yoga together on set with a trainer brought in for their sessions. OK! also talks about how both Owen and Aniston are in casual relationships with other people (Owen is seeing Kate Hudson, but it's said to not be serious and they're trying to keep it quiet) and how great it would be if they got together – since Aniston's biological clock is ticking and all.
Now, friends say Jen is taking baby steps on the road back to love. "She really is cautious about who she gets involved with and she's always been very discreet," a friend tells OK!

But that's not to say she wouldn't click with Owen. Jen's criteria for potential suitors includes "must love dogs," something that fits Owen to a tee. "Owen adores Jen's dog Dolly," a friend of his tells OK! "He loves animals in General, but he always compliments Jen on how well behaved Dolly is. Owen is especially impressed with her training. He freely admits that he wouldn't have the patience to train a dog."

Owen also shares Jen's love of yoga. "Both Jen and Owen talk about yoga on the set all the time," says a pal of Jen. "They share an instructor who does sessions with them. It helps keep a light and relaxed mood on set."
[From OK! Magazine, print edition, March 24, 2008]
While the tabloids relentlessly focus on Aniston and her love life, they seem to be largely giving a pass to Wilson, who has been spotted out drinking and partying several times recently. Wilson attempted suicide last August and was said to have quit drinking and doing drugs through the help of a sober companion. He even took a spiritual vacation afterwards that included a "cleansing ritual" performed by a Native American medicine man on the walkway above the Grand Canyon.
Wilson was said to be downing tequila shots at a party earlier this month. Maybe if drinking isn't his problem he won't get in trouble again, it's hard to judge:
The star showed no signs of depression or concern about drinking as he pounded shots of Patron at South Beach hotspot Nobu.

"I saw him do three tequila shots," revealed an eyewitness…

Later, at another Miami Beach hotspot, The Florida Room, an observer saw him down another tequila shot.

"He looked wasted," said the eyewitness.
[From The National Enquirer, print edition, March 24, 2008]
If that was Britney out drinking at clubs everyone would be pointing and talking about her, but only the Enquirer covered this in an inside story. In February Helen reported on an article from the NY Times about how female trainwrecks get all the attention. The reason could be that men don't sell as many gossip magazines when they appear on the cover, no matter how hot or troubled they are. We want to gossip about other women, so we give the men a pass. Hence the focus on Aniston and her relatively tame quiet life.
Thanks to Splash News for these photos of Aniston on set yesterday in Miami. She was also photographed recently in a bikini, and she looked great.