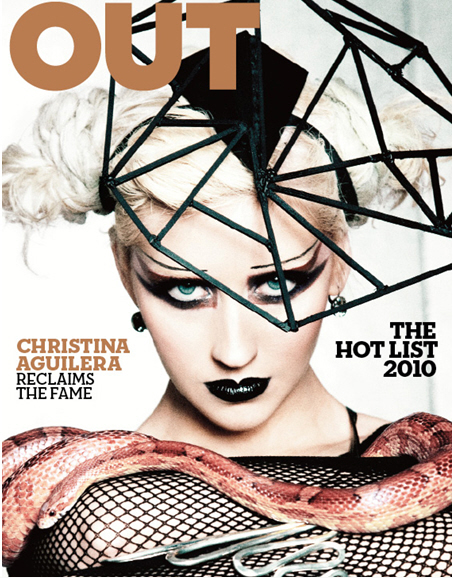 Hello, Lady Gaga. Oh, wait. This is Christina Aguilera, being completely original, y'all. She's the June cover girl for Out Magazine, and she's still selling her completely original album and style to the max. Honestly, I only skimmed a few paragraphs of the full interview (full piece is here) because Christina has been annoying me so much lately. I'm taking it on faith that Out Magazine pulled the best quotes from the piece – including Christina's absolutely shocking admissions that she likes kissing girls (ZOMG!) but still, Xtina admits: "I love dick." Doesn't that sound familiar? CB and I were trying to figure out who said that recently, and we think it's Gaga.
Christina Aguilera first caught the public's ear with the 1999 pop hit "Genie in a Bottle." This and her next single, "What a Girl Wants," made her an instant star, and her self-titled debut album went all the way to sextuple platinum. With her vocal range, however, she had so much more to give. Her follow-up album, Stripped, featuring the single "Beautiful," really set her free. "On that first album, I was creatively stifled," Aguilera told Out's (www.out.com) Joshua David Stein. "On Stripped I was like, I don't give a f-ck."

Not only did she find herself with Stripped, but Aguilera also knows herself and is not afraid to be open about it. Her upcoming album, Bionic, features the single "Not Myself Tonight," which includes the line "I'm kissing all the boys and all the girls." Aguilera explains, "I don't get to kiss all the girls and the boys, but my husband knows that I get into girls. I think it's fun to be open and play."

Nevertheless, Aguilera knows what this girl wants. "I don't think I could ever really be with a woman because that's a lot of…" Aguilera pauses. "Yeah, there's a lot of estrogen and I'm a lot to deal with when it's that time of the month, so I can't imagine it times two." She then shakes her head and adds, "And you know, I love dick. To be honest, that I cannot live without."

She may not ever be with a woman, but make no mistake, she has the full support of her gay cadre. Aguilera's friend and collaborator Sia explains, "I feel like Christina's probably supporting the majority of the lesbian scene in Los Angeles because she really only works with gaylords, like her dog walker, her personal trainer, her cowriters." As Stein puts it, "Bisexual or not, Aguilera is queer in the word's most literal sense."
[From Out Magazine]
Since when did "gaylords" become the cutesy nickname for "my gay friends"? Eh. And I hate when girls are like "Oh, I couldn't be a lesbian because I know what girls are like once a month, haha." First of all, you probably couldn't be with a woman because you're not gay or bisexual. Second of all… ugh. I lost my head of steam. It's not worth it. I think Xtina's album will crash and burn, and hopefully she'll go away for a little while.
Here are some more totally original photos from Xtina's Out photo shoot: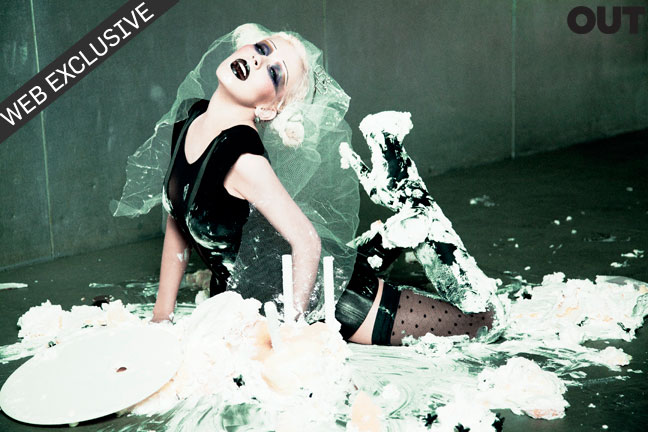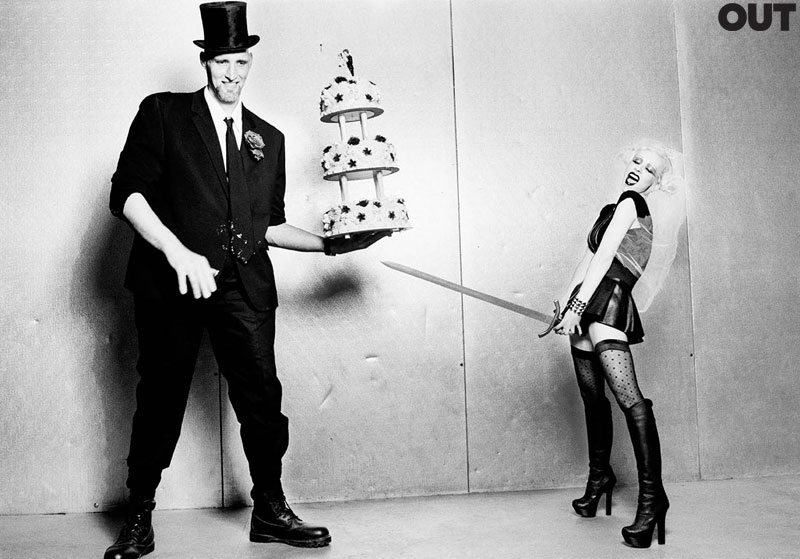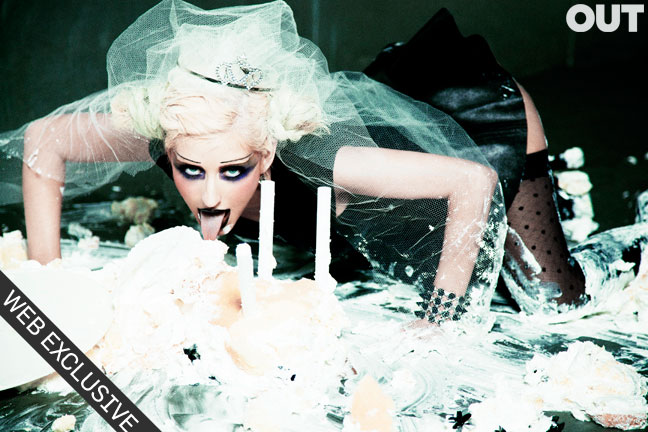 Out photos courtesy of Out online.