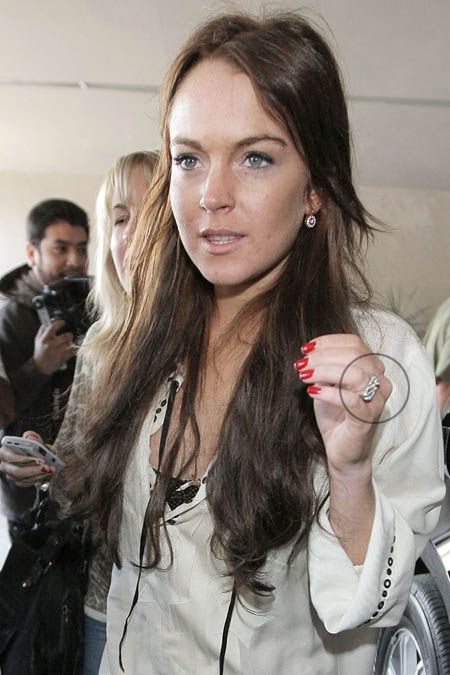 Lindsay Lohan was seen out with a ring on her left hand with the initials "SR," which is thought to be for her DJ girlfriend, Samantha Ronson. The ring looked curiously like the eyeroll-inducing matching initial rings Paris Hilton and her boyfriend, Benji Madden, have been wearing.
We already know Lindsay Lohan likes the ladies as much as the men, and maybe she's trying to send a message to Sam that she's ready to take their relationship public while milking it for as much publicity as possible. From what I can tell, Lohan first wore this ring to lunch on Friday, holding her hand up to her face several times to make sure it was photographed, and it's taken until now for anyone to notice or care. INFDaily ran a story about it on Monday and it wasn't even picked up by other outlets.
It's not that interesting that Lohan is with a woman now. It's just another person she's temporarily shacking up with until the next opportunity comes along. Lohan gives bisexual women a bad name by making them look like idiot lushes who flit around to whomever is in their immediate vicinity. She feeds into the "anything that moves" stereotype.
It would be exciting if an otherwise average and stable celebrity switched teams. Like if Mandy Moore followed her mother's example and decided to get into a long term relationship with a woman. Or better yet, if a manly guy like Nick Lachey came out and said he was denying his true feelings his entire life. I know that's never going to happen, but it's more exciting a fantasy than Lohan and her skinny girlfriend of the moment.
In related news, Lohan pissed off the organizers of the Scandinavian Style Mansion by ditching her hosting duties after an hour. She found out that one of the freebies being promoted at the celebrity party included Paris Hilton's handbags and she wasn't having that. Lohan's rep says the Style Mansion people have apologized for not telling her ahead of time that Hilton's stuff would be featured, but couldn't she just have sucked it up and hung out? She was getting paid at least $10k to show up. She's threatening her entire livelihood as a paid partygoer and will have to curtail her purse habit if she keeps this up.
Lindsay might profess to hate Paris but that didn't stop her from copying her stupid initial ring trick.
Lohan is shown out on 3/14/08 in the header image. Samantha Ronson is shown below on 3/12/08 after dinner at LaScala with Lohan, thanks to WENN.