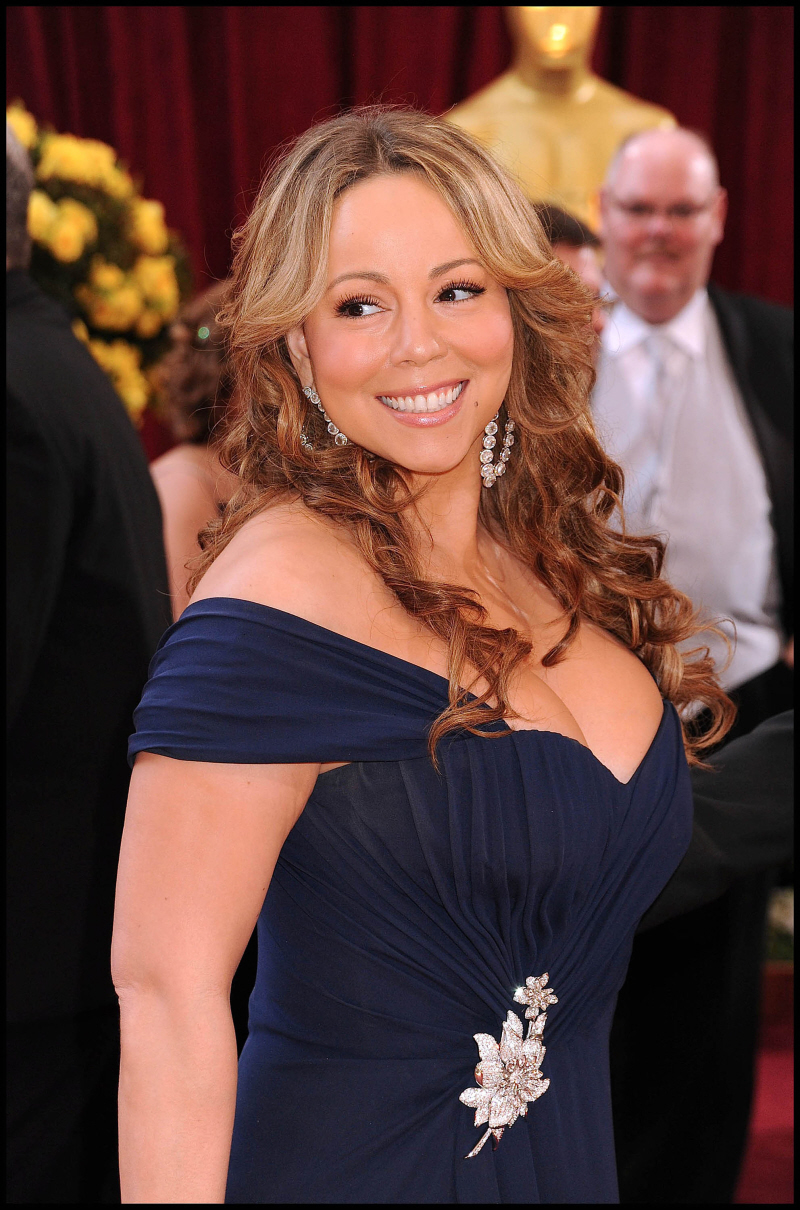 I think Radar must have a source behind the counter at the Hollywood CVS, the one that every celebrity uses to buy their home pregnancy tests, because Radar has another "exclusive" pregnancy story. This time, they're got it "confirmed" from an unnamed source that Mariah Carey is expecting her first child. The secondary confirmation Radar seems to using is a cryptic non-denial from Mariah's rep. Honestly, if Mariah wasn't pregnant, I think her rep would probably say it, so the fact that she won't does lend some credibility. But this report does stink:
The is-she or isn't-she speculation is over. RadarOnline.com can exclusively confirm Mariah Carey is pregnant! The 40-year-old pop diva recently dropped out of her next film gig — a role in Tyler Perry's For Colored Girls Who Have Considered Suicide When the Rainbow Is Enuf — fueling rumors that she's pregnant.

Now a source close to Mariah and husband Nick Cannon tells RadarOnline.com the couple — who renewed their vows to celebrate their second anniversary in May — are at last with their first child.

"They're both very excited and very happy," dished our insider.

When contacted, Mariah's longtime rep Cindi Berger gave RadarOnline.com a rather cryptic comment.

"I'm not at liberty to discuss Mariah's personal life at this time," the publicist told RadarOnline.com, a statement that did not outwardly deny the pregnancy.

Said our insider: "Mariah and Nick want to keep the pregnancy quiet as long as they can."
Which could explain why Mariah never got out of her Rolls Royce convertible during a road trip with Nick along the Malibu coastline on Saturday. She was hiding a baby bump!

Mariah and Nick got married in 2008, after knowing each other only six weeks, at the songstress' private island in the Bahamas. The two have been inseparable ever since, with this pregnancy now solidifying their rock solid relationship.

Speculation has run rampant about the impending baby since Mariah was spotted with Nick outside an Los Angeles medical clinic in May. Some had suggested the Hero singer had begun hormone enhancement therapy; a possible explanation for a noticeable sudden weight gain. Hormone supplements increase one's chances of pregnancy and are often linked to in-vitro-fertilization.

Mariah and Nick, who have both talked about wanting to start a family, have neither confirmed or denied the pregnancy talk. But both have hinted, previously, they could soon become parents.

At the Independent Spirit Awards in March, Mariah told the crowd: "Something else very special is on the way!"

Last week, Nick joked he too had a big announcement to make.

"I do want to make a big announcement right here on Daily 10," he said, "my Jack Russell terrier puppy Cha Cha is pregnant again!"

However, behind the jokes, is a beautiful silver lining. Industry figures had suggested Mariah's decision to drop out of Perry's movie was a lost opportunity, given she would have worked alongside Whoopi Goldberg and Janet Jackson. Filming was set to start this month. Instead, Mariah is taking on an even greater role: motherhood!
[From Radar]
If Mariah is pregnant, I couldn't be happier. It would certainly explain why she dropped out of that movie, it would explain her weight gain, and it would explain why she's always photographed coming out of medical buildings. But I'm waiting for Mariah to grace us with the happy news. And you know she wants to – she wants to sing about it. She wants to celebrate with us, meaning she will allow us to watch her celebrate. Oh, and Nick – I bet he's happy too. Both his bitches are pregnant.
Header: Mariah at the 2010 Oscars. Credit: WENN.