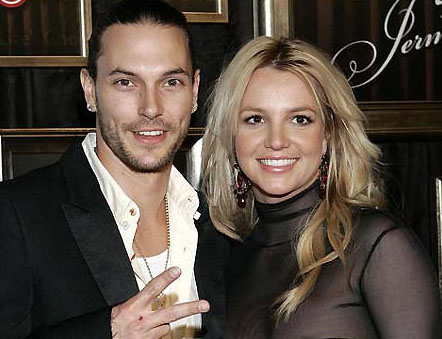 Kevin Federline seems to be mellowing with age, despite his hard-partying, blunt-smoking reputation. In a recent interview with In Touch, the former back-up dancer says he is trying to stay positive about co-parenting his children with ex-wife Britney Spears despite the drama of the last year.
Kevin Federline and his ex-wife, Britney Spears, have had more than their fair share of bad times. But as he turns 30, Kevin tells In Touch that he's put his anger behind him — he has become a good father and a caring friend to his exes. "I will always love the mothers of my children, and I will always be there for both of them," Kevin, who also has two children with his ex-girlfriend Shar Jackson, explains in an exclusive interview with In Touch. "I believe that any good energy I put out there brings more good energy into my own life," he says. "The relationships with my kids and family will last my whole life and are the most important to me."
Kevin's behavior post-split with Spears certainly bears this out- although I'm having a hard time believing that Federline was that articulate, based on his less than stellar vocabulary and voiceover work from the ill-fated reality show, "Chaotic: Britney and Kevin." But that's beside the point. K-Fed says that the first year after the divorce, during which Britney had the mother of all breakdowns and was hospitalized twice, was "rough," but he remained focused on his children throughout that time. Now, he says, he and Spears are in a better place as co-parents are get along better "for the sake of the boys."
For nearly a year after they separated in November 2006, Kevin and Britney barely spoke. But in recent months, Kevin reveals, they've become close again, mainly for Preston and Jayden's sake. As Britney gets help for her mental issues, she may soon play a more active role in their sons' lives — and Kevin is glad for that. "It is so very important to me that my children will always know and never question, that no matter what happens, they have a mommy and daddy who love them very much," he says.

On his long-term goals
Kevin shares, "I'm going to be the best role model for my kids. And if that example helps other young, single dads who might be going through the same experiences that I am right now, it would be a great compliment."
While there is still a slight aroma of douchiness around Kevin, he does deserve credit for giving his children a safe, stable environment amid all the nuttiness of their mother's lifestyle. The days of seeing those two boys, frightened and helpless in the back of Britney's convertible, are thankfully long gone. He should also be commended for not giving up on allowing Britney to visit with the boys, even after the much-publicized stand-off with the cops that ultimately got her hospitalized. A lot of custodial parents would have pulled the plug on visitation after a stunt like that, but Kevin gave Britney some time to stabilize, and the supervised visits with the boys seem to be working well for everyone.
As long as Kevin doesn't try to rap anymore, he's cool with me.