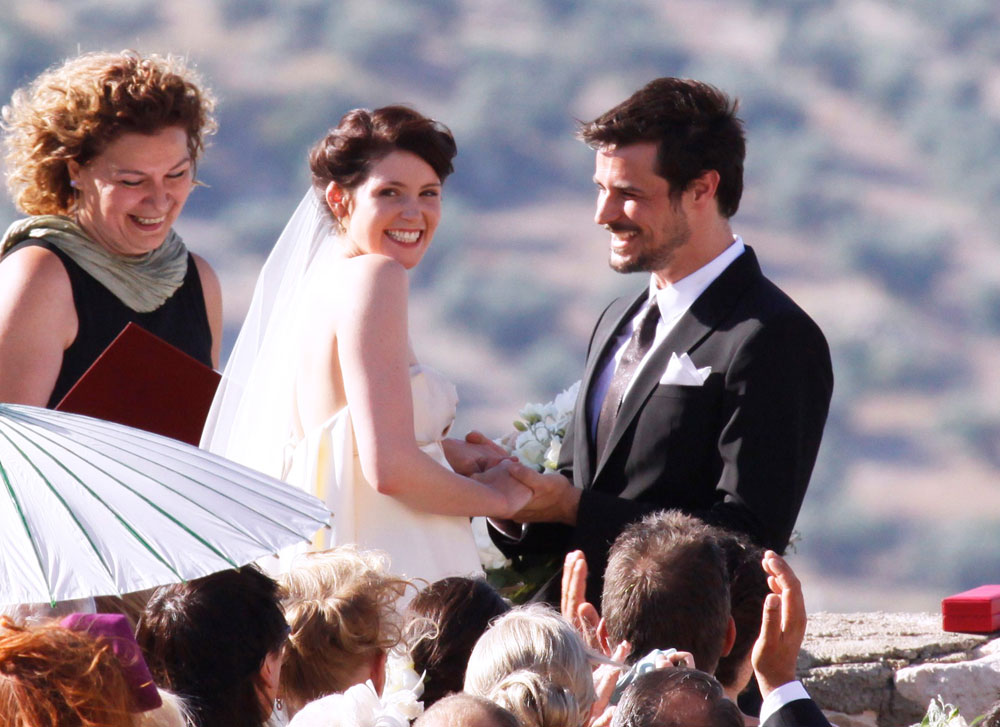 People Magazine is reporting that English actress Gemma Arterton, 24, was married in a "secret ceremony" in Spain to Italian stunt man Stefano Catelli, 37. Arterton is perhaps best known as the Bond girl in Quantum of Solace who comes to fetch the spy from Bolivia and ends up being seduced by him. Catelli played lead Daniel Craig's body double, which is where he met lovely Arterton. While these two didn't tell their guests exactly where the ceremony was to take place until the last minute, I'm thinking they didn't want to keep it entirely secret. Somehow the paparazzi were tipped off and there are plenty of photos of their private ceremony, held at the ruins of a castle. It looks romantic and special, but it probably wasn't their intention to keep it "secret." Here's People's report, which doesn't include how these two met:
In a plot that would have made secret agent 007 proud, former Bond girl Gemma Arterton managed to sneak away and get married in a hilltop retreat over the weekend.

Guests were not even told the location Arterton, 24, and Stefano Catelli, 37, planned to marry when they answered their invitations, but in the hills of southern Spain the elaborate planning paid off. Clutching a bouquet of white roses, the English beauty wore a cream gown and a veil in her auburn hair as she wed in Zuheros in Andalucia June 5, PEOPLE has confirmed.

Witnesses told the Daily Mail that the actress stroked her new husband's cheek "as they made their vows." And pictures in the British newspaper show the couple embracing after they said their 'I dos' and leaving the open-air ceremony in a vintage convertible.

Catelli, a sales manager for a fashion company, proposed last summer at a music festival in England.

Arterton's rep would not comment on the wedding, but last month, Arterton described her planned wedding dress to Instyle, saying, "There's this beautiful scene in [Franco] Zeffirelli's Romeo and Juliet where she runs out of the bedroom after a night with Romeo, and she's wrapped up in a sheet. She looks so gorgeous. My wedding gown is kind of like that."
[From People]
The Daily Mail has a little more, including from Gemma in which she admitted wrote in her diary just a day after meeting Catelli that he would be her future husband. "It was absolutely instant. I remember going home the night after I met him and writing in my diary that I'd met the man I'm going to marry. I gave that diary entry to him for his birthday two weeks later. But it didn't freak him out, because he was thinking the same thing. I just really want to spend the rest of my life with him. He's an amazing man." It isn't as sudden as it sounds, as they've been engaged for the past year. Congratulations to these two, they look and sound completely in love. Their wedding looks absolutely beautiful, too.
Photo Credit: Target/Fame Pictures