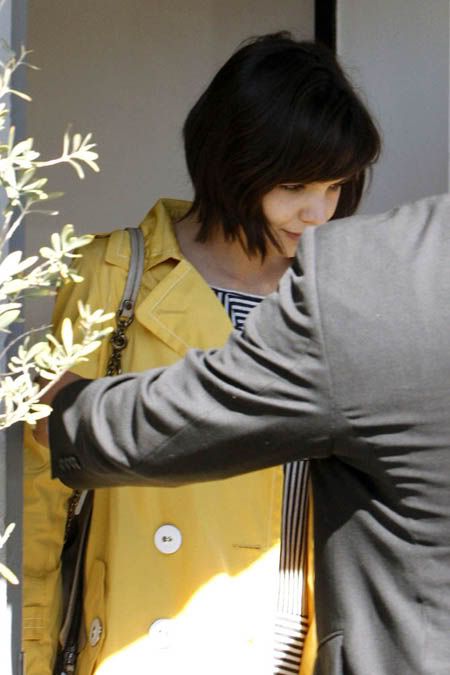 Just when you thought she was about to succumb to the mind-numbing effects of too much niacin, Katie Holmes may make her debut on Broadway. The Daily Mail is reporting that she's in final talks to star in a revival of Arthur Miller's dramatic play, "All My Sons." John Lithgow and Dianne Wiest have already committed to the play, and it sounds like Katie is about to sign on:
Katie Holmes is in final negotiations to make her professional stage debut on Broadway.

The producer of a revival of All My Sons, Arthur Miller's heartbreaking, post-World War II family drama, is clearly hoping Holmes (aka the third Mrs Tom Cruise) will create some sizzle at the box office later this year.

It would be the first major revival of a Miller play since the dramatist's death three years ago.

All My Sons, to be directed by British-born Simon McBurney, would also allow Holmes to be more than "Mrs Tom Cruise" for six nights a week.

The actress has committed to taking part in a private workshop of the play in May. She will play the part of a woman who visits her former neighbours, the family of a missing pilot she once loved.

Producer Eric Falkenstein has already cast Broadway veterans John Lithgow and Dianne Wiest, which has had the desired effect of making Ms Holmes more comfortable about taking on her first play since high school.

Holmes has told McBurney and Falkenstein that she is serious about working in the theatre.
[From The Daily Mail]
Do you think Katie Holmes has the chops to star on Broadway? I read through the plot synopsis on Wikipedia (spoilers), hoping that there would be a kissing scene that would cause Tom to reject her bid for Broadway, but unfortunately that doesn't seem to be the case. Like Miller's other work it's not a very uplifting story, but it's probably moving and thought-provoking. I think Katie will play the character Ann Deever, who is a 26 year-old woman interested in the brother of a man she used to date who is missing in action. It takes place during WWII and involves a family torn apart by the war and an ethical dilemma.
Doesn't Katie have a $35 million mansion to decorate and thousand dollar shoes to buy? She doesn't have the time or the energy to play a character on Broadway. Maybe she can hire a more talented actress to do the role for her and slip in for the end part where she bows on stage. There are plenty of other mousy women that look just like her. She could get away with it.
Katie Holmes is shown on 3/16/08 after having lunch, when she stumbled and Star made a cover story about it. Thanks to WENN for these pictures.