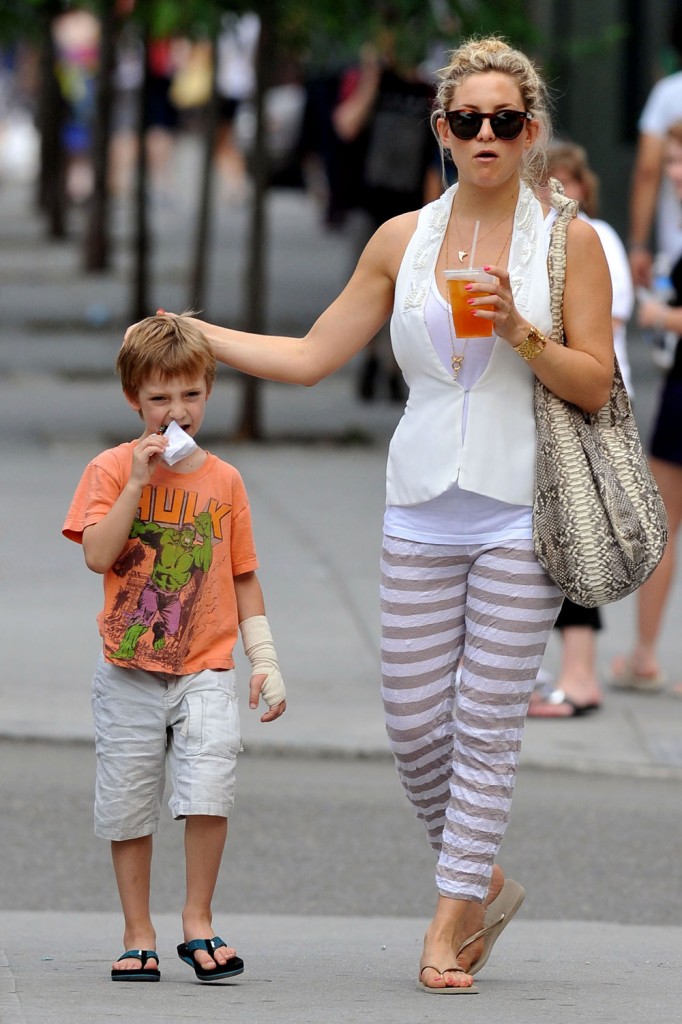 Kate Hudson on the Late Show part 1. She comes on at 2:30. Part 2 is below
Kate Hudson was on the Late Show last night and I found her so funny and likable. I've seen Kate interviewed before and she's usually very comfortable and just rolls with the punches. On Letterman she mostly talked about her six year-old son, Ryder, and you could tell that she adores him and finds the things he does so funny. I have a son right around that age and I could really relate to a lot of the stories she was telling.
On how Ryder goes to a French school
Kate explained that Ryder goes to a French school, and that he has a week left in Kindergarten there. She said that he's there because the school is flexible about their schedule. "What happened was is due to travel schedules, it was sort of a school that would accommodate the traveling circus family. He had a hard time, but now he's sort of loving it. He's into this thing where if the ladies like it, it's cool… He'll show off his accent, he's getting into it now… he's really learning how to communicate in French."
On how she wants more kids
When Letterman joked about how his kid was entering first grade this year and is so old he's started smoking, she said "It makes you want more. For me, as a woman… I can't wait to have more kids."
On how Ryder fakes an injury to talk to people
"He wears this splint around his hand and there's nothing wrong with him. He just likes it because people ask him what happened. So I literally watch him make up stories every time somebody asks him about his splint…
"He'd be like 'I was on a bike, and I fell off this bike…' and then one time he was climbing a rock… T-ball was one, and then he said to me the other day. He goes 'Mom I figured it out! A splint, a shower, a shave, cologne. The ladies love it!'
There's nothing more fun to me than watching your kids come up with stuff like that."
On her diet
Letterman made waffles on the air using a waffle iron right on his desk. He gave one to Kate with butter and syrup and she said she initially didn't want to eat it, but then gave in and had a couple of bites.
"I've been doing this calorie counting thing."
"Yeah, because you've really let yourself go," Dave quipped.
"But I actually do let myself go, but I've been calorie counting and it works. Right now if I have three bites it's like 100 calories."
On her movie The Killer Inside Me
Kate is promoting The Killer Inside Me with Casey Affleck, which Letterman called "just about as creepy as a movie can get."
She talked about a scene in which Casey's character is spanking her. "There's a scene where Casey's actually spanking me… All of a sudden it hits you that you've been spanked like 20 times, and you can't help but start to laugh even though it's such a horrible subject. Then there's the other side… it's actually quite a gruesome movie, and it was tough at times."
Kate was a lot of fun and I'm reminded how bubbly her personality is. It won't get me to see this movie, but she sure is doing a great job promoting it. I love my kid too and think he's the funniest little guy. I'll give Kate a pass for her frenetic dating history. No matter what she's up to, you can tell she's really enjoying life and that she just cherishes this time in her son's life.
Kate Hudson on The Late Show Part 2:

Header photo is from 6/5/10. Credit: DAVID KRIEGER/ bauergriffinonline.com. Photos of Kate outside the Late Show from Fame Pictures