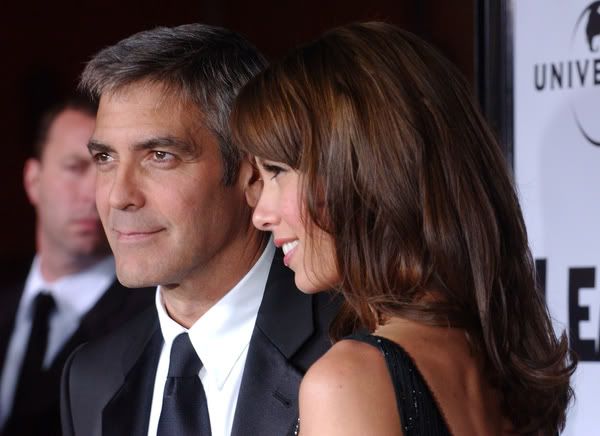 George Clooney is not going to let his girlfriend's web-based mini scandal get in the way of a good premiere. He posed jokingly with his relatively long-lasting love, Sarah Larson, 29, on the red carpet at the premiere of his new film, Leatherheads last night. Humor author A.J. Jacobs interviewed Clooney for last month's issue of Esquire, and their entire session consisted of Jacobs showing Clooney the criticism and sites about him on the Internet. Clooney was really low-key and mildly amused by all the crap about him online, and you can bet he got a kick out of those drunken photos of his girlfriend. Compared to the other photos on the photographer's site, which include a lot of wasted topless women making out, the photos of Larson on all fours and sort-of bikini wrestling weren't that bad.
Clooney has been tirelessly promoting Leatherheads, which is out in the US on April 4. He has an interview in this week's Life & Style that includes a lot of his deadpan witty comments, like saying he likes to wear women's clothing and shoes. He also told a funny story about how he embarrassed designer Georgio Armani by wearing one of his suits until it started looking beat. Armani sent him a new one and told him to either wear it or not credit him with designing that old thing:
Are you into fashion?
It's not that important to me. I've worn the same tux so long that Georgio Armani actually sent me a new one and said, "Please either wear this or stop saying you're wearing Armani, because it's frayed." I've basically worn this sweater for three days. It's easier for men than for women.

Do you have sympathy for women's fashion woes?
I do wear a lot of women's clothes. The thing is the pumps. I have Manolos in size 11 1/2. They're hard on your calves.
[From Life & Style, print edition, April 7, 2008]
As for whether he dated Renee Zellweger, to which he said "a little bit" when asked, Clooney said he was joking and that comment was overblown, but he got in trouble with Zellweger for it. He says "No" when asked if it's true that they dated a little.
Is it true that you and Renee Zellweger dated a little?
No. Someone went through a list of girls I supposedly dated. I replied. "Yes, no, yes, no, no, never heard of her, a little bit," as a joke. If you take the list and what I said together, it looks like I said "a little bit" about Renee. She later said to me, "A little bit?" I was like, uh-oh, I'm in trouble.
[From Life & Style, print edition, April 7, 2008]
I still think they had something going on, though.
Leatherheads is a football comedy set in the 1920s and it's getting mixed reviews. We'll have to see how it does at the box office.
Zellwegger looks really good at the premiere in LA last night. Her face isn't all bright red or ghostly looking and that's a great vintage-cut dress. Also shown are John Krasinski and Jenna Fischer. I love Jenna Fischer, she seems so down to earth. Thanks to PRPhotos for these pictures.