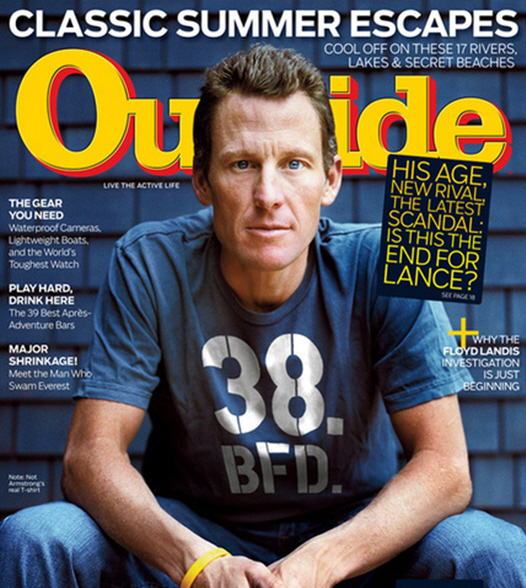 Here is Lance Armstrong on the new cover of Outside Magazine. According to CoverAwards, "It seems the editors fired up the Photoshop and not to smooth out those pensive eyebrow lines. Instead, they added the "38 BFD" to what was originally a plain blue T-shirt. The "38″ part is easy, that's Lance Armstrong's age, but BFD? What does that even mean? Some have speculated "Big Freakin' Deal" which I guess makes sense." When Lance saw the 'Shopped cover, he tweeted: "Just saw the cover of the new Outside mag w/ yours truly on it. Nice photoshop on a plain t-shirt guys. That's some lame bullsh-t."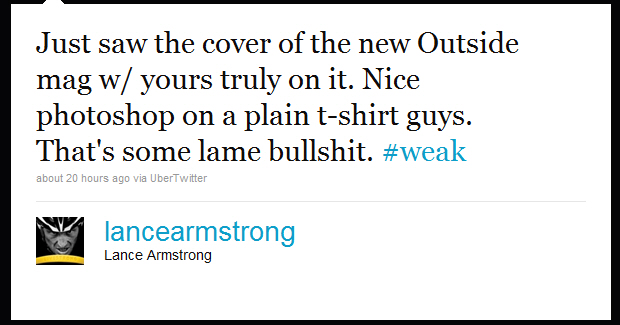 [From Lance's Twitter feed]
Here's more:
Cyclist Lance Armstrong is peeved at his latest appearance on Outside magazine's cover. The latest issue of Outside features the seven-time Tour de France champ in a blue shirt that reads "38. BFD." in large letters. The number is his age and the acronym stands for "big [expletive] deal."

There's just one catch. Armstrong apparently never wore the t-shirt.

"Just saw the cover of the new Outside mag w/ yours truly on it," Armstrong tweeted . "Nice photoshop on a plain t-shirt guys. That's some lame bullshit. #weak"

The magazine cover does note in small text that the shirt is "not Armstrong's real T-shirt."

Yahoo! sports blogger Chris Chase questioned the cover, saying Armstrong had every right to be upset.

"… so what was the point of the profane acronym in the first place? This wouldn't be kosher in any circumstance, but it's especially lame given how, well, lame the slogan is," Chase wrote in the blog . He said it was Armstrong's eighth appearance on the cover.

"Why the magazine would choose to alter a cover photo for a cheap gag and risk aggravating its favorite athlete is baffling," he wrote.

Not all of Chase's readers were in agreement.

"I think they overinflated his ego … ," one wrote. Another replied, "BFD."
[From Fox News]
Is it just me, or does everyone seem to be overreacting? Sure, 'Shopping the t-shirt to read "38 B.F.D." is dumb and they shouldn't have done it – just because it's not really hip and cool. Is that what Lance is bothered by? That he looks old and uncool? Because he does look old in the cover shot. Maybe he was irritated they didn't 'Shop his face, only his t-shirt? Eh. I look at too many fashion magazine, and I've gotten to the point where Photoshop only bothers me when they do it to make the person look like an alien.
CoughcoughJuliaRobertscough.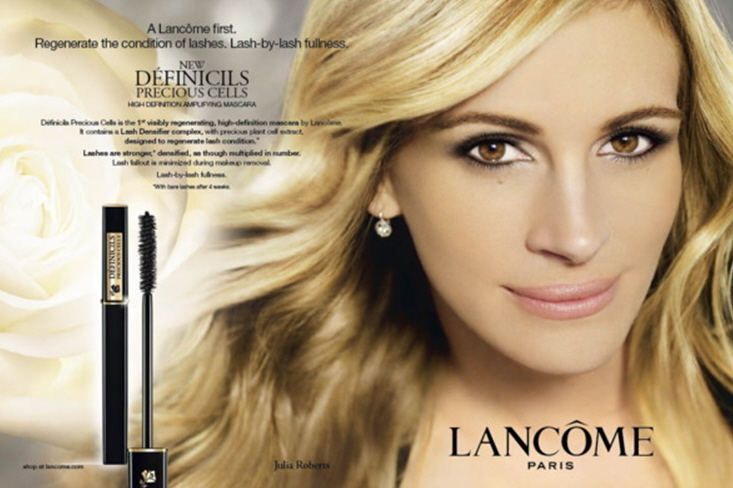 Magazine cover courtesy of Fox News. Lancome ad courtesy of HuffPo.