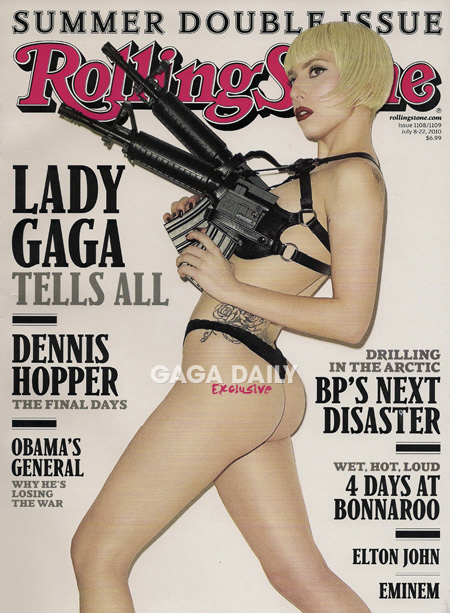 Lady Gaga is the cover girl for the new issue of Rolling Stone. She's been on the cover before, back in March of last year, or about 200 looks ago. What do you think of this cover? Rather ass-tastic, right? Which is okay, I suppose, because Gaga has a really cute ass. But the guns? What, she couldn't find her Uzi-bra, the one she wore for her "Alejandro" video? At least her hair looks kind of cute.
However, Entertainment Weekly is asking if anyone feels a little Gaga-exhaustion. I'm kind of feeling it, and I like her. There is an element to her appeal where she's taken the "quick-change artist" aspect of being a pop star and gone into hyper drive. No sooner do we have to deal with all of her looks in "Alejandro" than we're gawking at photos of her in her underwear at a Yankees game. And then two seconds later she's showing her ass in Rolling Stone. True, she's playing the game in a way no other pop star has done before – but I'm worried about her. There could be two different kinds of Gaga burnout – either her fans are simply exhausted with following all of her quick-change moves, and they move on to someone else, or Gaga herself burns out, because she's running herself ragged.
Cover courtesy of Gaga Daily.