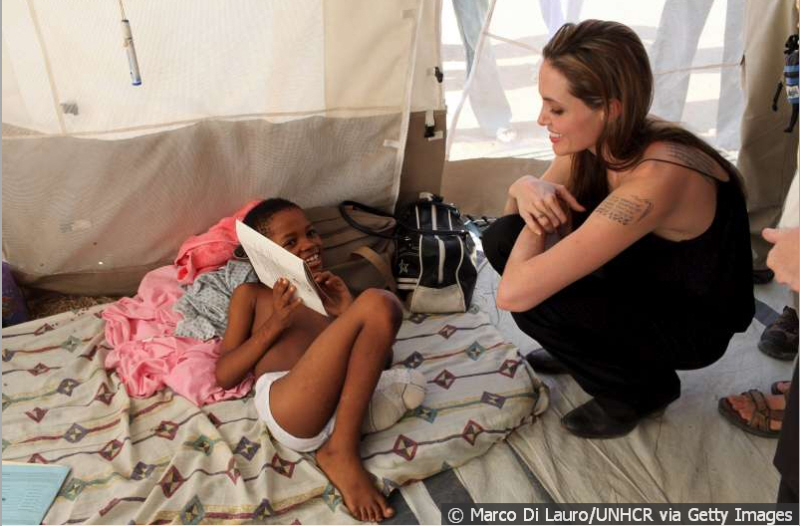 For this year's World Refugee Day (this past Sunday), Angelina Jolie made a low-key visit to Haiti, where her activities were not heralded by the UNHCR whatsoever. It made me wonder, actually, what the hell she was doing there. Now we know – she spent most of her time on the ground visiting the SOS Children's Village in Haiti. When she was in Haiti in February, she also made a visit to the same Children's Village, and she's also been a supporter of the Village in Jordan. It's a project that Angelina must care a lot about – because she seems to have agreed that her image and name could be used for a fundraising press release just sent to us:
There are celebrities — and then there are celebrities. I rank Angelina Jolie right up there as a serious humanitarian who holds a special place in her heart for children who need protection.

This past weekend Ms. Jolie, UNHCR Goodwill Ambassador and SOS Children's Villages supporter, was welcomed back to the SOS Village in Santo, Haiti outside of Port-au-Prince. She visited with the children, and distributed toys as they welcomed her with a song in Creole. One of the children spoke on behalf of the group and told her how happy they were that she had visited the village again.

After spending the night at an SOS house in the Santo Village, Ms. Jolie commented, "That is why I like to visit and support the SOS Children's Villages in the world [...] because I have seen that the children are growing up in a safe and loving environment."

This was Angelina Jolie's second visit to the SOS Haiti Village. In February, she met with the 33 children who were brought to the village after the Haitian government intervened to prevent their removal from Haiti. This weekend, Ms. Jolie learned that all of the children have been reunited with their families and continue to receive assistance from SOS.

Ms. Jolie also toured the SOS "Global Village Shelters" at the SOS-Santo site. Made of polypropylene materials, these shelters are quickly installed. They each provide 8 children and an SOS Mother with dry, safe housing as the rainy season approaches. About 300 SOS children will be moved into the shelters as added protection against the rainy season. "Global Village Shelters" promise to set a high standard for mid-term housing in Haiti.

SOS – Santo is currently housing nearly 500 children without biological families to care for them. Over the past few months, 160 children who were temporarily in SOS care have been reunited with their families. They are beneficiaries of the SOS Family Strengthening Program that provides food and counseling assistance to 10,000 people daily.

During this trip to Haiti, Ms. Jolie met with President Preval, current and former Government of Haiti Ministers, Haitian Judges and lawyers, U.S. State Department officials, and other NGOs regarding child protection in Haiti. Preceding the overnight stay, Ms. Jolie held a dinner and round-table discussion that included UNHCR, SOS Children's Villages, UNICEF, Partners in Health and PRODEV. The purpose of these meetings was to study the Haitian legal system surrounding child protection issues and explore mechanisms for strengthening the Government's capacity to address these needs.

Angelina Jolie and Brad Pitt have been long-time supporters of SOS. In the past, Ms. Jolie personally visited an SOS Emergency Relief Program in Chad, an SOS Children's Village in Ethiopia and the couple also met with children at the SOS Village in Amman, Jordan. The Jolie Pitt Foundation surprised the three SOS Children's Villages in the United States in December 2009 with a wonderful holiday present of $100,000!

On a personaI note, I am so grateful for Angelina's involvement. She helps to raise spirits when life has become so hard for children who have lost everything. Her continued support sheds an important light on the progress and challenges all of us face in Haiti. With the six month anniversary of the earthquake approaching, Jolie helps the world remember that the struggle for survival continues on the ground every day. International partners working hand-in-hand with Haitians will be there for many years to come, long after the cameras have gone away.
[From SOS Children's Village press release]
The rest of the email was a plea for donations, of which I think I'm going to contribute my 30 bucks. The SOS Children's Donation page is here.
Anyway, now that we know what the hell Angelina was doing in-country, it sort of blows those Angelina-is-looking-for-a-baby adoption stories out of the water, right? Not so much. In this week's tabloids, both In Touch and Star are running stories about a possible/probable Jolie-Pitt adoption. Now, stories about Angelina Jolie preparing to adopt her (and Brad's) seventh child have been circulating since she gave birth to the twins. Strangely enough, the tabloids have been somewhat consistent about the alleged adoption that never materializes – they almost always claim that Angelina wants to adopt from Africa, just because she wants another black child for Zahara. These new versions have Angelina considering adoptions from Somalia and… wait for it… Haiti! Shocking.
In Touch Weekly – Angelina Jolie is "ready" to give twins Knox and Vivienne a birthday present when they turn 2 in July — another brother or sister. Angie's planning to adopt. Again. Zahara is "open to the idea," because she wants a little sister "that has her skin color and curly hair," according to a source. Angie might get the new kid from Ecudaor or Haiti or Somalia. Angie has told friends that she wants to keep adopting and giving birth until she is the mother of 13! It's her lucky number. Anyways, she "bonded" with a little girl in Haiti, and a toddler boy in Ecuador. Adoptionrace 2010: WHICH WILL SHE CHOOSE? Then there's a sidebar called "How Will The Kids React?" when a new sibling comes home: Maddox is an old pro; Pax finds it hard to adapt; Zahara may lash out; Shiloh's stuck in the middle, and the twins will have to share.

Star Magazine - Angelina Jolie has begun the process of adopting a 3-year-old girl from Somalia. She plans to name the child Lucy, and the she and Brad decide to adopt from Africa in order to have a "match" for Zahara.
[From Star, In Touch, courtesy of Jezebel]
Now, I don't have a knee-jerk reaction to Angelina-adoption stories either way – I think it's perfectly possible she and Brad are considering another adoption, just because they usually say they are considering it when asked. I like that they've waited for nearly two years (since the twins were born) to add to their family. I really do think the twins knocked them for a loop, and they found out just how overwhelming a big family is. But I wouldn't doubt that another Jolie-Pitt will be coming into the mix in the next year or so. We'll see. In any case, however, I do doubt the Somalia and Haiti claims, just because I don't think there's a current international adoption system in place for Somali or Haitian orphans. Ethiopia is my guess.