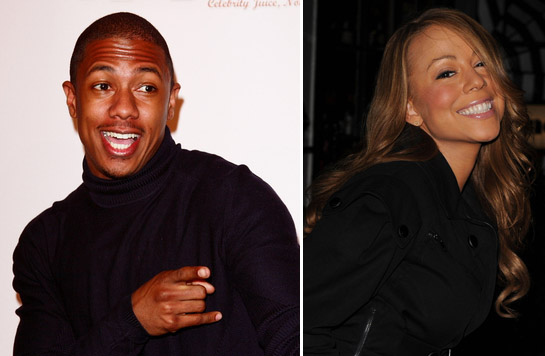 According to the National Enquirer, Mariah Carey, 38, is dating actor/rapper Nick Cannon, 27. Cannon made an appearance in one of Mariah's videos for her new CD that was shot in March, and Mariah then promoted him to director of the video.
It was filmed in the Caribbean and the Enquirer claims "they mixed work, pleasure and romance." Mariah is said to be crazy about Nick, but is trying to keep the romance a secret.
This rumor may have originated with Janet Charlton, who reported back on April 2:
Mariah, 38, has known Nick, 27, for years, and she asked him to do a cameo in a video for her "E=MC2″ album. They started spending time together working on the video script and they got VERY close. Sparks flew and the next thing she knew, Mariah had promoted Nick from a cameo in her first video, to DIRECTOR of her second video! They were both at Butter in New York the other night but keep up the charade of "just friends." She's been flying around promoting her album so they secretly hook up whenever they can.
[From Janet Charlton's Hollywood]
Cannon has a bit of a reputation as a cad and has dated Christina Milian and Kim Kardashian. He was engaged to model Selia Ebanks last year after proposing to her via the jumbotron in Times Square. The two split up in October after five months.
Mariah seems like the kind of woman who enjoys relationships of convenience and Nick seems like the type of guy that's all for that, so you could see these two having something together. It probably won't last, neither of them come across like they're looking for a commitment or are particularly capable of one. But whatever works for them.