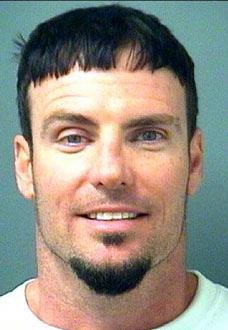 Alright, stop. Collaborate and listen. Vanilla Ice, aka Rob Van Winkle, has been arrested after yet another domestic dispute with his wife in which he pushed her around. Rob, who most recently appeared as his angry self on VH1′s "The Surreal Life" a few seasons back, was taken away to cool off in the clink after a heated argument with his wife, Laura.
Rapper and recent reality TV star Vanilla Ice was arrested and booked into the Palm Beach County Jail on Thursday night on a charge of simple domestic battery after his wife called deputies to say her husband was hitting and kicking her.

Deputies arrived at their Wellington home around 7:15 p.m. to find the 40-year-old star, whose real name is Robert Van Winkle, on his motorcycle, two blocks from their home.

Back at the house on Trianon Place, Laura Van Winkle appeared uninjured and was less forthcoming, saying she did not want to deal with media attention but wants a divorce, according to a deputy's report. She said her husband had not hit or kicked her, but had pushed her.

"He started yelling at me for going out to buy a bedroom set. In front of my daughter," she told a deputy, the arrest report says. "I'm sorry I can't say any more until I talk to an attorney."

Her husband, in turn, told deputies that he and his wife had been arguing since the previous day.

He said his wife is bipolar and takes medication but still has irrational and argumentative episodes and had thrown a picture frame from a rear balcony to the ground, where it shattered near him and their 8- and 10-year-old children.

He denied pushing his wife, the report says. He said he left on his motorcycle so they could cool down.

It's not the first time he has been arrested in South Florida. In 2004, he was booked into the Broward County Jail on a domestic battery charge, records show.
Actually, that domestic battery charge in 2004 wasn't his first time, either: the washed-up rapper was also arrested in 2001 for putting his hand over his wife's mouth, hitting her and pulling chunks of her hair out. It sounds like this guy likes to physically intimidate his wife, and then blame it on her for being bi-polar. Maybe a divorce isn't such a bad idea. Word to your mother.
Vanilla Ice is shown below in January, 2004 thanks to PRPhotos. His most recent mug shot is in the header.