Bristol Palin allegedly not sleeping w/ Levi (again) until marriage; mom Sarah livid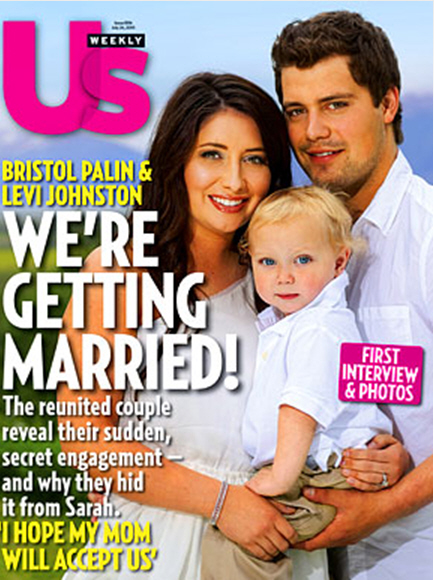 Bristol Palin and her Playgirl-posing baby daddy Levi Johnston shocked more than just the world when they announced their engagement on the cover of US Weekly. As Kaiser covered yesterday, they admitted in their interview that they hadn't yet told Bristol's mom Sarah, who has had a very public war of the words with Levi since his first split with her daughter. (Levi has since issued a vague apology.) In response to the news, Sarah gave a very terse statement that didn't wish the new couple well or say she was happy or anything. It was downright disapproving. "Bristol at 19 is now a young adult. We obviously want what's best for our children. Bristol believes in redemption and forgiveness to a degree most of us struggle to put in practice in our daily lives."
An editor from US Weekly was on the Today Show this morning and she had several key details about the upcoming article that were interesting. The couple wants to plan an outdoor wedding within a month to six weeks. Bristol has her heart set on wearing a Carolina Herrera gown like the one she donned for her glamorous Bazaar photoshoot. She's going to keep it classy, though, and plans on camouflage vests for her infant son and fiance. Bristol and Levi say they're keen to have more kids but deny that they're pushing the wedding because Bristol is pregnant. In fact they claim that they're waiting to have sex (again) until they get married. Are they going to say that their next baby is premature when it arrives seven months after their wedding? Give me a break! Even if that's true that they're saving themselves, it's a terrible reason to get married at 19.
There's also speculation as to whether Sarah Palin will actually attend the wedding of her oldest daughter to a guy she once called a porn star. She hasn't yet RSVPed, according to US' editor, and given how much she dislikes Levi it's unclear if she'll show up. Popeater reports that Sarah is "furious" about the wedding and "wants Levi to disappear."
US Weekly has a new video (below) of Bristol describing the romantic rose-strewn way that Levi proposed. She looks starry-eyed and goofy as if she has no memory of the way he talked smack about her family to the press. As for Levi's past indiscretions, Bristol tells US Weekly "I forgive him for what he did. He was young, mad, misguided. We're moving on."
Why are these two in such a rush to get married though? Is it because Bristol's pregnant, because they're dying to have sex again, or do they love each other and think it's necessary to be married for Tripp's sake? It could be for cash, too, considering that US Weekly admits that Bristol and Levi were paid for interview and photo session. I wonder how much their wedding photos will fetch.
Written by Celebitchy

Posted in Bristol Palin, Feuds, Levi Johnston, Sarah Palin, Weddings

- Harry Styles & Kimberly Stewart going strong [Lainey]
- Demi Moore's new man is gross [D-Listed]
- Fug or fab: Emma Stone [Go Fug Yourself]
- Arrest warrant issued for Jenelle Evans [Reality Tea]
- Only God Forgives review [Pajiba]
- Hugh Jackman, scooter master [Buzzfeed]
- Who does Drew Barrymore call her sister? [Evil Beet]
- Cannes couples past and present [Popsugar]
- Arrested Development supercut [CDAN]
- Lea Michele's see through skirt [Celebslam]
- Cheating wife's lover escapes out of window [Movin925]
- Joe Francis is crazy [Starcasm]
60 Responses to "Bristol Palin allegedly not sleeping w/ Levi (again) until marriage; mom Sarah livid"