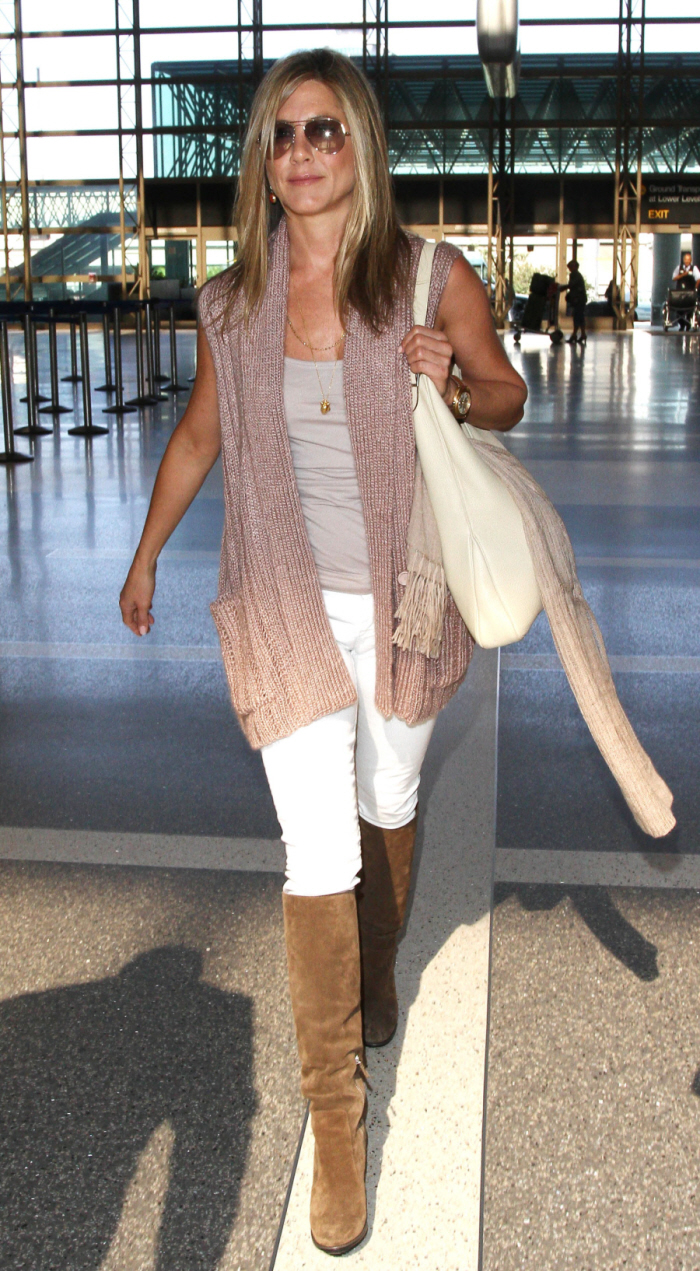 Bauer Griffin notes that in these photos, Jennifer Aniston is "leaving town after stories of an illicit affair surface." I guess they're talking about the Chris Gartin drama? Eh. In fact, Jennifer was photographed at LAX yesterday because she was headed to London for her big Lolavie perfume launch at Harrods. Can I just say – usually, I don't lust after anything Aniston wears. I understand her style, and it's not my taste, but I see that it works for her for the most part. But I am seriously lusting after these boots. The boots are killing me, I love them so much. The sweater and everything else? Meh. The purse is good too- I just bought a similar one. But the boots I would kill for.
The usually upbeat Jennifer Aniston looked sombre as she left Los Angeles yesterday to fly to London ahead of her fragrance launch Wednesday at Harrods. Everyone's favourite Friend didn't even raise a smile as she walked through LAX airport.

Even though she still managed to look stunning, wearing tight white jeans tucked into knee high boots, with perfect make-up and blown out hair.

A sexy new promotional campaign for Aniston's new fragrance, Lolavie, was revealed yesterday. In a series of risqué black and white shots the 41-year-old actress is shown topless posing on the beach.

Lolavie, which roughly translates as 'laughing at life' is Aniston's debut fragrance and she says she has been involved in every stage of it's development.

'It wasn't just about showing up for a shoot and putting my name on the bottle,' Aniston says. 'I felt like a little chemist. It's turned out to be an extension of myself as opposed to slapping my name on something.'

The perfume will be available at Harrods exclusively and will retail at £23 for 30ml and £36 for 85ml. Aniston describes the scent as 'sexy and clean…floral but not too flowery.'

'I am not a big perfume-y fragrance fan,' she explains. 'I want people to go "what is that? You smell great!" But most of all I wanted it to smell natural.'

Aniston will be at Harrods on Wednesday for the launch, signing bottles for customers at the Georgian restaurant.
[From The Daily Mail]
Will her Wednesday appearance at Harrods be all about some fabulous boots? I hope so. Although I can't look at an outfit like this without thinking about this summer's heat wave. How is she not burning up with all of those layers and the boots?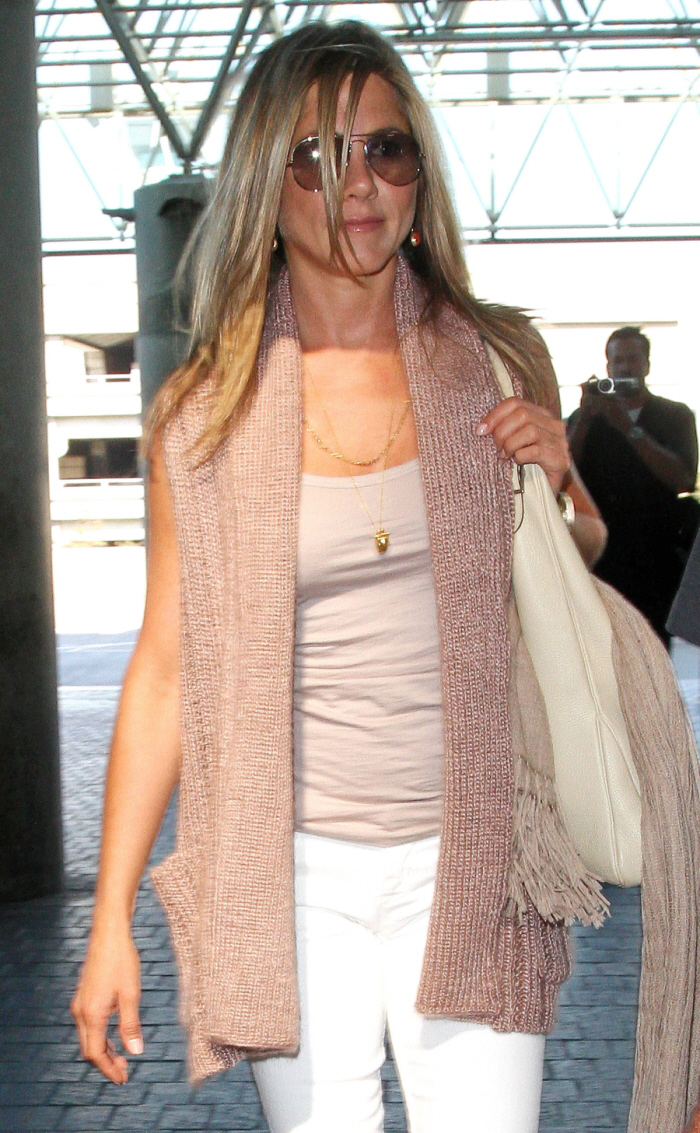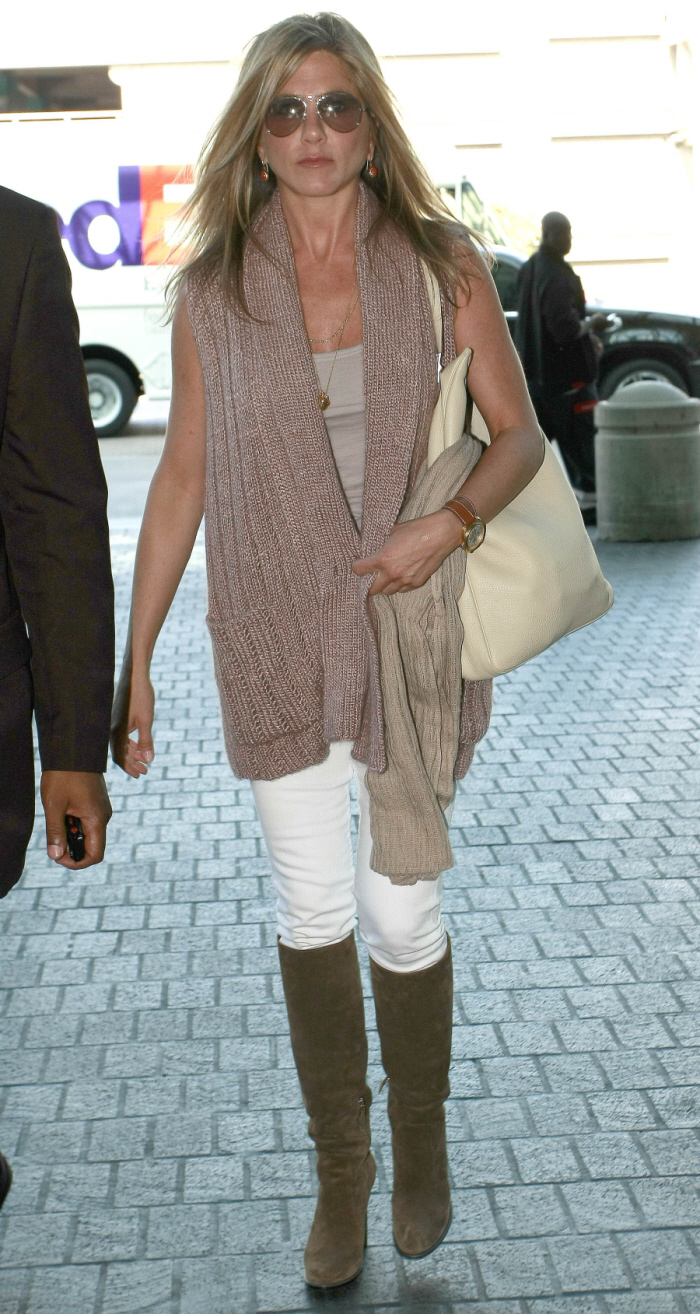 Aniston on July 19, 2010, at LAX. Credit: Bauer-Griffin.