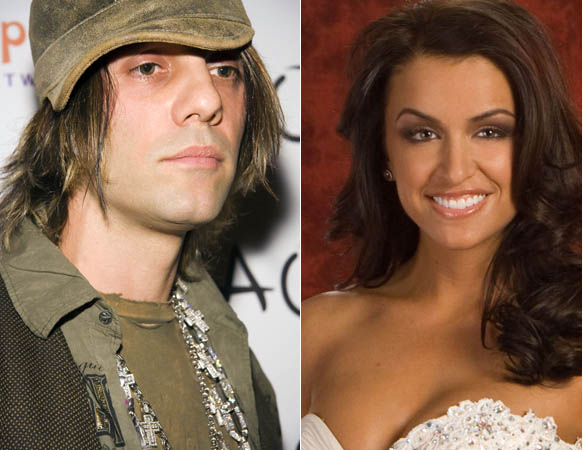 Pseudo-magician/professional skeezball Criss Angel, who has been linked to Britney Spears, Cameron Diaz, and Pamela Anderson, is reportedly dating a beauty queen, Miss Nevada Veronica Grabowski. When Veronica didn't make the finals over the weekend for the Miss USA pageant, Poor widdle Crissy didn't like it too much, and was spotted throwing a tantrum and threatening a TV critic.
CRISS Angel, the overrated Las Vegas illusionist who once "dated" Britney Spears for publicity, showed off a nasty temper by throwing a tantrum over the weekend when his girlfriend didn't win the Miss USA contest. Shortly after Angel's honey, Miss Nevada USA Veronica Grabowski, didn't make the finals of the Miss USA pageant at the Planet Hollywood Resort, Angel – who flipped the NBC cameras the bird – wigged out when he saw Las Vegas Review Journal columnist Norm Clarke. Angel was ticked off that Clarke ran an interview with preliminary judge Sandy Mecca, in which Mecca claimed Angel exhorted her to give Grabowski "high marks." Mecca said the comments made her uncomfortable and disturbed pageant owner Donald Trump. When Angel ran into Clarke after the show, he screamed, "You're a [bleeping] idiot!" Angel then screeched at Clarke, who wears a patch over his right eye, "Don't ever write another word about me or you'll need an eye patch over your other eye." "Good one," Clarke shot back "Never heard that one before." Angel's rep told Clarke, "It was an emotional night for everyone."
How does Criss Angel keep on getting TV shows, attractive women and attention? He's a hack illusionist, and he's butt ugly and has a lisp. If it weren't for his poser "rocker" image, he'd be just another basement-dwelling dork who likes card tricks. His ego is completely out of control, and the day when people see through his shtick and forget all about him can't come fast enough. If it's true that he tried to bribe pageant judges, then his girlfriend got what she deserved. Hopefully she will dump his slimy ass when she realizes that he is doing anything but helping her career.
Picture note by Celebitchy: Criss Angel is shown with Miss Nevada below hosting an event at LAX nightclub on 4/11/08. He looks like he shaved off that beard over the weekend as the header is from 4/13/08 from a dinner benefit at Tao, thanks to WENN.