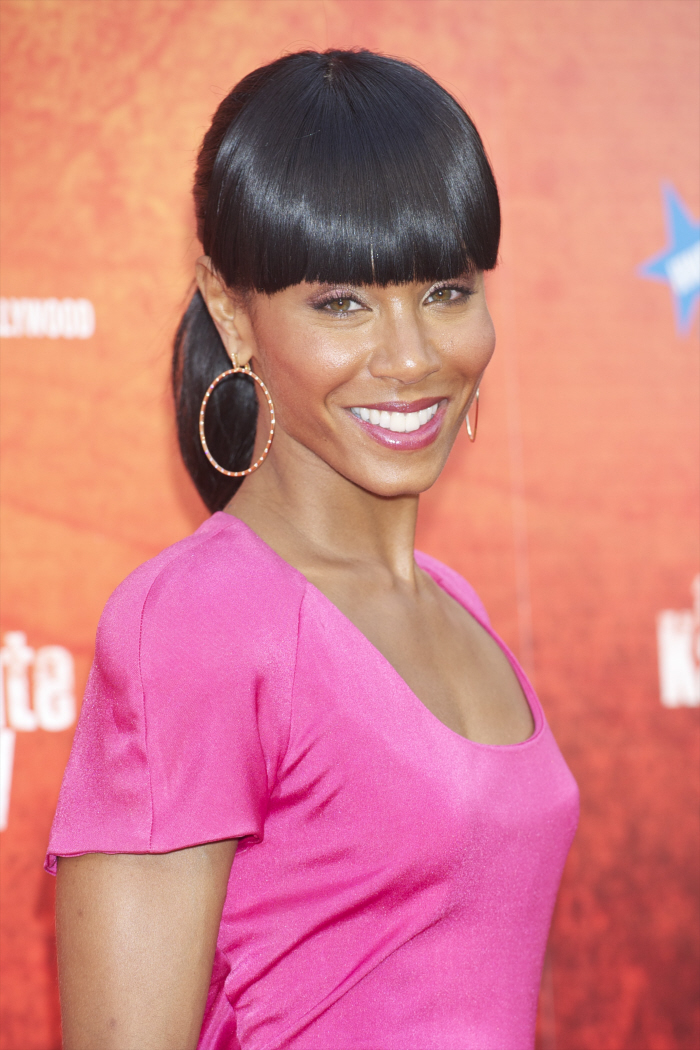 Jada Pinkett Smith's face is still scaring the hell out of me. Also – I wanted to thank all of the commenters who suggested that she'd gotten The Madonna Chicken Cutlets Cheek Implant Special. That makes sense, because Jada's "cheekbones" weren't always this high. I also think she did something with her eyes – they look really different to me, and it's not just the chicken cutlets. The wig sucks too. But I imagine it costs a lot to look this horrible. Anyway…
While Jada, Will and the family travel around the world supporting Jaden and The Karate Kid, someone asked Jada some questions. She was thrilled! Probably because she couldn't pay people to ask her about her crapfest TNT show, HawthoRNe (poor Michael Vartan, whenever I see him in the commercials, I wince). Anyway, Jada confirmed that she was asked to play Jaden's mom in The Karate Kid, but turned it down:
Jada Pinkett Smith has revealed that she turned down a role in the remake of The Karate Kid.

The actress, whose son Jaden Smith stars as lead character Dre Parker, said that she did not want to portray her son's on screen mom.

"There was talk about me playing Jaden's mother in the movie but I felt that he was going to really need his mom off camera. Mummy support," BANG Showbiz quotes her as saying. "So we felt like we really had to be there as parents and producers just to make sure Jaden was being taken care of."

Pinkett Smith added that she and husband Will Smith acted as producers to help guide Jaden through his first big screen leading role.

She said: "Well, we knew that we had to participate in some way. We have so much knowledge between the two of us that we want to pass on to our children. So we knew it was important to participate."
[From Digital Spy]
I do admire her for that. I like that Will and Jada seem to be setting boundaries and a solid support system for their kids, and I really do think they're good parents. They take their family seriously, and I have nothing but applause and kudos for the way they're transitioning Jaden into public life. Yes, he comes across as a little full of himself. But he's also really young, and his parents are being really smart about it, so good for all of them.
Here are some more pics of the family – Willow kills me every time! I love that kid.
Header: Jada's scary face in Madrid on July 21, 2010. Credit: WENN.