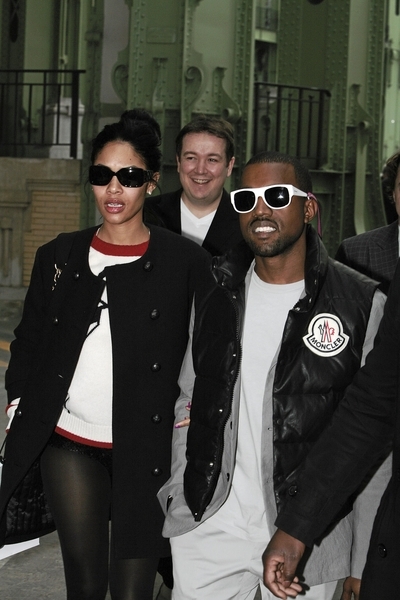 Jawn Murray of AOL Black Voices says that Kanye West and longtime girlfriend/fiancé Alexis Phifer have broken up. Murray claims Kanye dumped Alexis and didn't give any specific reasons – just the good old, "It's not going to work out." The pair have been dating since 2002, though the broke up for a while in 2004. Murray announced the news during his segment on the nationally syndicated 'Tom Joyner Morning Show' on Friday morning.
Sources close to the hip-hop star tell me that it was West who ended the engagement after revealing to Phifer: "I just don't think it is going to work out anymore." The 30-year-old entertainer even asked for his ring back!

The often-controversial rapper/producer got engaged to Phifer while overseas in the fall of 2006. The two met when Phifer worked as the assistant to West's fulltime wardrobe stylist. A graduate from the Fashion Institute of Design & Merchandising (FIDM) in California, Phifer is working on a clothing line and has already designed some dresses that have been worn by artists like Lil' Mo. Sources close to the couple claim she was also helping West develop his forthcoming Pastelle clothing line.
[From AOL Black Voices]
That's pretty damn low to ask for the ring back. Especially if Kanye broke up with Alexis and not the other way around. And considering he made $17 million in 2005 alone, it seems like he could probably afford to leave her with something shiny to remember him by. Kanye's people have of course not responded, and will probably give the standard "no comment," if they ever do.
West has certainly had a tough year since his mother Donda passed away last fall. He's recently started touring again, and has earned a few scathing reviews – mostly for the massive display of ego. Certainly not the first time that criticism has been leveled against Kanye.
Pop superstar Kanye West took over KeyArena on Wednesday night in what was essentially a one-man show. With his backing band tucked away mostly out of sight in a makeshift orchestra pit and no backup dancers, no guest rappers, no preening entourage, it was just Kanye Kanye Kanye all night long.

The man is known for his ego — and in the narcissistic echo chambers of hip-hop, that's really saying something — and Wednesday night the Kanye self got wide berth. He tried by sheer force of his own charisma to fill up KeyArena, and while the effort was impressive, in the end it was a little like watching Kobe Bryant pour in 64 points just so the Lakers could lose by two.
[From the Seattle Post-Intelligencer]
I guess the whole notion of him toning down his ego and being more humble and appreciative of life didn't last long. Kanye seems like he could be a pretty difficult guy to be married to. The relationship would be like a threesome: Kanye, Kanye's ego, and a woman. He's a talented artist, but something tells me that in the long run, Alexis might see this as a blessing in disguise.
Header of Kanye and fiancée Alexis Phifer at Paris Fashion Week on February 29th. Images thanks to PR Photos.