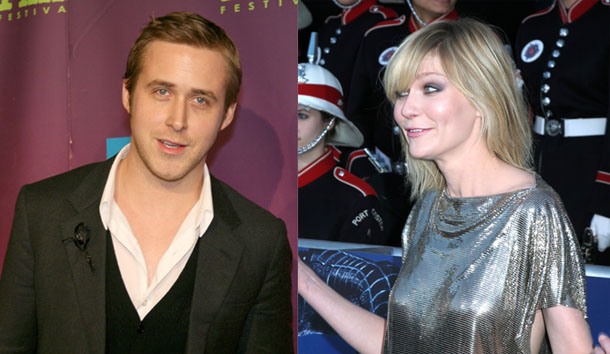 Kirsten Dunst is out of rehab and living in a new $3 million apartment in Tribeca. She's also in NY to film the movie All Good Things with hot Canadian actor Ryan Gosling. Star Magazine likes to make humping mountains out of acquaintance molehills and says that Ryan and Kirsten were "acting like they were on a date and lingering for hours" when they were spotted out at lunch together in Manhattan. Considering that they're working together presumably in that area and that it was just lunch, it probably wasn't more than just a friendly colleague outing:
The couple were spotted "acting like they were on a date and lingering for hours" while lunching at Freeman's restaurant in Manhattan. But if Kirsten – who dated Jake Gyllenhaal for almost three years – has any ideas about starting a long-term relationship with Ryan, who split last year from actress Rachel McAdams, she may want to think twice! Says an insider: "Ryan likes Kirsten as a friend – but that's as far as it goes."
[From Star Magazine, print edition, April 28, 2008]
Ryan Gosling already lost most of the weight he gained for the role as a middle aged dad in The Lovely Bones that ended up going to Mark Wahlberg. I liked him better with a few extra pounds because he looked old enough for me not to feel pervy fantasizing about him. Now he's just another hot up and coming actor and not the helpful neighbor guy who fixes the sink when my husband's away.
Star Magazine last linked Gosling with Michelle Williams before the untimely death of her daughter's father. Williams and Gosling were seen out at dinner and taking a walk in late December, but her rep said they were just discussing a potential project.
It all sounds like bullshit, but since it allows me to think about Ryan Gosling I'll report it. It's better if I don't believe that Ryan was out on any dates, because then he's free to fix my sink.
Note – I wrote this story and then realized that this is old news that was reported two weeks ago by another unreliable source, The NY Post. My gossip skills are low today because I'm exhausted from working on the site. I'll just put it out there anyway.
Ryan Gosling is shown at the Santa Barbara Film Festival on 1/29/08, thanks to WENN. Kirsten Dunst is shown at the Spiderman 3 premiere on 4/30/07, thanks to PRPhotos. Gosling has lost more weight since this photo was taken.