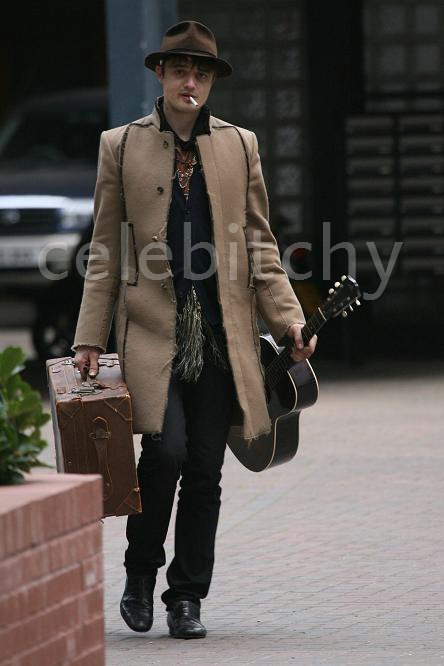 Pete Doherty sure is going to have one heck of a messy life to clean up when he gets out of jail in a few weeks. The Mirror is reporting that Pete is thousands of dollars in debt to all sorts of people, including his dealers and his landlord. Both have (not surprisingly) gotten fed up with Pete. The landlord stopped by to check on the nine bedroom country estate, only to find that it had been trashed. Pete had sprayed human blood all over the place, had scrawled on the walls, and had abandoned his nine cats there.
Popping over to check on the place the landlord was horrified to find that his beautiful country pad had become a stinking hovel. The walls, floor and even some of the windows have been daubed with human blood. And we're told the stench from his abandoned nine cats is so strong it would turn the strongest stomach. After taking one look at the carnage, the landlord canceled Doherty's tenancy.

A close source says: "Pete is homeless, broke and owes thousands to dealers. He destroyed the place by scribbling on the walls, the floor, anywhere he felt like it. The beautiful heavy curtains were ripped down and the cats are just running around abandoned. It's a really pathetic state of affairs. No one in their right mind is going to rent him a property after what he did." The junkie has been receiving threats from out-of-pocket dealers while he's been inside Wormwood Scrubs [prison], and things aren't going to get any better for him when he's released next month.
[From the Mirror]
Pete's old friends and dealers have also been stopping by the country estate and taking his things to sell in an attempt to collect some of the money he owes them. The Mirror tries to make it sound like they're taking advantage of Pete, but considering they also state they're just doing it to make back some of the money they're owed, it doesn't sound that out of line.
The friends and dealers probably aren't going about it in a legal manner, but considering the other things dealers are known to do to get their money, Pete's probably pretty damn lucky. Something tells me that all of this isn't going to make it any easier for Pete Doherty to get back on his feet. But let's be honest, it's not like there's any reason to believe he was going to pull it all together at this point.