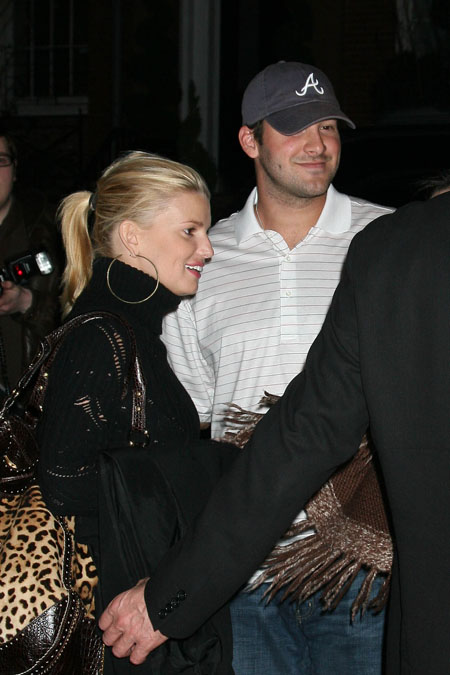 Joe Simpson has long been accused of controlling his daughters' lives – especially eldest daughter Jessica. As she's grown and (theoretically) matured, he's downgraded his controlling to just interfering – but according to OK magazine, Joe's presence is still having a massively detrimental effect on Jessica's life. OK says that while everything is going comparatively well for younger sister Ashlee, Jessica's life is essentially stalled – and it's mostly because of Joe's negative influence.
Although Jessica and Tony are very much still together (she threw him a 28th birthday party in Dallas on April 19), OK! has learned that Tony and, in particular, his family, may not be loving the fact that Joe Simpson is constantly popping into the picture.

"His [Tony] family's view seems to be that Jess and her dad, Joe Simpson, are bringing Tony down," a source tells OK!. "I think they are ruining his image, as well as trying to capitalize on his fame, in order to boost hers."

The source also shared a revelation about the Mexico trip that Jessica and Tony took with his teammates in January, before the NFL playoffs. "Everybody agreed to tell no one about the trip," says the source. "On the day they were flying out, who shows up? Joe Simpson. Tony and the other guys thought it was weird."
[From OK!]
The magazine goes on to say that whatever hopes Tony Romo had of his relationship with Jessica turning into something real pretty much ended with Joe's stunt. According to his friends, they're pretty much just friends with benefits. Something tells me that wasn't exactly what Joe Simpson was aiming for.
This might be naiveté on my part, but it seems to me that if everything Joe Simpson touches turns to crap, maybe he should stop touching things. Like his daughters. He's long been rumored as the reason behind Jessica and Nick Lachey's divorce – and really, who could blame Nick for not wanting to spend the rest of his life around that whackjob? Jessica is such a sheep; there's no chance in hell she'll ever stand up to her dad. She probably doesn't even realize what a problem he is. The two of them will still be puzzling over it in fifty years when no one remembers Jessica Simpson as anything but that lady down the street that has a lot of birds.
Here's Jessica Simpson and Tony Romo at the Waverly Inn on March 4th. Image thanks to Splash.