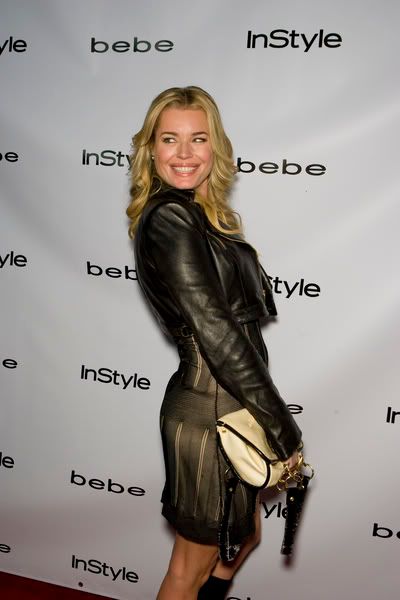 Rebecca Romijn 36, and Jerry O'Connell, 34, got married last July 14th, and the pair have recently started telling friends that they're trying for a baby. Star reports that Romijn is excited to eat whatever she wants and get fat, while O'Connell is already picking out baby names.
Rebecca Romijn [has] told pals she's dying to get "fat as a sow and all knocked up" – and hubby Jerry O'Connell's just happy they're really really trying now. Said a friend: "Jerry's already window-shopping baby stuff online and keeps peppering her with baby names!" But while Rebecca's thrilled at the idea of piggin' out on whatever she wants, she knows there's a professional downside – it might be tough to return pregnant for a third season on Ugly Betty because she plays a transsexual.
[From Star, print edition, April 28, 2008]
Considering there was a pregnant man on Oprah (I think he ended up being a pre-op transsexual) you'd think there could be a way for the Ugly Betty writers to spin a pregnancy if they wanted to. Or they could always just hide it.
Rebecca Romijn is currently starring in Lake City, which premieres this Friday at the Tribeca Film Festival, and is already getting good buzz. Hopefully she and Jerry will get their wish and she'll be hiding a pregnancy very soon.
Here's Rebecca Romijn at the Hollywood Glam party by Bebe on March 6th. Images thanks to PR Photos.