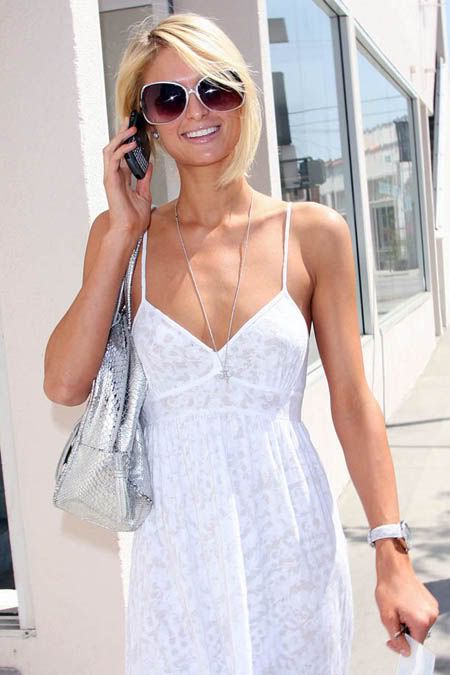 Paris Hilton has been blacklisted from the Moscow Hyatt after she wrote "Paris Moscow 2008″ on the wallpaper as part of photo shoot she was doing in a suite there. The suite costs $16,000 a night and Paris was fined $9,000 for damages and will never be allowed back. Starpulse quotes a "hotel spokesperson" as saying "Miss Hilton ruined the wallpaper in the luxury suite. In such a case the client automatically goes on the black list."
There's a pretty exclusive Hilton in Moscow so it's not like Paris won't have somewhere to stumble back to after a night of heavy vodka consumption. You have to give props to the Hyatt people for saying she's banned, but there's also a kind of status in publicly stating that Paris Hilton is not welcome at your establishment. Alexander McQueen said that he didn't want her at the opening of his new store in LA, but he didn't exactly say he wouldn't take her money if she shopped there.
Meanwhile Paris is still talking about her new boyfriend Benji Madden to anyone who will listen. She gave details of their two month anniversary celebration to People Magazine, and said she made dinner and they watched movies at home. As for their relationship she said "I think the way it works so well is that we're best friends and we totally trust each other and we're in love and we have an amazing time together." I give it two more months before Benji is banning Paris from his establishment, too.
Paris and Benji had lunch at the Ivy yesterday and then went shopping. Thanks to WENN for these photos.