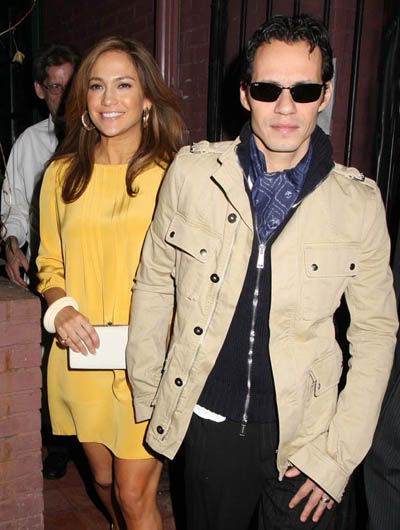 Jennifer Lopez is really spending a lot of time with her newborn twins, judging from all the statements she's made and the projects she's taking on. She told People Magazine that she's training for a triathlon because she wants "her babies to be proud" of her. Now she's taking on a reality television show for TLC, and she describes it as a "very special journey," but only mentions her business projects, not her new daughter and son:
The pop diva and new mama made a surprise appearance on Wednesday at the Discovery Network's Upfront at Jazz at NYC's Lincoln Center to talk about her new show.

The reality show will debut on TLC, and will be a series about her life. "It will be a special journey," Lopez said. "I'm launching my fragrance and working on a movie." J.Lo revealed she went through a very creative process while pregnant, and might even consider running a triathalon now that her babies are born.
[From OK! Magazine]
The press release from TLC says that it "deliver a slice of (Lopez's) life that audiences have never seen before, as she takes on her career and launches a new fragrance while trying to juggle her new responsibilities as a first time mom," but it sounds like the network is the only one mentioning her role as a mother.
It's possible she doesn't want the focus to be on her children because of the potential risk to them, but why make a reality show at all? Oh that's right, she needs to keep raking in the bucks so that she can buy the twins the best things in the world, because they would rather have couture fashion and designer toys instead of a mother who dotes on them.
I guess this challenges my assumption that reality shows are a last ditch effort by washed up or relatively low-level celebrities to get back in the public eye, because surely J.Lo is above all that.
Jennifer Lopez and Marc Anthony are shown outside the Waverly Inn on 4/14/08, thanks to Splash and WENN.