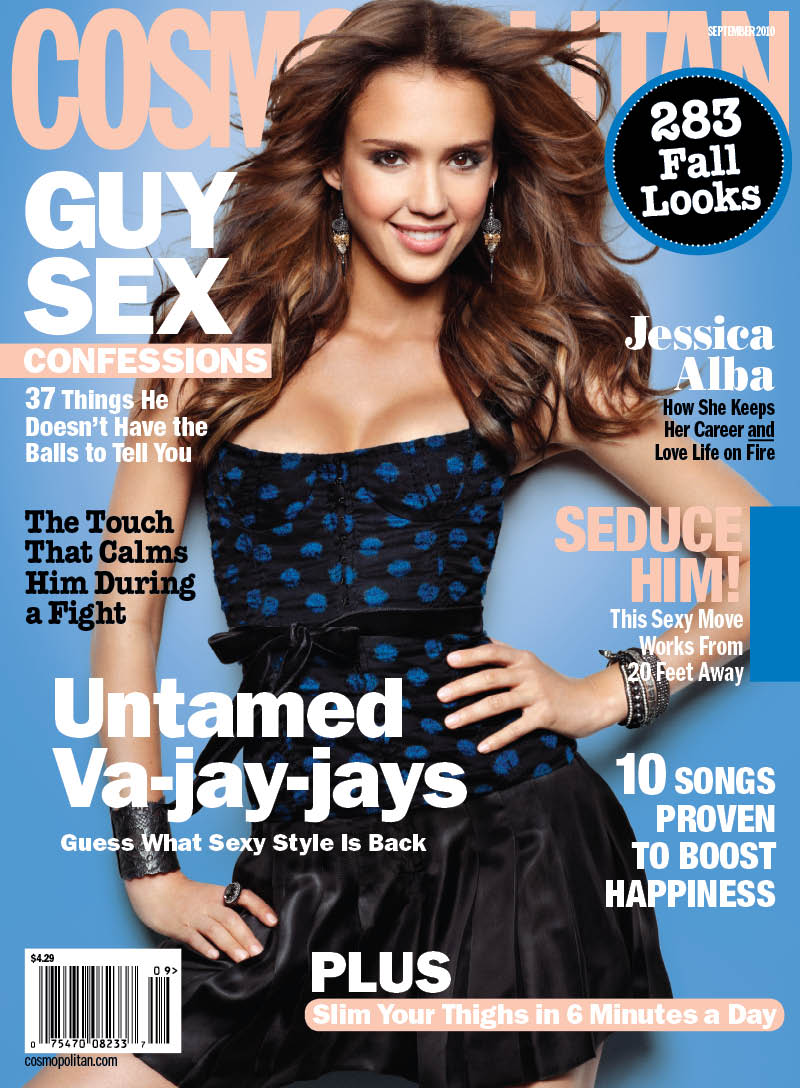 Jessica Alba is the cover girl for the September issue of Cosmopolitan. Is anyone else laughing their ass off that the absolutely BRILLIANT editor stuck "Untamed Va-jay-jays" on Alba's vadge? The placement of that headline makes me think that Alba will be talking about her untamed vadge, but alas, it's not to be. So far, Cosmo hasn't released their story, but Alba did give a nice interview to The Telegraph. It's a long piece, so if you want the complete interview, go here. Here are some highlights:
Alba on marriage: "Marriage is tough," admits the actor, who secretly tied the knot with film producer Cash Warren in 2008. "Everyone goes in with the best intentions. But you have to adjust and be sensitive to somebody else's needs, and that's quite hard for some people. Most people just want to be selfish and do what's right for them, but marriage kind of flips all of that. It shakes you up a bit because, all of a sudden, you have to coexist with somebody. It's hard work."

On Cash Warren: "When I first met him, I felt like I'd known him my whole life. He felt like family. And my parents are a pretty good example of showing me it could work. They got together when they were 16 and 17 years old and are still happily married. So, with that kind of example, it seemed possible," she pauses and laughs. "Regardless of the statistics."

On getting married before the baby was born: "It's not something I take lightly," she explains. "I'm quite traditional in that sense."

On the secret elopement: "Our wedding was about us and our commitment to each other. It was something we just wanted to do with each other."

On fame and freedom: "We have a totally different freedom in France," she muses. "In LA, it's hard to get around without being followed [by the paparazzi] all the time. It makes you a bit paranoid. There's nothing I can do about it, though. I don't want Honor to be weird and grow up in a bizarre bubble where she doesn't see people. I don't want her to see people doing things for her mum all the time, because that's not who I am. I don't hire people to do my grocery shopping or my day-to-day stuff. I want her life to be as normal as possible."

Fighting hard for her career: "I come from nothing," she explains, with a hint of defiance. "No one in my family is in this business, so there was no nepotism. I got to where I am by putting my nose to the ground and doing the best I could. People told me I should be concerned about my career when I decided to take a year off to have a baby. But my gut instinct is that any life experience makes you a better actor. Without it, I wouldn't understand a lot of the women I play."

Losing the baby weight: "Taking if off sucked," she laughs. "You don't think about it when you're gaining it. I didn't care. I just wanted her to be healthy, so all I did was eat and sleep, and subsequently gained a lot of weight. I was like a jolly person with a big tummy, a big bootie and big boobies. Then an opportunity came up to shoot an advertisement and make some money – I hadn't worked for a year. And I thought, OK, if nothing else, it will motivate me to lose the baby weight. I shot the ad about three-and-a-half months after I had her, and I really had to bust my ass. I managed to lose about 15 kilos in a pretty short period of time. Then it took me until she was about a year-and-a-half before I lost the next 10 kilos."

On her daughter: "Nothing is of any importance now but her and her well-being," she says. "My whole life revolves around her. I've done four movies [since her birth], but I've only worked a few days on most of them. She's my number-one priority. "There was nothing else but my career before. I was completely defined by it. Now I have my family, which is more fulfilling. I've always wanted a big family."

On her career highs and disappointments: "There was a lot of success and it was wonderful," she says, stifling another yawn, "but that's not why I started acting. I went to my agent and said, 'I don't want to work just for the hell of it. I love what I do for a living and if I'm going to continue being an actor, I don't just want to be slotted into any movie and do something that isn't going to challenge me. I want to work with great film-makers.' So that's what I set out to do this year."

On doing nudity: "I don't think sexuality and nudity is anything anybody should be ashamed of," she muses. "In my private life, I'm free and liberal about it. But I feel that, in the US, nudity is not looked at the same way. I lived in Australia for two years and there you see women who are topless and it's no big deal. Men don't disrespect women because they can see their breasts. But, in my country, it's just so different, I'm just sensitive to that."

On making those "Sexiest" lists: "I don't really care that much," she says firmly. "I just enjoy what I do. It's not about trying to prove anything. I grew up in Southern California, and there are plenty of girls there who are 10,000 times better-looking than I am. If I get dressed up and have someone do my hair and make-up, then I clean up pretty well," she continues. "But I'm not walking around thinking I'm this great-looking person."
[From The Daily Telegraph]
On one side, I think she's realistic and honest and almost interesting. On the other side – well, she's a lot like that other Jessica who thinks she's the second coming of Meryl Streep, Jessica Biel. I feel like both Alba and Biel have fallen into the trap where they think they're great actresses in need of great material, and I just think someone needs to tell them that the material isn't coming. People (men) liked Biel and Alba because they looked great semi-naked, and they're both pretty girls in general. But they both puff themselves up like they've already proven themselves as wonderful actresses, when that's just not the case.
Here are some photos of Jessica Alba talking her way out of a ticket yesterday:
Cover courtesy of Cosmo online.