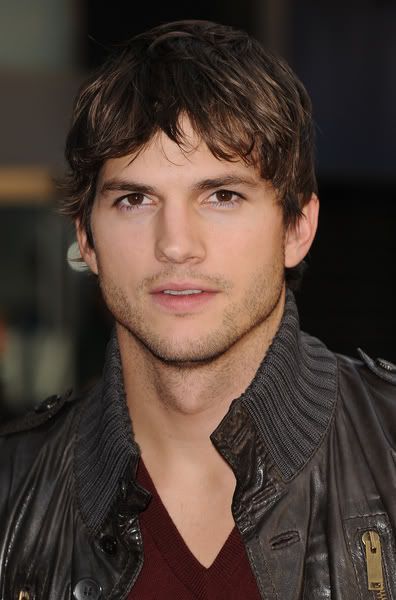 I used to think that Demi Moore was so lucky to have landed a hot piece of ass like Ashton Kutcher, particularly after being married to Bruce Willis. Now it seems like he should be grateful to have found someone who will tolerate him and his strange habits. He recently revealed that he likes to pee outside practically everywhere, and as a mother of toddlers it sounds to me like he needs toilet training.
The Dude, Where's My Car? funnyman admits he likes to join his dogs when they empty their bladders in the morning outside the home he shares with his wife Demi Moore.

And he blames his weird toilet habit on his desire to bond with the earth and feel like a "caveman".
He says, "I pee outside, outside my house, in my yard. I usually start off my day by taking my dogs out. While they go, I go.

"That's probably my least appealing habit. I just feel like I'm connecting with nature, I bond and feel like caveman. Man, tents, cave, pee, bush."
The tabloids have been speculating that Demi Moore would like to have a baby with husband Ashton, but I think they're wrong – after three girls, she must be terrified of having a boy that takes as long to get out of nappies as his father.
She might also be worried that the child inherits its father's webbed feet.
The What Happens in Vegas star took his socks and shoes off on Friday Night With Jonathon Ross to confirm he has abnormal toes.

He said: "I have slightly webbed toes. When everything else is this good-looking, something has to give!"
Actually, everybody starts out with webbed toes in utero and they come apart as the baby develops, so its very common to have webbed feet, but I don't really feel like cutting Ashton any slack today.
Last month he revealed his first sexual experience was awful.
He said: 'It was out in the woods and it was horrible. It was a girl I'd just met who my buddy set me up with. The whole thing lasted like two seconds. It was really awkward. Two years later, I had sex with her again just to show her that the first performance was a fluke and I'd got much better.'
Okay, so that little revelation refers to a time in the distant past, and we can only assume that he has improved sexually. Why else would Demi put up with his creepy webbed toes and antisocial toileting habits?
Just in case you weren't sure that he is indeed not a desirable man, here's a little article he wrote for Harper's Bazaar, where he manages to come off like a total dick in his list of things that make a woman attractive. Here's a snippet: "Women who wear big blingin' stones don't look like they have a lot of money; they look like they have a lot of someone else's money."
Ashton, I don't know if you've heard, but women earn their own money now, some of them even get paid more than men.