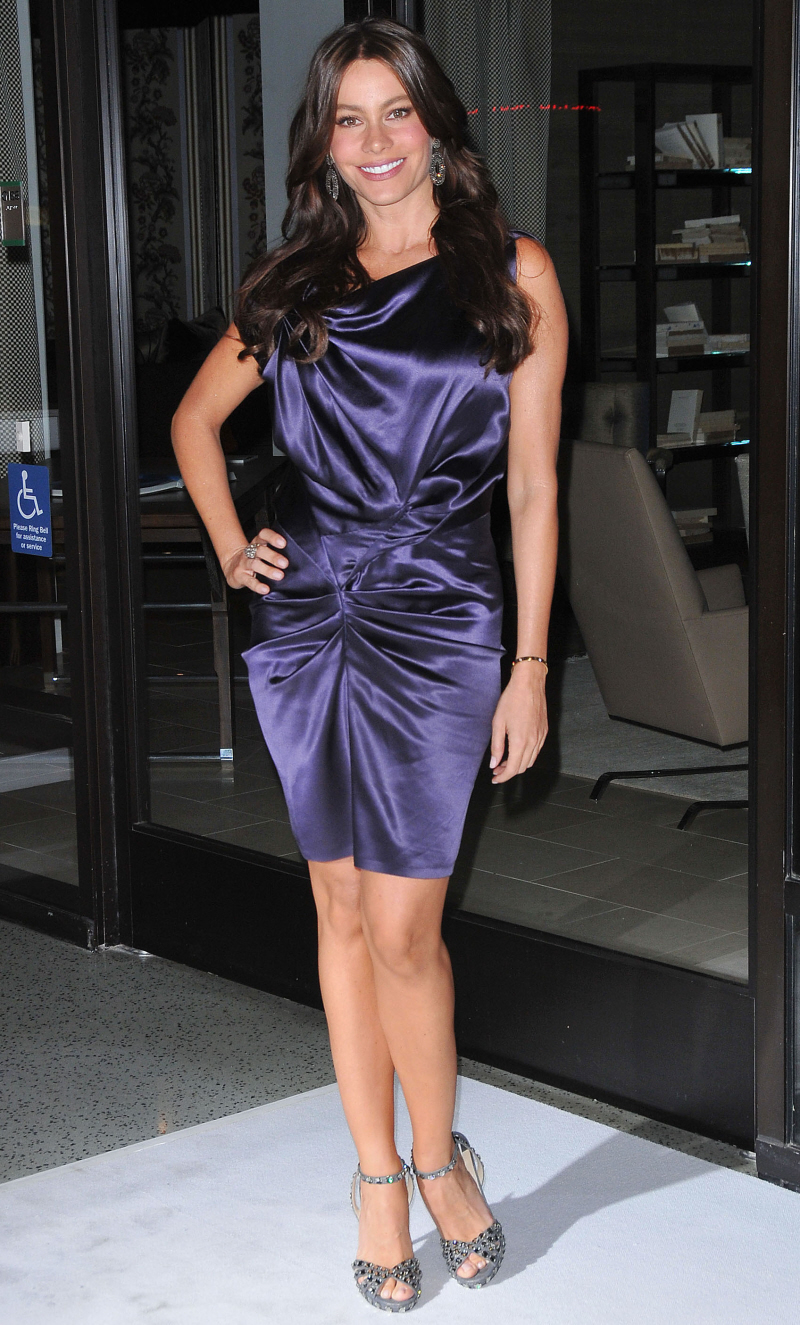 First, what do you think of Sofia Vergara's dress? She wore this last night, to the Breakthrough of the Year awards. It's very… demure. You can hardly see any of her amazing figure! It's still there, of course, you can't hide that amazing body, but it seems like Sofia chose this dress specifically because she was feeling a little over-exposed, in more ways than one. Ever since she got an Emmy nomination for her (great) work on Modern Family, she's slowly but surely been getting more press, and some of it has been negative. Note this: her alleged fiancé Nick Loeb didn't come with her for the Breakthrough Awards, which makes me wonder about those reports that he's jealous of her fame and success.
Another reason she's been getting so much press? Because she's a great interview. She gave a stellar one to Esquire in which she was complaining about all of the plastic surgery she sees around her: "L.A. is crazy. The women all look the same now. That thing with the cheeks. Like Madonna. Who do they think they're fooling? It doesn't make them look young. You end up looking like a freak." This quote got picked up and repeated on every blog and entertainment site and many are trying to make it into a "Sofia hates Madonna: Bitch Fight" story. I just thought it was a funny and very true statement, and it was probably a throw-away remark that any of us could have made. But Sofia felt bad about it, and apparently she was getting sh-t about it. So she took to her Twitter to explain: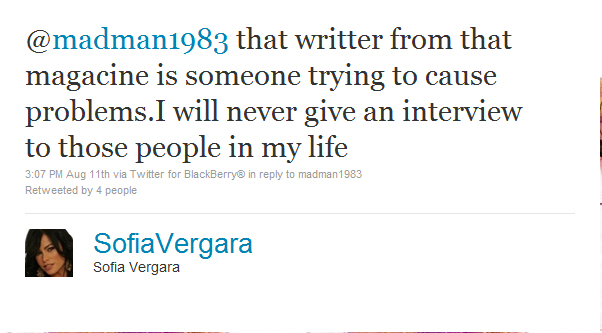 [From Sofia's Twitter]
Can it be over now? She loves Madonna, she's never giving Esquire another interview (which is too bad, in my opinion, because that was one of their better pieces), and she didn't mean anything. I hope everyone stops attacking her.
Anyway, things are going well for her beyond that – not only is she nominated for an Emmy, she's just been announced as one of the presenters, along with Matthew Marrison, Ricky Gervais, John Krasinski and Julianna Marguilies. Oh, and Sofia won at the Breakthrough Awards too! She tweeted this photo of her victory: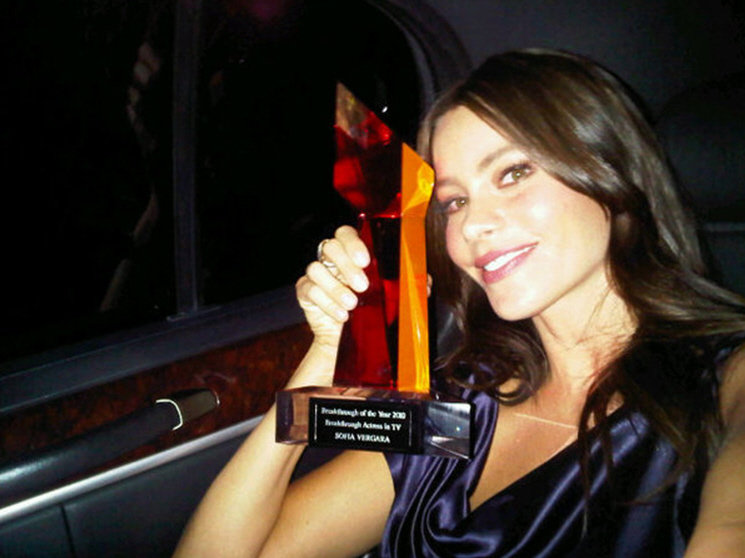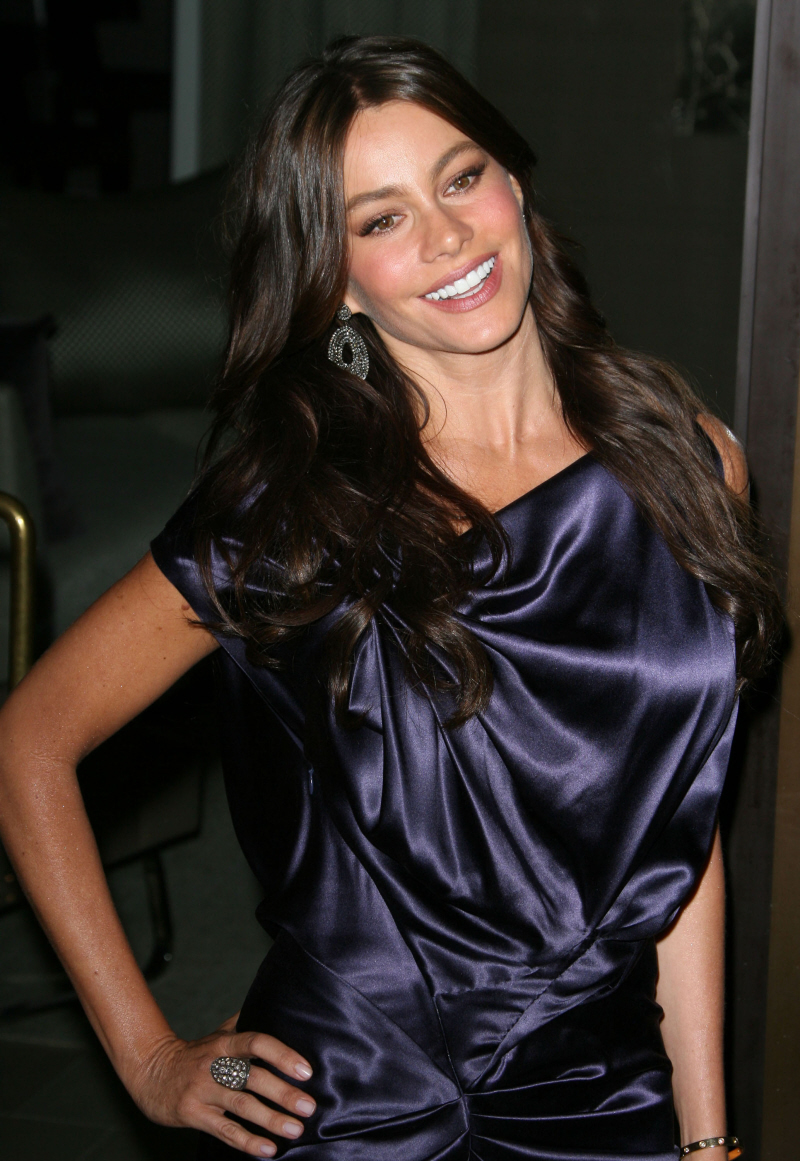 Sofia on August 15, 2010. Credit: WENN.