What's going on with Jen and Vince? Tabloid roundup.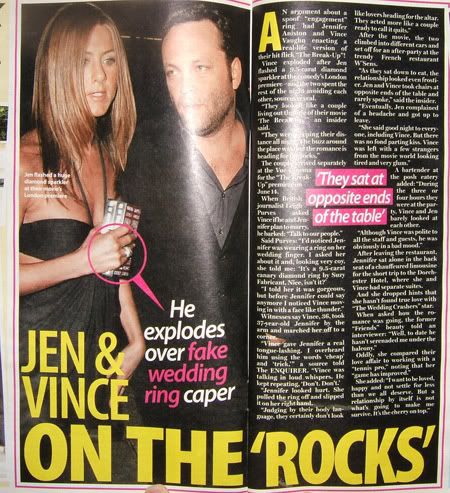 This week's National Enquirer has Jen and Vince "on the rocks" and fighting over the fake engagement ring Jen wore to the London premiere of "The Break Up." She had it on her left hand, and gushed about the ring's details to the press. Vince got pissed off and Jen put the ring on her right hand to appease him. Jen and Vince stayed away from each other all night, and a source says they were both in a bad mood and looked sad. We've heard this story before.
The couple arrived separately… for the premiere on June 14.
When British journalist Leigh Purves asked Vince if he and Jennifer planned to marry, he barked: "Talk to our people."
Said Purved: "I'd noticed Jennifer was wearing a ring on her wedding finder. I asked her about it and, looking very coy, she told me: 'It's a 9.5-carat canary diamond ring by Suzy Fabricant. Nice, isn't it?'
"I told her it was gorgeous, but before Jennifer could say anymore I noticed Vince moving in with a face like thunder."
Witnesses say Vince, 36, took 37 year-old Jennifer by the arm and marched her off into a corner.
"Vince gave Jennifer a real tongue-lashing. I overheard him using the words 'cheap' and trick,'" a source told the Enquirer. "Vince was talking in loud whispers. He kept repearing , 'Don't, Don't.'
"Jennifer looked hurt. She pulled the ring off and slipped it on her right hand."
(From The National Enquirer print version.)
At the premiere after party, they sat separately and left separately. They even had different suites in their hotel. From her quotes, she doesn't sound happy about their relationship:
"I want to be loved, happy and not settle for less than we all deserve. But a relationship by itself is not going to make me survive. It's the cherry on top."
It sounds like she doesn't care if the cherry is there or not, and as if she's trying to justify their stormy relationship.
US Weekly claims to have "The Truth about Jen & Vince" and refutes the rumors that she's engaged and/or pregnant while making it seem like their relationship is fine. They use the one picture of them having dinner together in France and say that she's moving to Chicago as proof of their solid relationship. They quote a source saying "Both of them are so happy, They are an amazing couple."
We doubt that everything is fine, because neither of them seems happy or is willing to admit much about the other to the press. They've been together for two years. Isn't that long enough to go public with their relationship?
Here are pictures we took of the stories in question. Hopefully they're legible. There are also two pictures of Jen leaving "The Break Up" after party in London on 6/14. [via]
Written by Celebitchy

Posted in Jennifer Aniston, Photos, Relationship trouble, Vince Vaughn

- Harry Styles & Kimberly Stewart going strong [Lainey]
- Demi Moore's new man is gross [D-Listed]
- Fug or fab: Emma Stone [Go Fug Yourself]
- Arrest warrant issued for Jenelle Evans [Reality Tea]
- Only God Forgives review [Pajiba]
- Hugh Jackman, scooter master [Buzzfeed]
- Who does Drew Barrymore call her sister? [Evil Beet]
- Cannes couples past and present [Popsugar]
- Arrested Development supercut [CDAN]
- Lea Michele's see through skirt [Celebslam]
- Cheating wife's lover escapes out of window [Movin925]
- Joe Francis is crazy [Starcasm]
One Response to "What's going on with Jen and Vince? Tabloid roundup."