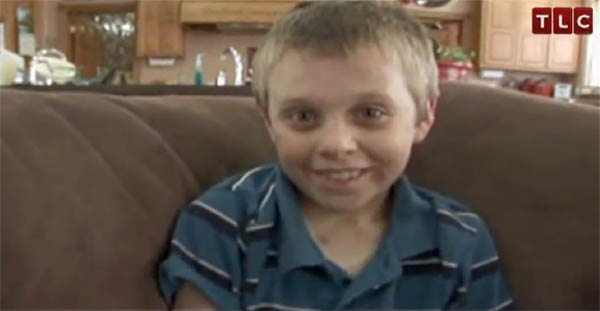 I remember getting the chickenpox when I was four. It itched so bad and my grandma had to come take care of my brother and me as our parents needed to work. There's a vaccine now but not everyone opts for it (although it's recommended by the CDC, etc.) since the illness is relatively minor compared to a lot of the other things we get vaccines for. It's still very uncomfortable and can make you sick as a dog. All of this is an introduction to the fact that the super prolific Duggar family dealt with an outbreak of chickenpox that felled 12 out of the 17 kids then living in their house. The good thing is that premature Josie hadn't yet left the hospital in Little Rock, Arkansas at that point so the abnormally calm Duggars decided to delay her return home until they recovered.
Here's the story from Radar, which has the exclusive video of the Duggar kids with chickenpox:
The Duggar family never does anything on a small scale. Jim Bob and Michelle have 19 kids. They have a 7,000 square foot house. And now, 12 of their children have the chicken pox, and RadarOnline.com has the exclusive video clip of the adorable kids suffering from the childhood infection from the next episode of 19 Kids and Counting.

"Johanna broke out with chicken pox a couple weeks ago and now we have 11 more who broke out," dad Jim Bob says in the video as he leaves a phone message for the doctor.

Jackson, always the family ham, is shown with his little face covered in spots, and one poor kid even has a pox in the eye!

Mom Michelle explained that the timing of the outbreak was right before they were going to bring little baby Josie back home, but they decided she would stay with her in Little Rock until the kids were chicken pox free.

"For the first two years of her life Miss Josie is going to live in a little bubble," Michelle explained about their 19th child.

Check out the 'Chicken Pox' episode of 19 Kids and Counting on TLC on Tuesday, August 24 at 9pm.
[From Radar Online]
If my one kid had chicken pox I would be stressed about it and trying to make sure he was comfortable, but it's just another day in the Duggar family. Look at that sweet terribly sick-looking kid in the header and tell me you don't want to get him some juice and a blankie. The mom wasn't even home to help take care of the kids as she was in Little Rock near her newborn Josie in the hospital, but it's not like she does a lot of one-on-one nurturing anyway. I doubt that she even came home to make sure everyone was ok. There were five kids left in the house to take care of the other ones, and that works out to about 1 to 2 with some extras left over. I'm sure they made it work. Whenever I watch that show I'm kind of amazed at how chill they all are, but I guess if they seriously cared about major issues like that they would stop popping out kids. Even Josie's grave medical scare hasn't deterred them. We'll see how long Michelle's fertility holds out. She's like the conservative Energizer Bunny with a permagrin and vacant stare.
Note – I wanted to bitch that the Duggars don't pay property taxes after declaring their house a church. That seems to just be heresay, though, as Duggars Without Pity claims they do pay property taxes. They surely get out of other taxes by trying to pass off their family as a religion. It is though in its way.
Thanks to D-Listed for the lead!