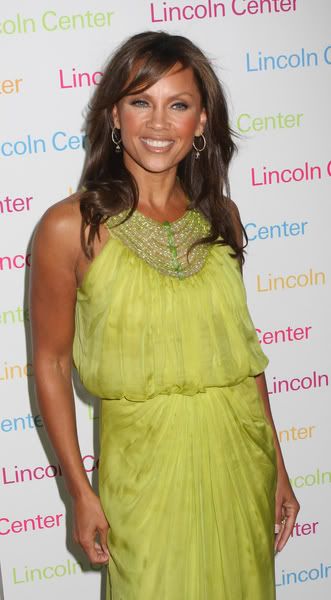 Vanessa Williams, famous Ugly Betty actress, formerly disgraced Miss America, and singer of that one song in the early nineties, is finally getting her college degree. In 1983 Williams dropped out of Syracuse University after two years. She won the Miss America crown shortly after, and had to give it back after naked photos of her were published in Penthouse. Luckily Ms. Williams didn't let some boobs keep her down, and she's gone on to have a pretty successful career. Now, 25 years later, she's getting her college degree, thanks in part to credit earned on the stage and screen.
Nearly 25 years after leaving Syracuse University, Vanessa Williams will get her bachelor of fine arts degree this weekend. The 45-year-old actress-singer, who stars in ABC's "Ugly Betty," will also deliver the convocation address Saturday to graduates of Syracuse's College of Visual and Performing Arts.

Williams attended Syracuse's drama department as a musical theater major from 1981-1983. She earned the remaining credits for her degree through industry experience and performances on stage and screen.

In 1983, Williams became the first black Miss America. She surrendered the title in July 1984 after Penthouse magazine published nude, sexually explicit photographs of her taken several years earlier.

Over her career, Williams has sold more than 4 million albums, won critical praise for her performances on Broadway, made dozens of TV appearances and starred in several movies. She has won a Tony, received two NAACP Image Awards and nine Grammy nominations. In 1996, Williams received the George Arents Pioneer Medal, the university's most prestigious alumni award.
[From the Huffington Post]
I think that's pretty cool. I really love it when celebrities actually go back to classes to finish their degrees – but it certainly seems fair to give a BFA to an actress, since theater work would have been a requirement for her anyway. I always think it's a little unfair when universities give honorary degrees. It seems unjust that the rest of us had to work so hard for the same thing. Many schools do it in order to get someone famous to speak at their commencement, which I think cheapens the degree and the school's reputation. But it seems to be a pretty common thing anymore.
Regardless, Vanessa Williams attended classes for two years and worked in the field of her major, so the university gave her actual credits, and her degree isn't honorary. Congratulations to her and the rest of this year's graduates.
Here's Vanessa Williams with Michael Bolton and Jane Krakowski at the2008 Lincoln Center Annual Spring Gala in New York City on April 9th. Images thanks to PR Photos.