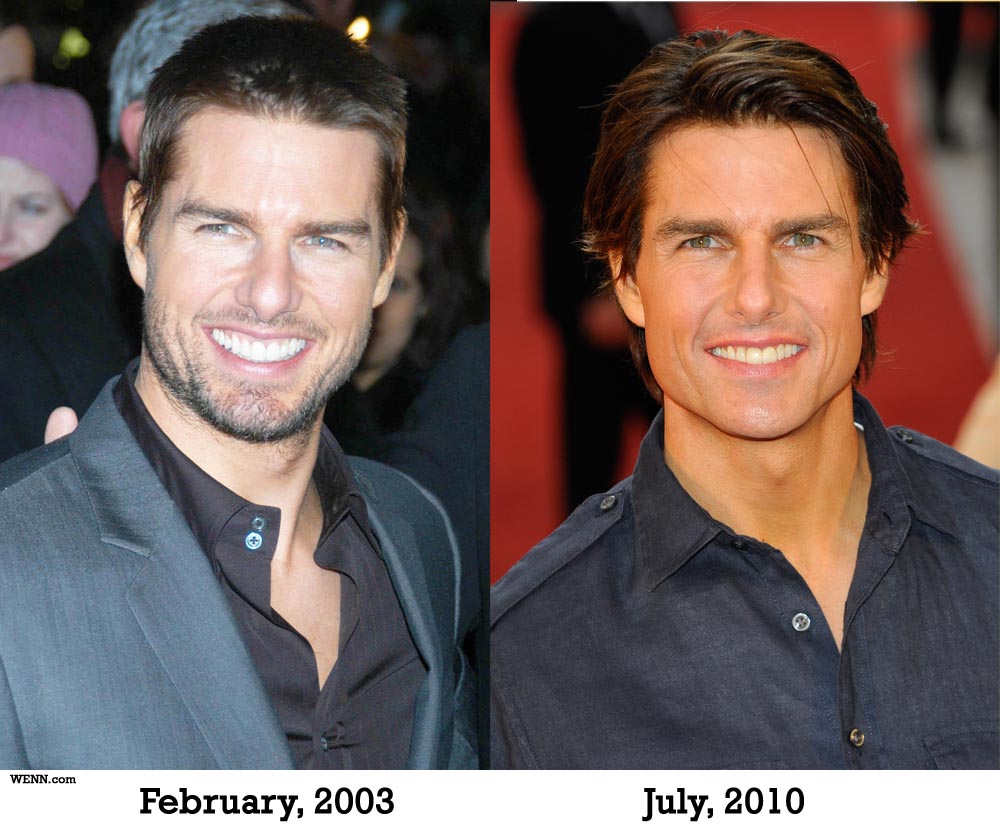 At some point over the past year, I was looking at photos of Tom Cruise, and I noticed that his jaw line had gotten very strange. He didn't look bad or anything, and he didn't look like, say, Michael Douglas's plastic surgery horror. Instead, Tom just looked a bit tweaked, a little tucked, somewhat tighter around his jaw and a little around the eyes. Say what you want about Xenu and Thetans, but I do think Tom is an attractive man who is aging well – he's 48 years old, for goodness sake. But even boyishly handsome older gentlemen need a little upkeep, I suppose.
So it's strange that this week's In Touch Weekly is reporting that Tom is "considering" plastic surgery. Well… he's "considering" Botox and fillers, which is plastic surgery lite. I'll bite. If Tom hasn't already had something done, why do it now? It's because he's desperately afraid of not being seen as "young enough" to pull off Ethan Hunt in Mission Impossible IV:
A month after celebrating his 48th birthday, Tom Cruise has vowed to shave years off his face – and physique. His goal? To look 10 years younger by the time he begins shooting Mission Impossible IV later this year.

"Tom has put himself on a strict fitness routine and diet, which includes daily three-hour workouts and a low-carb meal plan consisting of 1,200-1,300 calories per day," says a source [Editor's note: the source is Tom's trainer, right?].

Tom had to fight hard to reprise his role as super agent Ethan Hunt – Paramount reportedly blamed Tom for the disappointing performance of MI:3, and they wanted someone younger – and cheaper – for the sequel. Not only did Tom have to convince studio boss Sumner Redstone that he was fit enough for role, he may have also had to take a drastic pay cut. According to a report, Tom won't receive his usual cut of the box office until AFTER the studio recoups its investment.

"Tom is determined to look like he did 10 years ago… he has been working out with his personal trainer, and he is also considering getting Botox and fillers to smooth out his skin."

Tom is so focused, says the source, "he hasn't gone to visit Katie and Suri in Toronto because he doesn't want any distractions."
[From In Touch Weekly, print edition]
Riiight… he doesn't want "distractions". Another way of saying this would be, "Tom doesn't want his wife around while he cruises the nubile, sweaty, young gym rats that Tom has met while he 'trains'."
Speaking of sweaty and nubile, Jeremy Renner has just joined the cast of MI:4. It was thought that Tom was asking the studio for a trio of sweaty, nubile, hot, dirty boys that he could "train" to be his special little junior Mission: Impossible agents, but in the end the studio decided to go with hot, sweaty little pocket rocket Jeremy Renner. Deadline Hollywood explains the choice:
Paramount has struggled to find the right co-star to play the operative opposite Cruise. One factor was selecting an actor who could potentially carry the series on his own down the line, should Cruise's Ethan Hunt character not continue to be the emphasis. While Cruise is expected to return for a fifth installment, production chief Adam Goodman wanted a guy who could grow into a leading man in his own right.

The studio boss was interested in actors like Tom Hardy and Chris Pine, but they were booked. So the studio planned to test a group of young actors later this week, and Deadline spent all Tuesday going back and forth with the studio over candidates Kevin Zegers, Christopher Egan and Anthony Mackie (the latter of whom starred with Renner in The Hurt Locker). But it was clear that Paramount wasn't sure what it was going to do. Those tests have been canceled now (Mackie, another seasoned actor poised for a breakout, ultimately pulled himself out of the running and didn't sign a test deal.)

Goodman, sources said, felt Renner's "has a Daniel Craig quality" and the heft to carry the franchise. Interesting that, rather than trying to create a star by going with a young unknown, Paramount instead has placed its bet on a 39-year old actor who has been around for years.
[From Deadline Hollywood]
It's not terrible casting, honestly. I would watch that – Renner is a good actor, and the idea of Jeremy and Tom doing action sequences together doesn't make me roll my eyes. Renner's obviously interested in reaching outside of a drama niche to try his hand a big-budget action film. Plus, Jeremy is short! Tom won't even have to wear his big-boy lifts to try to look taller than Jeremy. Great casting.
Update by Celebitchy: Here's another before and after of Tom. I think he definitely got work done, but it's subtle.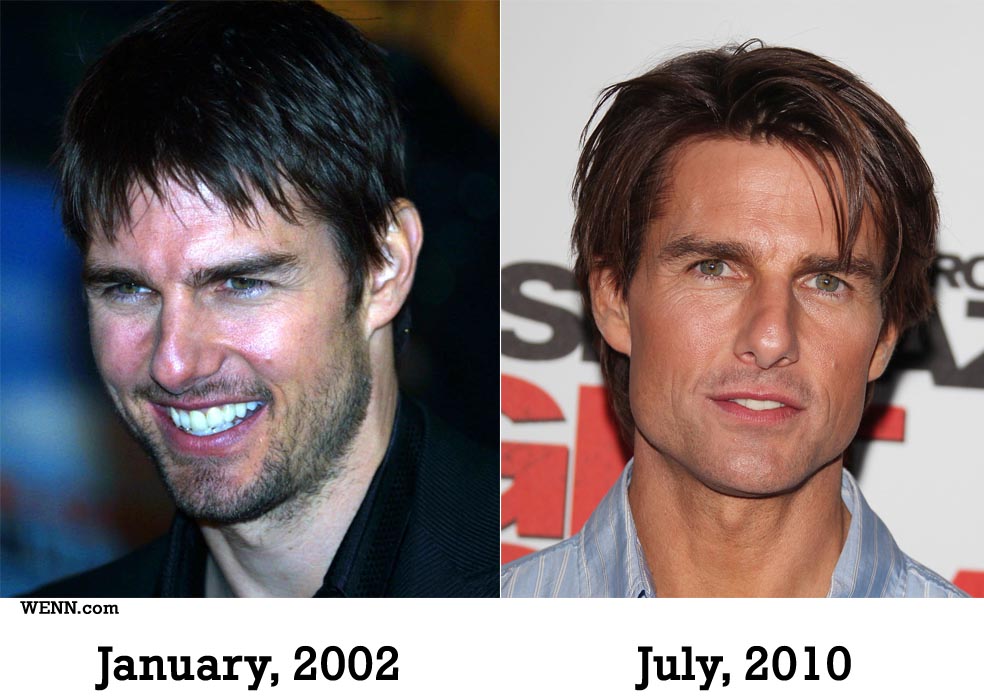 Header: Photos by WENN.