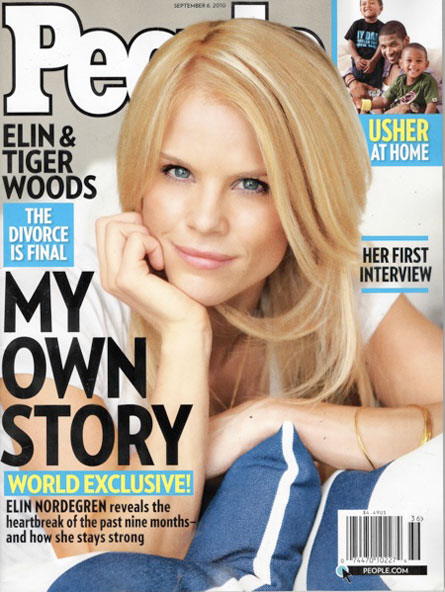 Last week's "suck it, haters" People Magazine cover story with Elin Woods scored big at the newsstands. PopEater's sources have the issue selling a solid 2 million copies, making it one of People's most successful issues ever. But how does it match up to one of People's best-selling celebrity covers of all time, their exclusive debut photos of Brangelina's twins? Well, the Brange twins sold about 2.5 million issues, but People had to pay for them, big time. People did not have to pay for the Elin interview – so, SCORE.
Elin Nordegren's surprising tell-all on the cover of last week's PEOPLE magazine had everyone in a tizzy, and not just because she opened up about her philandering ex, Tiger Woods. The magazine was so confident it would be a huge seller, they even raised their price and printed more copies, something they hadn't done since they debuted Angelina Jolie and Brad Pitt's twins in August 2008. So did it top Angie's tots? Not quite, but it still was a monster at the newsstands.

"Everyone at PEOPLE will be popping the champagne this morning," an editor at a competing weekly tells me. "Early numbers show that Elin sold around 2 million copies, way up from its average of 1.4 million, yet not quite the 2.5 million Angelina sold."

What makes these numbers particularly staggering is that unlike the $12 million dollars the glossy paid to Angelina for the exclusive first images of Knox Leon and Vivienne, they got Elin to open up for free, making this one of the most profitable issues of all time.

"This wasn't about the money for Elin," a friend of Tiger's ex tells me. "It was about telling her story once and for all. She will be happy that so many people bought the issue and finally read the truth. But now she hopes they all go away and leave her and her family alone. The last thing in the world Elin wanted to be was a celebrity."

Well, unfortunately for Elin, that cat is out of the bag, and after selling 2 million issues of a single magazine, you can bet the press isn't going anywhere. However, Elin has a long way to go before she tops the two biggest sellers in the magazine's 35-year history: the issue covering Princess Diana's death (3 million) and the issue following the attacks on Sept. 11, 2001 (4.1 million copies).
[From PopEater]
This is a weird story, considering that Sandra Bullock's big debut of son Louis was also compared to the Brangelina twins cover – only for that story, the Brangelina cover allegedly sold 2.8 million, not 2.5 million. Allegedly, Sandra's People cover just about matched the twins' debut in sales, or fell short by a few thousand or so. So, take it to the bank: everyone wants to read about scorned women and look at photos of babies.