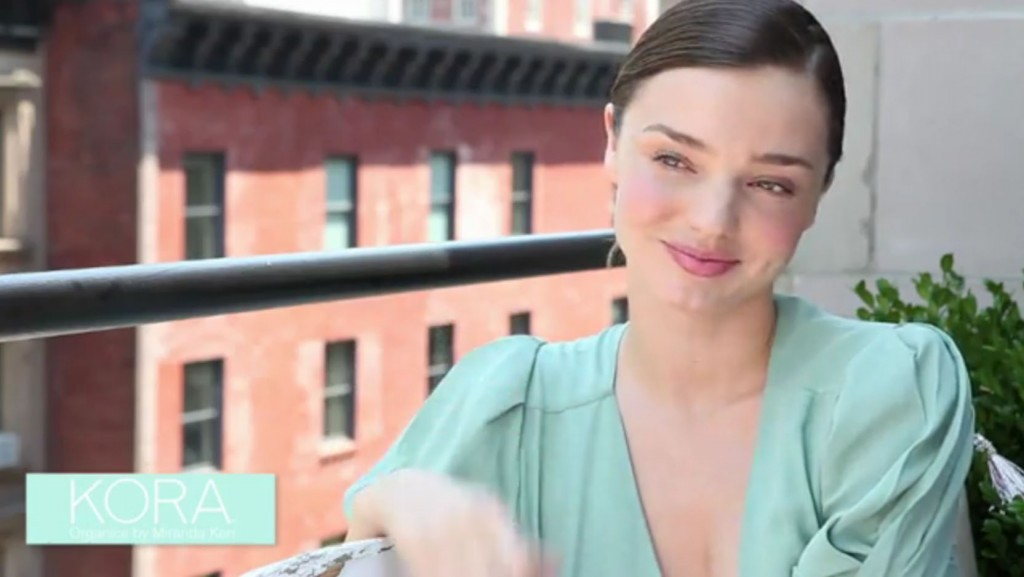 Miranda Kerr has a new video to promote her organic skincare line, Kora. She shops for food at a farmers market in NY City, does yoga, and cooks, explaining that she has a busy life but that "I've created my own organic lifestyle that no matter where I am, I get to apply this lifestyle. I really believe that everyone can incorporate that lifestyle into their own life. Kora is an integral part of that lifestyle. I've created Kora as I wasn't able to find an organic skincare line that I was 100% happy with or that contained all the ingredients that I wanted and knew were beneficial to the skin."
Everyone is talking about how you can see Miranda's tiny baby bump while she does yoga in the video. To me the takeaway from this is that she's just as much of a lifestyle preacher and know-it-all as Gwyneth Paltrow. She seems to have less sense than Gwyneth, too. I found her annoying, honestly, and it's like she thinks she's blessing us with her unique knowledge of skincare, some of which is complete bunk that she obviously takes seriously. Listen to this:
"All of the water used in our mists have been infused with rose quartz crystals, and we've done that so that the vibration of love associated with rose quartz really flows through each product."
I asked my husband, who has a PhD in biophysics, to help me comment on this ridiculous claim. He writes "Rose quartz is rose due to trace amounts of titanium, iron, or manganese and just because of the stupid pink colour it is associated with love. Quartz structures are very tight and would not store any energy, such as kinetic energy in vibrations." You can make quartz and other minerals vibrate, as they're used in watches and other electronic devices, but that requires using an external force on the mineral. They don't have "vibrations" on their own. (Here's more on that.) What's more is that water has no "memory" and it's been well proven that "liquid water does not maintain ordered networks of molecules longer than a small fraction of a nanosecond." (That quote is from Wikipedia.)
Miranda Kerr thinks that her skincare line is superior because she used some crystals in the water for it, though. I guess we know why she became a model and didn't pursue academics.
She concludes by saying "Kora is about nurturing your own uniqueness, your inner and outer beauty, and your soul."
I'll say something nice – she looks cute pregnant. She'll probably be one of those women who doesn't look like they gained weight except for in front, damn them. Also, I like that her skincare line is organic and fragrance free. I use mostly organic skincare as I'm sensitive to perfumes. There are a lot of good products available though and you don't have to spend a fortune to have nice skin. You don't need "love water" either. There's no such thing.