Lady Gaga is pretty much the Statue of Liberty, says V Magazine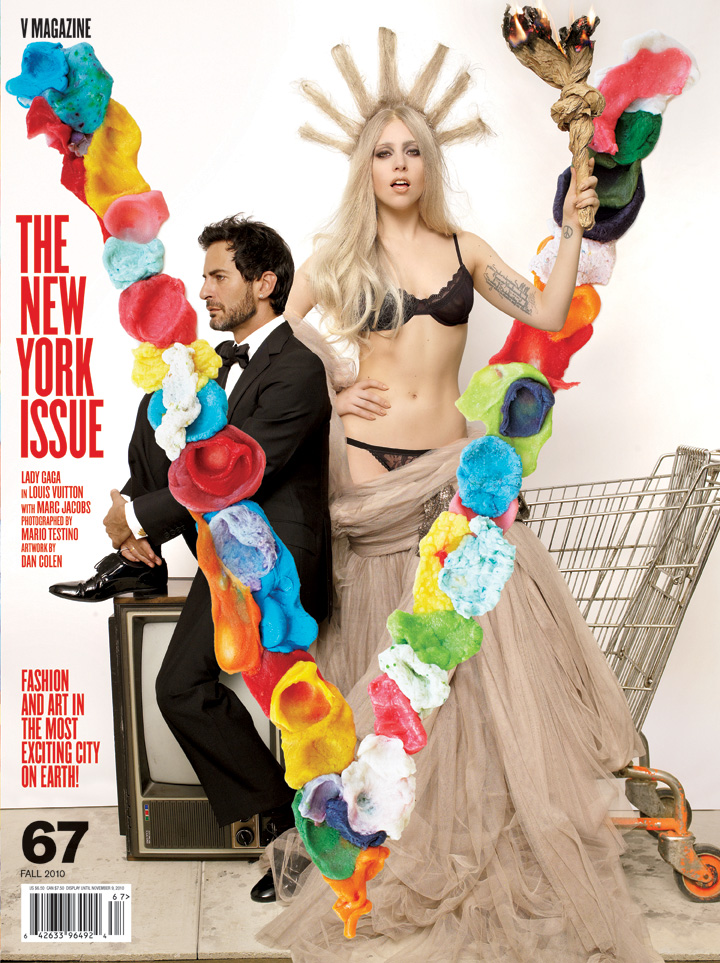 V Magazine just sent us some stuff for their new issue, "The New York Issue." Who best to represent New York in all of its glory? Marc Jacobs and Lady Gaga of course. But they couldn't just do interesting photos of Marc and Gaga, of course. They had to do Gaga as the Statue of Liberty, of course. Now, I was on board for Gaga being a representation of NYC, but to place her as Lady Liberty – ugh. Listen to the reasoning:
Quote from editor STEPHEN GAN:
"Just as the Statue of Liberty was France's gift to America, Gaga is, to us, New York's greatest gift to pop culture and fashion. She embodies everything V is about, and is also a beacon of the city's creativity and hope. Exactly one year after her first V cover (the first fashion magazine cover she was on), we decided to do the NEW YORK issue, and she was the first person who came to mind to represent our great city. In the year that's passed, she has become a bonafide genius and we can safely declare her our muse. Above all, a New York issue should celebrate people who've done great things. We at V are grateful Gaga came along to put the New back in New York!"
[From V Magazine]
Okay. Sure. Maybe V readers will applaud this decision. You know I love Gaga and everything, but I would like to see a moratorium on Gaga magazine covers until she puts out her new album. It's only a few months away – can we all agree to wait until January? Please? Oh, and there's this too: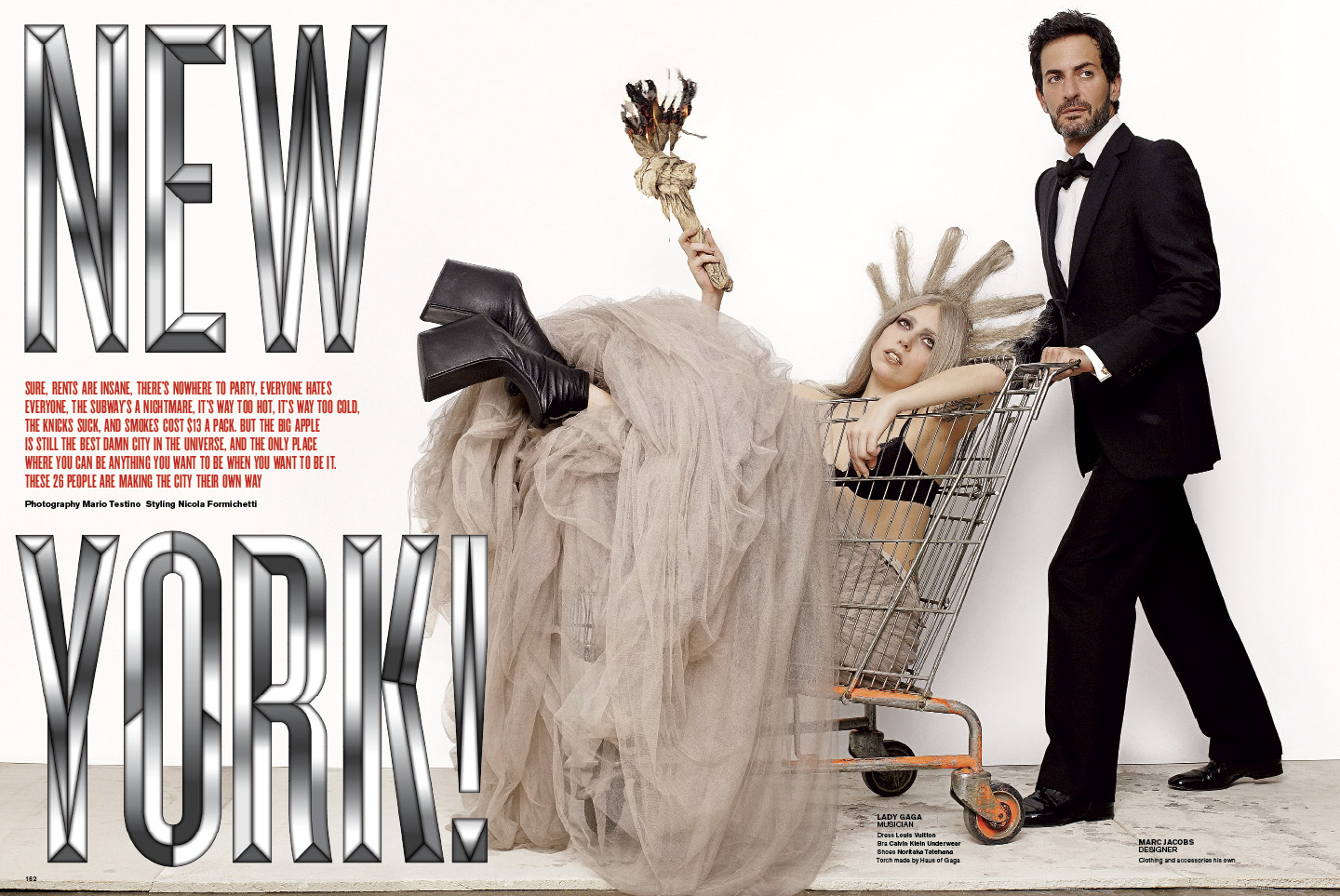 Lady Liberty in a shopping cart. Sure, it's New York. V Mag also sent some of the other photos from their tribute to New Yorkers. I just loved this one because of Chloe Sevigny's face… my goodness.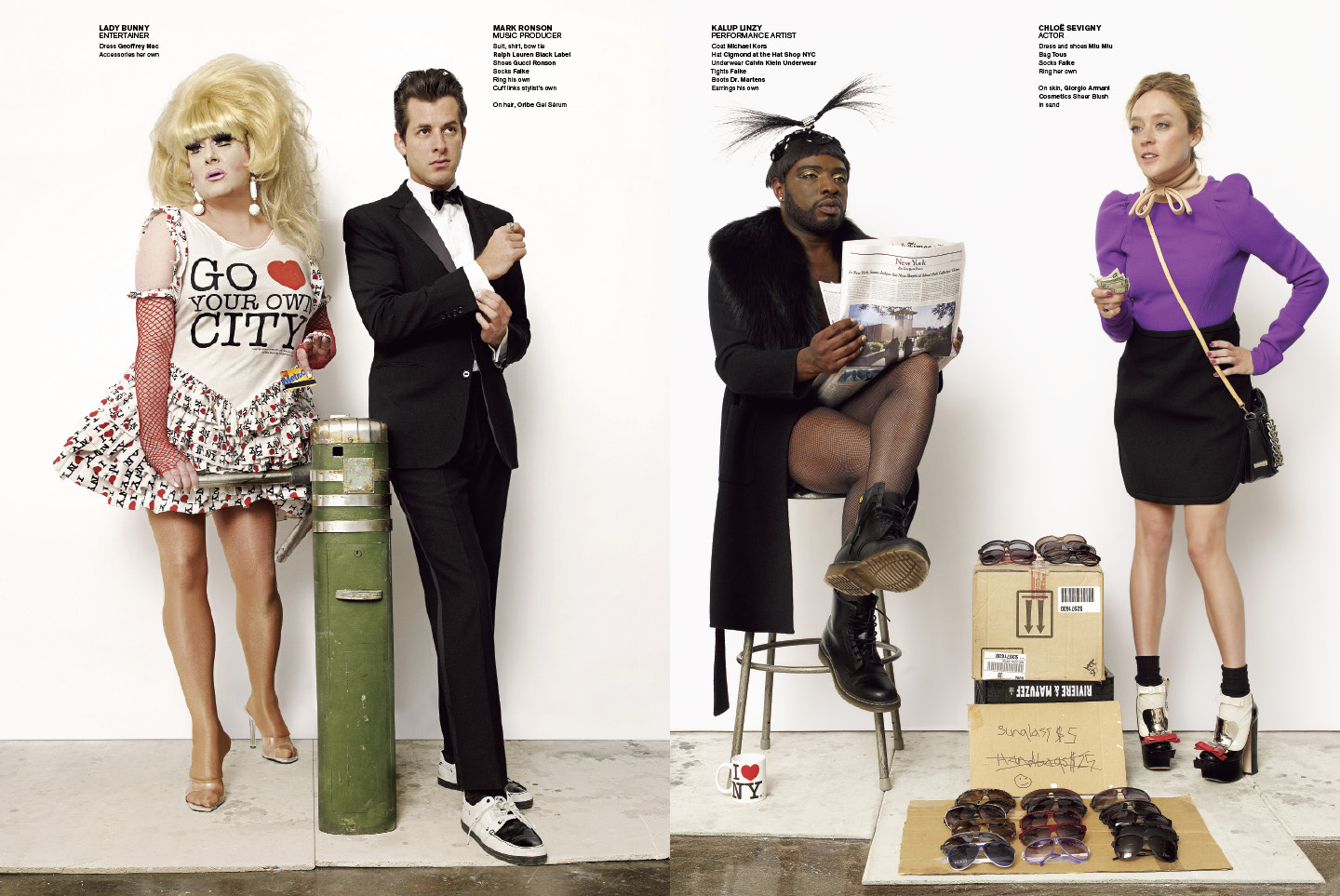 Photos courtesy of V Magazine.

Written by Kaiser

Posted in Lady Gaga, Marc Jacobs

- Friends reunion on Ellen [Popsugar]
- Lindsey Vonn watches Tigers kids [Lainey Gossip]
- George Michael fell out of a car going 70mph [D-Listed]
- Real Housewives of Orange County recap [Reality Tea]
- New Man of Steel trailer [Pajiba]
- Jared Padalecki's hot bod [Buzzfeed]
- Doctors confirm Taylor Swift's new boobs [Evil Beet]
- Catherine Zeta-Jones finished treatment [CDAN]
- Anna Paquin hates the paps [Celebslam]
- Lance Armstrong is gross [The Blemish]
- What is Barbara Palvin wearing? [Moe Jackson]
- This is Petra Nemcova? [SVC]
50 Responses to "Lady Gaga is pretty much the Statue of Liberty, says V Magazine"