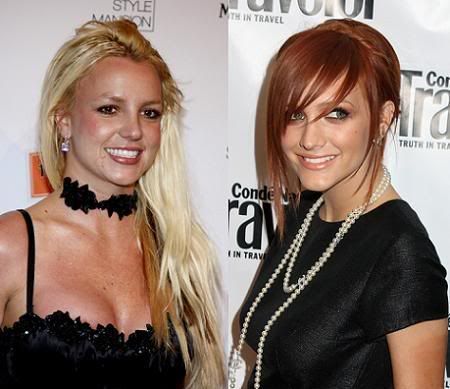 I'll hand it to those British journalists, they sure are tricky. Newly engaged, newly album released, and possibly newly knocked-up Ashlee Simpson was asked by a reporter what she thought "You've had one too many Britney Spears" means. Yes that's right, in the U.K., having a "Britney Spears" is actually slang now. Instead of playing dumb – one of the few things the Simpson sisters are naturally good at – Ashlee went ahead and guessed – with unflattering results.
Whether it was a Freudian slip or not, the newly engaged songstress definitely let her opinion of the recovering mother of two be known during a visit across the pond this week… "In an interview the other day, they asked me what I thought, 'You've had one too many Britney Spears' means," Ashlee says. "I was like, 'What?' And they said it means you've had one too many beers."

Without missing a beat, "I was like, 'Oh, you've had one too many trashy girls!" But the redheaded 23-year-old, falling into a fit of giggles, expressed remorse over the comment afterwards. "I was like, 'Oh my God, I can't believe I just said that!" Ashlee says. "It was really bad. I felt horrible."
[From OK! Magazine]
I'm not sure if I'd call the Simpson sisters all-out trashy, but I really don't think Ashlee is in any position to criticize. She's not the bottom of the barrel or anything, but she's not exactly classy either. Let's not forget her short-lived reality show on MTV, where she burped, farted, was generally inept at all tasks, proving to the world how uncouth she was. Ashlee has yet to be a parent, but she might be dumb enough to make a few Britney-esq mistakes.
In other Britney news, she showed up for the finale of MTV's Rock the Cradle, a reality show that stars the offspring of famous singers. Her longtime on/off manager Larry Rudolph is a judge on the show, and apparently Brit came out as a show of support to him. She sat backstage and didn't draw a whole lot of attention according to Rudolph. If Brit's getting to the point where she's supporting people instead of the other way around, that's a pretty big step. Who knows, maybe someday people will forget that she was ever trashy.
Here's Britney leaving the trendy restaurant Sur after a business meeting yesterday, and leaving a Bally Total Fitness on Wednesday. Images thanks to WENN.